A Fat Tuesday Jambalaya and Our New Orleans Adventures in a Nutshell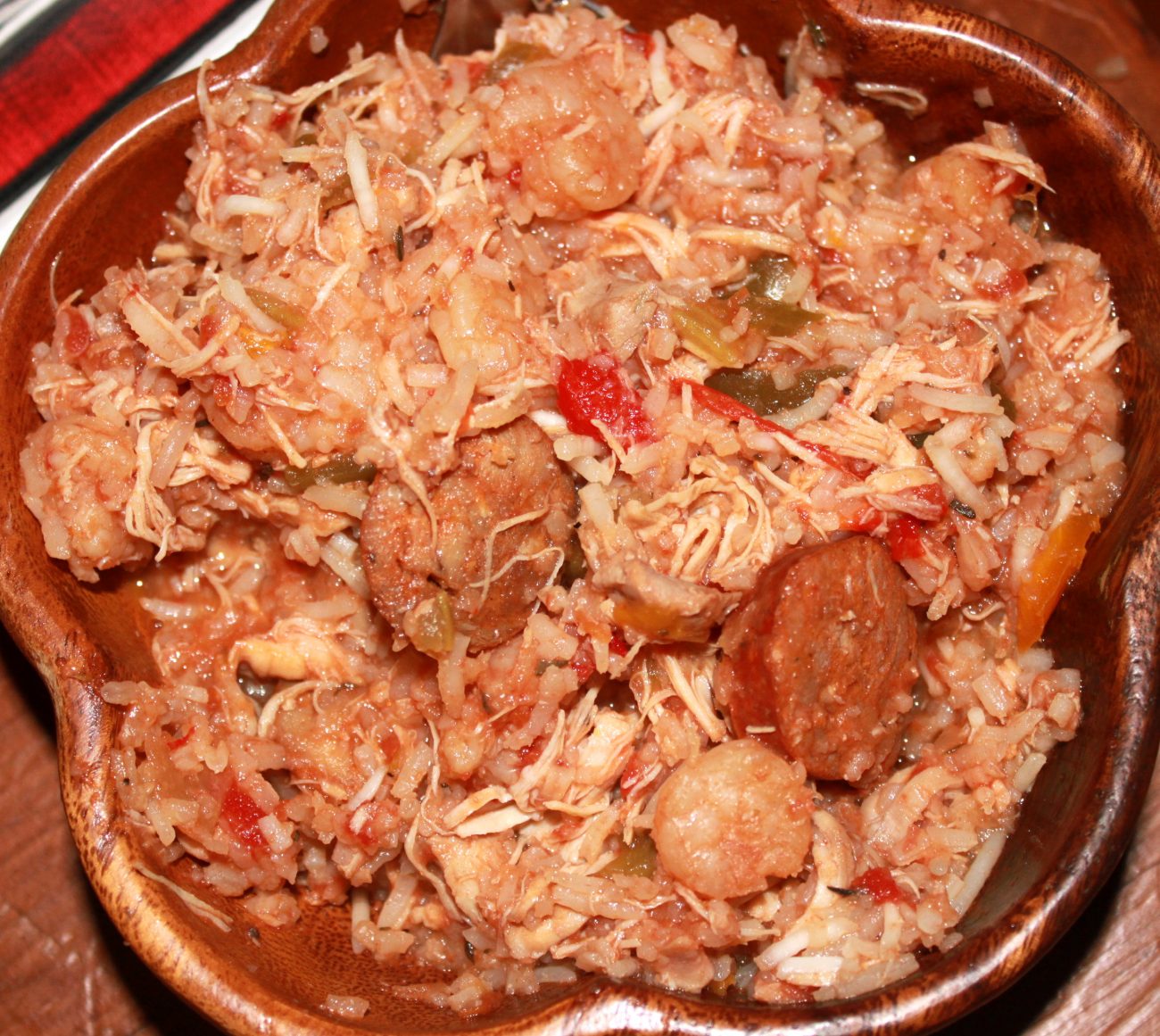 No, Fat Tuesday is not pertaining to the tautness of my pants, although it probably could be after this past weekend of pure fried and frozen indulgence.  I am referencing Mardi Gras, the final day of binge eating, binge drinking and general indulgence before Ash Wednesday, when the self-punishing give things (read: fun) up for Lent.  Forty days and forty nights isn't my thing– how about we compromise with until I get my voice back?
If you've never been, you probably except that the Mardi Gras celebration are all about this:
And yes, there are plenty of boobs, beads, and general debauchery.  But in reality, I find it to be quite family oriented, profusely laden in tradition and an annual display of status in the City.  If you disagree with me, I'd love to hear your take.  Either way, I'm in search of a good, juicy book on the history, symbolism and culture behind the Mardi Gras celebration.  If you have one, let me know.
For us, it was also a whole lot about this:
Our extremely tight layover, left us with no time to eat, so I arrived starving and our flight arrived right at the peak of parade traffic. Luckily, having spent a good deal of time in the city, Eric knows where to find the hole in the wall joints with surprisingly good grub (At some point, we are going to return to the city so he can  give me a comprehensive food tour, but he doesn't know this yet).  After some tricky maneuvering, we made it to Bottom Line Bar & Grille, a hidden little dive that Eric fondly remembers having enjoyed lunching while working at the Barnes and Noble across the way.  They welcomed us to the city with giant, juicy burgers and true New Orleans Hospitality.
Next stop?  Daiquiris ("with an extra shot" of course).
Next stop?  Po' Boys and general fried goodness at Tracey's in the Irish Channel
In an attempt to rouse us three musketeers from our lengthy process of prepping for the day, Eric called to say he had an edible surprise in the car.
Blue Dot Donuts made for excellent carb loading for a day of fun on the parade route.
Since we had to leave New Orleans before the actual Mardi Gras, I decided I'd make this Jambalaya a home in honor of.  I was a bit nervous as I had yet to use my slow cooker to make anything besides mulled wine, but this jambalaya recipe was surprisingly easy, makes a ton of food and is actually surprisingly healthy.
Easy Slow Cooker Jambalaya with Chicken, Shrimp and Andouille Sausage
Recipe from All You
Yield: 8 Servings
Cost per Serving: $3.63
Calories per serving: 450
Ingredients
2 pounds boneless, skinless chicken thighs
1 pound smoked sausage, cut into 2-inch slices (I used a package of Trader Joe's andouille chicken sausage)
1 large onion, chopped
1 large green bell pepper, seeded and chopped
3 stalks celery, chopped
1 (28 oz.) can diced tomatoes with juice
3 cloves garlic, chopped
2 cups chicken broth
1 tablespoon Cajun or Creole spice mix
1 teaspoon dried thyme
1 teaspoon dried oregano
1 pound extra large shrimp, peeled and deveined
1 3/4 cups long-grain rice
Directions:
Combine chicken, sausage, onion, green pepper, celery, tomatoes, garlic, chicken broth, spice mix, thyme and oregano in a large (5-quart) slow cooker. Cook on low for 5 hours.**

Add shrimp and rice; raise heat to high and cook for 30 minutes more. Sprinkle with chopped parsley, if desired.
**I knew I would be at work for at least 8 hours, so I added an extra 3/4 cup of water and set the timer for 7 hours; I then switched it to warm and I moved to step 2 when I got home.  This chicken was not at all overdone, as I feared.