BBQ Tofu with Smoked Cheddar Grits, Roasted Tomatoes and Fried Leeks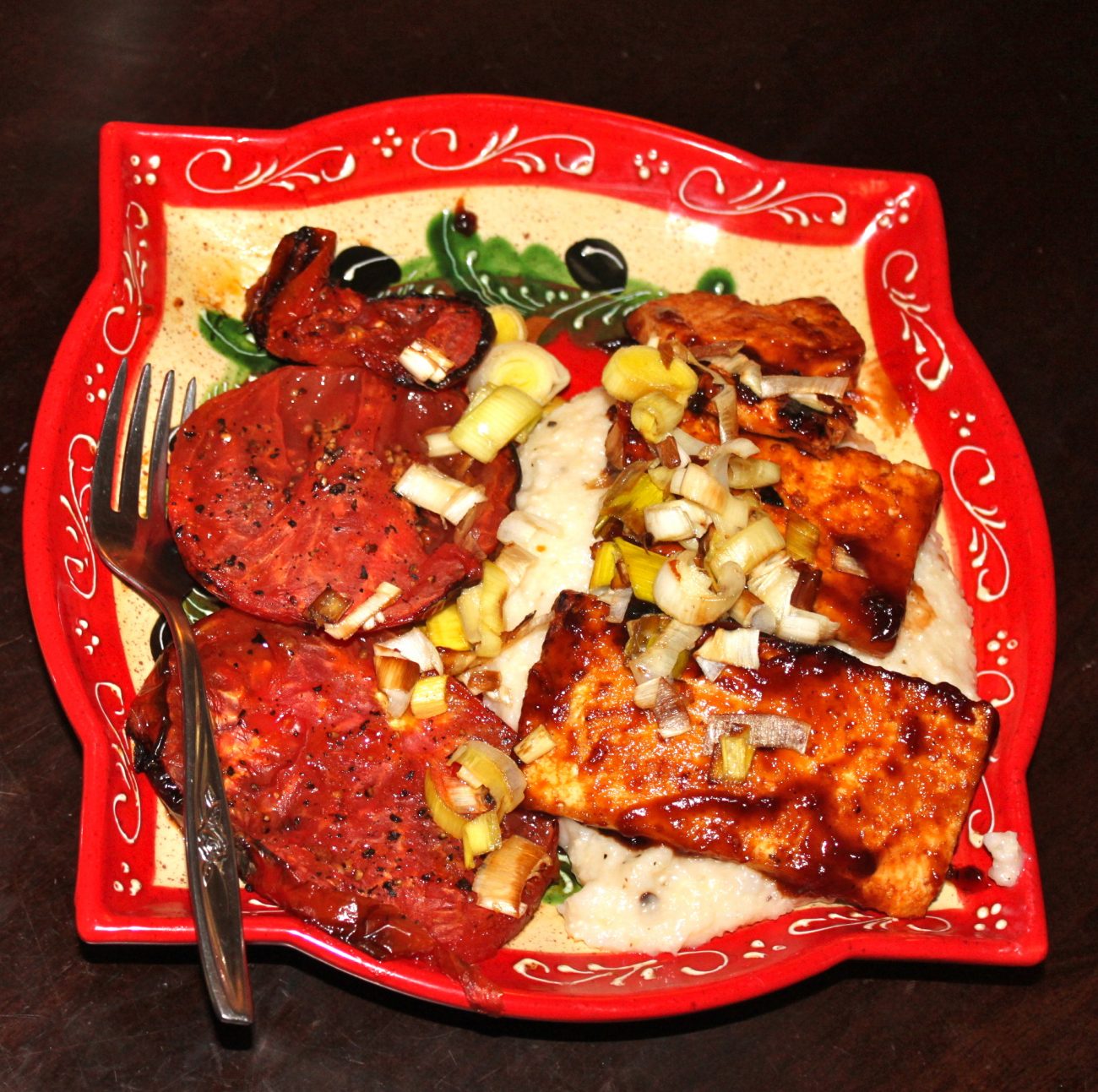 You know the old saying "nothing to call home about?"  Well, this was just the opposite.  In fact immediately after dinner, I called home to tell my mom that I had a recipe I had to make for her.  This is a prime example of all of the tastes and textures complimenting each other just perfectly.  Creamy, savory grits with sweet, crunchy tofu.  Soft, sweet tomatoes with crispy salted leeks.  It really is a beautiful dish, the pictures just don't do it justice.
BBQ Tofu with Smoked Cheddar Grits, Roasted Tomatoes and Fried Leeks
Inspired by Veggie with a Cause
Ingredients:
Olive oil
1 large heirloom tomato, sliced
1.5 C water
1/2 C grits
1/4 C milk
1 leek, sliced and cleaned
8 oz extra firm tofu
1/4 cup barbecue sauce
1 oz smoked cheddar, shredded
Salt and pepper
Directions:
For the tomatoes: Preheat the oven to 450.  Place the tomato halves on a greased baking sheet with a drizzle of olive oil, a shake of salt, and a sprinkle of pepper.  Bake for roughly 30 minutes while you prepare the rest of the ingredients.
For the grits: Bring the water to a boil in small sauce pan.  Add the grits, return to a boil, and then turn down to very low.  Cook covered, with frequent stirring, for about 15 minutes.  Stir in the soy milk and shredded cheddar.  Add salt and pepper to taste
For the leeks: Heat a splash of olive oil in a small skillet over medium heat and add the leeks.  Sprinkle with salt and then cook over low for about 20 minutes, until crispy and browned.
For the tofu: Slice the tofu and press.  Heat just a touch of olive oil in a nonstick skillet over medium-high heat.  Add the tofu and allow to sear for about 7 minutes per side.  Pour in the barbecue sauce, making sure each piece is nicely coated; you may want to use a brush.  Cook for additional 5 minutes.
To serve: Put grits on plate.  Top with sliced tofu.  Serve alongside the tomatoes and sprinkle the fried leeks over top.