Spicy Sweet Potato, Chickpea & Peanut Stew (Vegan and Crock Pot Friendly!)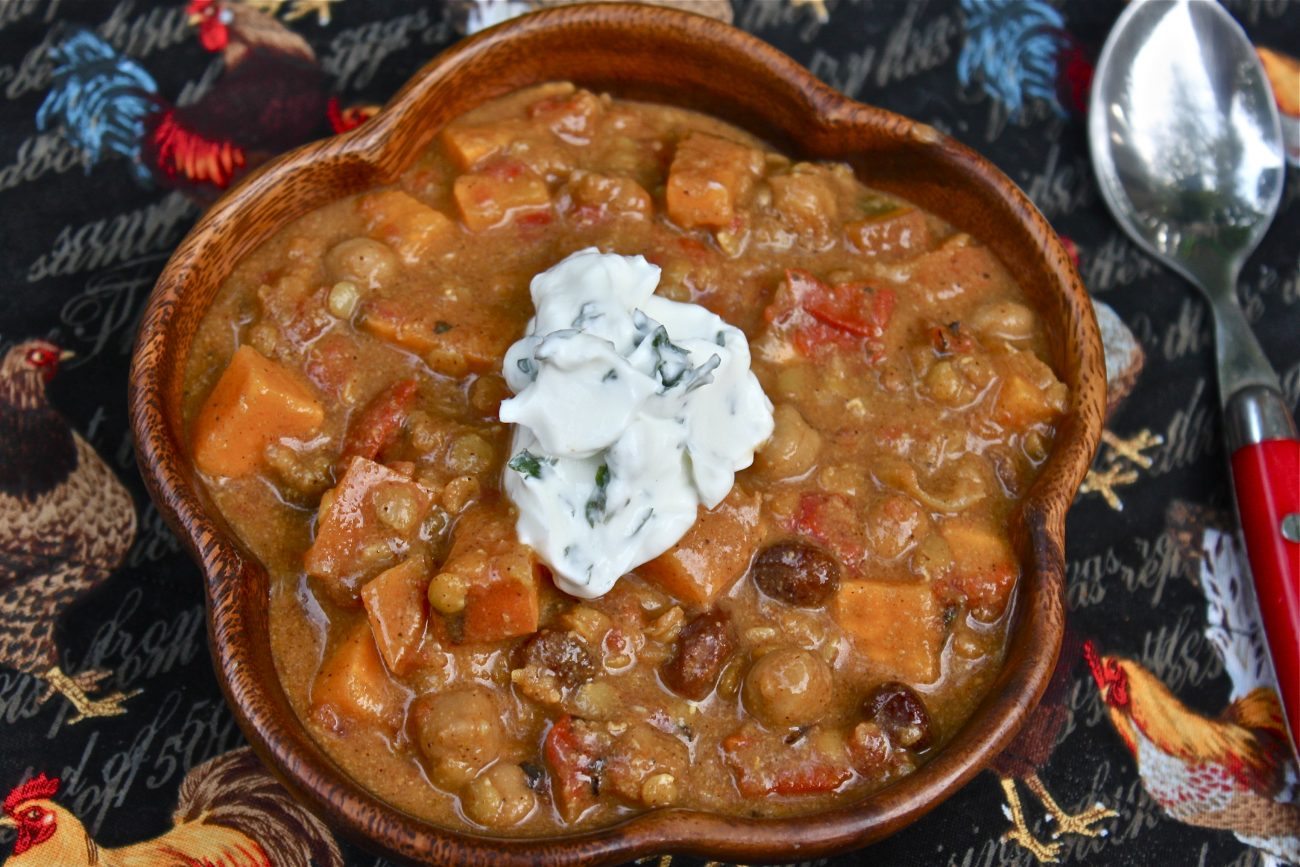 I love three day weekends.  Especially when at least one of those days can be spent doing nothing in particular.  That pretty much described Monday.  After a leisurely breakfast  and seeing Winifred off, I did some chores around the house, wrote a blog post and headed to the gym.  Then I prepped this stew so that it would be waiting for us when we got home… Courtney from work and me from a 4pm happy hour with some girl friends (did I mention that I love three day weekends?)  There's nothing quite like coming home to a crock pot full of warm, spicy stew on a cold fall day, the house filled with the aroma of a dinner that won't require you to lift a finger.
I'm not quite sure why this was originally called "African Peanut Stew." It really strikes me as having more Indian and Asian influences.  This batch came out particularly spicy, probably because I decided that since I wouldn't have any further use for ginger this week, I'd use the entire piece of ginger root.  To mellow it out a bit, I garnished it with a mint-yogurt sauce.  This healthy, hearty, vegan (sans yogurt, of course) stew will be sure to warm your belly!
Spicy Sweet Potato, Chickpea & Peanut Stew
Adapted from Peas and Thank You
Ingredients:
1 can chickpeas, drained and rinsed
1 sweet potato, cubed (about 1 c. total)
1 1/2 t. curry powder
1/2-3/4 t. garam masala (depending on how spicy you like it)
2 t. cumin
1 T. minced ginger
2 t. minced garlic
1 T. maple syrup
dash of cinnamon
1 14 oz. can fire roasted tomatoes, in juice
1/4 c. raisins
1 can light coconut milk
2 c. vegetable stock
2 T. natural peanut butter
1/2 c. red lentils, drained and rinsed (can substitute quinoa, if desired)
To garnish: Plain greek yogurt and chopped mint
Directions:  Combine all ingredients (except garnish) in a crock pot and turn to high for about an hour.  Then switch it to low for the next 3-4 hours.  Before serving, combine Greek yogurt and mint and put a dollop on each bowl.  Serves 4