Noodleless Vegetarian Pad Thai for Two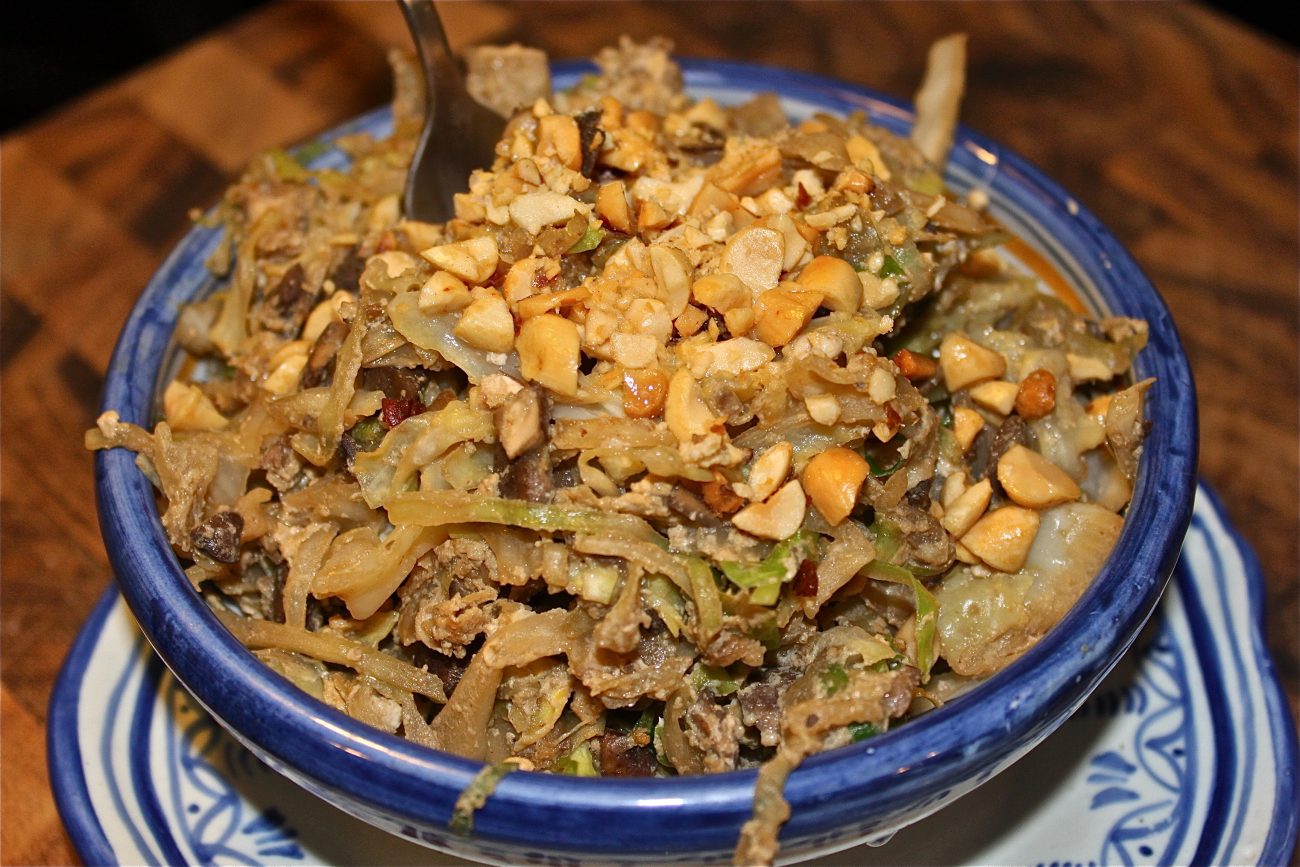 I'll go ahead and cut to the chase: you really must make this Pad Thai.
I share a lot of recipes.  Sometimes I'm wishy-washy on how much I like them or whether I'd make them again.  This is not one of those recipes.  In her post, Andie said she's obsessed with this recipe. That she's eaten it for ten days straight.  I can see why.
It's easy.  It's cheap.  It's ridiculously healthy.  It's vegetarian.  And it's satisfying and delicious.  The only downfall is that you might want to eat the whole batch.  But you know what?  That really wouldn't be all that bad in the grand scheme of things.  Luckily I refrained, and I'm already excited about finishing it off for lunch!
Okay, enough talk.  You go make this pad thai.  I'm going to go buy stalk in cabbage.
Noodleless Vegetarian Pad Thai for Two
Ingredients:
1 tablespoon sesame oil
6 cups green cabbage, finely shredded
1 ½ cups mushrooms (any kind, I used baby bellas), chopped
3 cloves garlic, minced
3 tablespoons soy sauce
2 teaspoons brown sugar
2 large eggs
1 ounce salted dry roasted peanuts, chopped
Sriracha and lime, to garnish
Directions:
 Set a large frying pan or wok over medium-high heat. Add the oil and swirl to coat. Add the cabbage and cook, stirring frequently, for 7-10 minutes, or until tender-crisp.

Add mushrooms and cook for about 3 minutes, until softened.
Add garlic, soy sauce, and sugar and stir well to combine.
Add eggs and stir constantly, scrambling them into the hot cabbage mixture until cooked through.

Serve immediately, topped with the peanuts, cilantro or Thai basil, a squeeze of lime juice and sriracha, to taste.
Serves 2
Nutrition Info: Calories: 319, Fat: 20g, Carb: 25g, Fiber: 8g, Sugars: 6g, Protein: 17g