Indian Chicken Salad Lettuce Wraps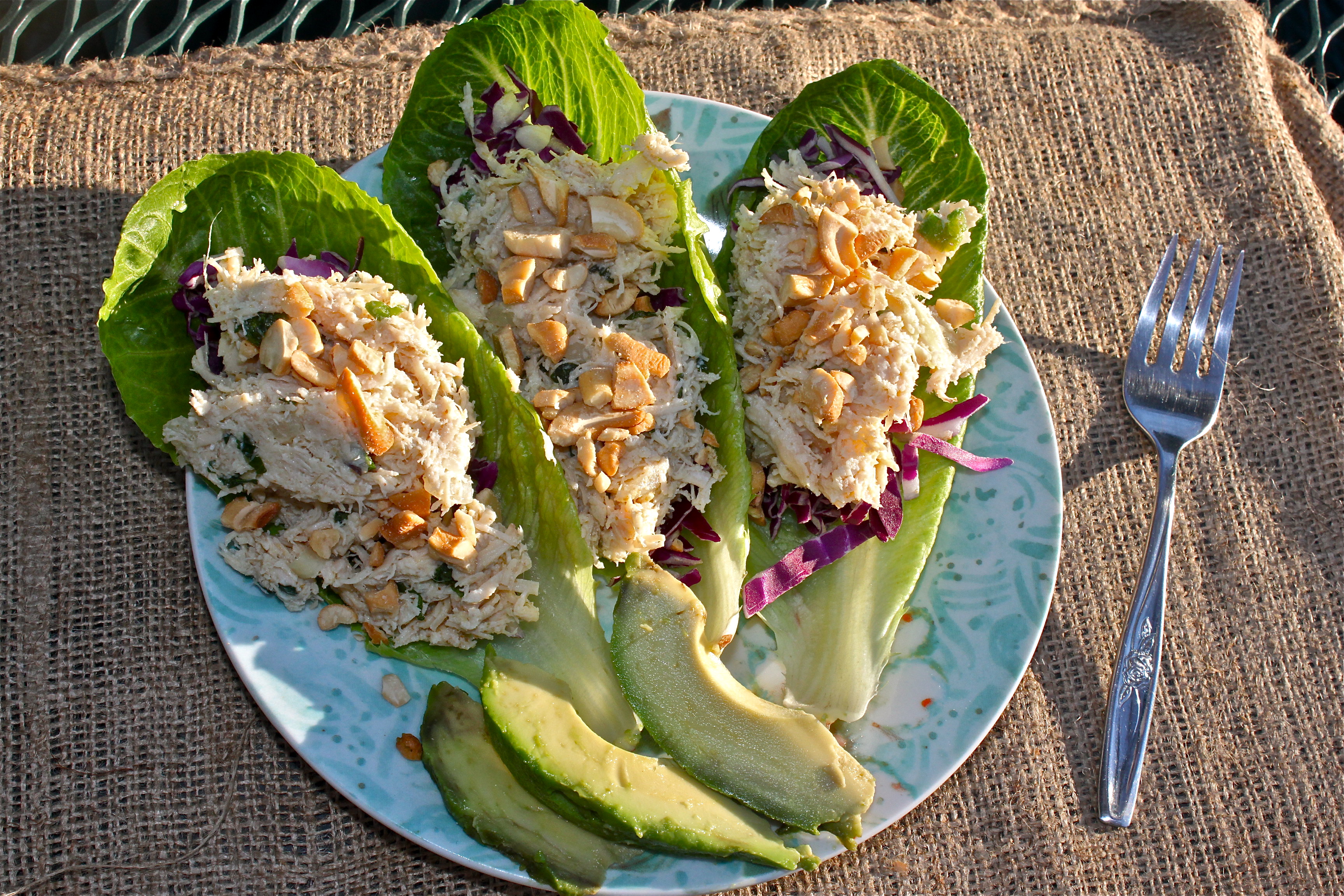 I have a confession to make: I've never made chicken salad without using canned chicken.
*I'll pause while you judge me.  It's okay, go ahead, I can't see you anyways.*
Okay, that's enough.  I know, I know.  It's not as fresh.  It probably doesn't taste as good.  And the sodium?  Yeahhh… so that's why I can't get my rings off.
But it saves me the cooking and the cutting and the shredding.  And it comes in great big cans from Costco for next to nothing.  I'm a busy lady and it's a cuttable corner.   So when I got a chicken salad craving, I had Courtney pick some cans up at Costco.
I actually hadn't planned to do lettuce wraps… I was going to throw it on a Salad.  But when he came home with these adorable miniature romaine heads, I knew lettuce wraps was the way to go.   I had some shredded purple cabbage left over from the mango slaw I made last week and half of an avocado from something or other, and pretty soon I found myself with this pretty little spread.  In fact they were so pretty that it felt like a shame when I had to put them in a tupperware t0 bring to work!
Indian Chicken Salad Lettuce Wraps
A Messy Kitchen Original

Ingredients:
3 12.5oz cans of chicken (white meat in water), drained
1 small yellow onion, diced
1 small jalepeno, seeded and diced
2 tablespoons minced ginger root
2 tsp olive oil
3 tablespoons lemon juice
2 tsp cumin
2 tsp coriander
6 oz fat free plain greek yogurt
1/2 cup chopped mint
fresh ground pepper, to taste
1/2 cup chopped cashews, to garnish
Small romaine lettuce leaves
Instructions:
Heat olive oil in a medium pan.  Cook onion and chili peppers for 3-5 minutes, until soft.  Add ginger, cumin and coriander and cook for 1-2 minutes.  Set aside to cool.   Once mostly cool, mix onion mixture with canned chicken, lemon juice, Greek yogurt and mint.  To serve, scoop chicken salad into romaine leaves and garnish with cashews.
Serves 5-6