Sloppy Joes by Sloppy Jo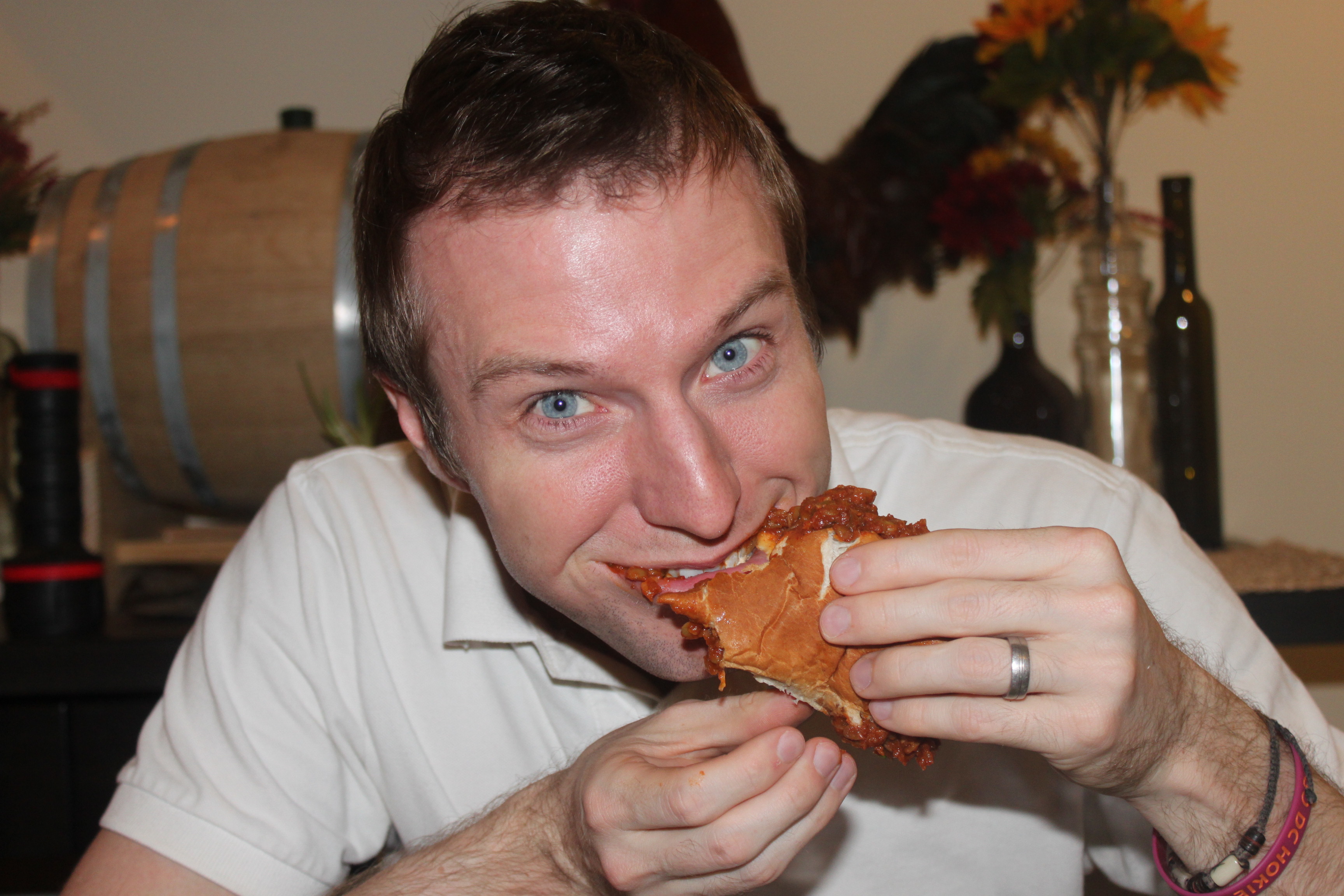 This is a fact: no one can eat a Sloppy Joe without making a mess.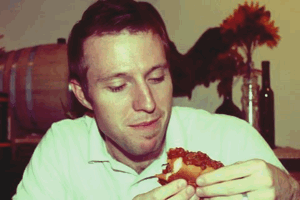 This is another fact: I can't eat anything without making a mess.  Really, I need a bib to eat a lollipop.  Seldom a meal goes by when the doting husband doesn't have to pick at least one stray morsel from my hair.  This is why I love Sloppy Joes: they put me on a level playing field with the rest of civilized human population.
Case in point.  Me eating a Sloppy Joe:
Hubby eating a Sloppy Joe: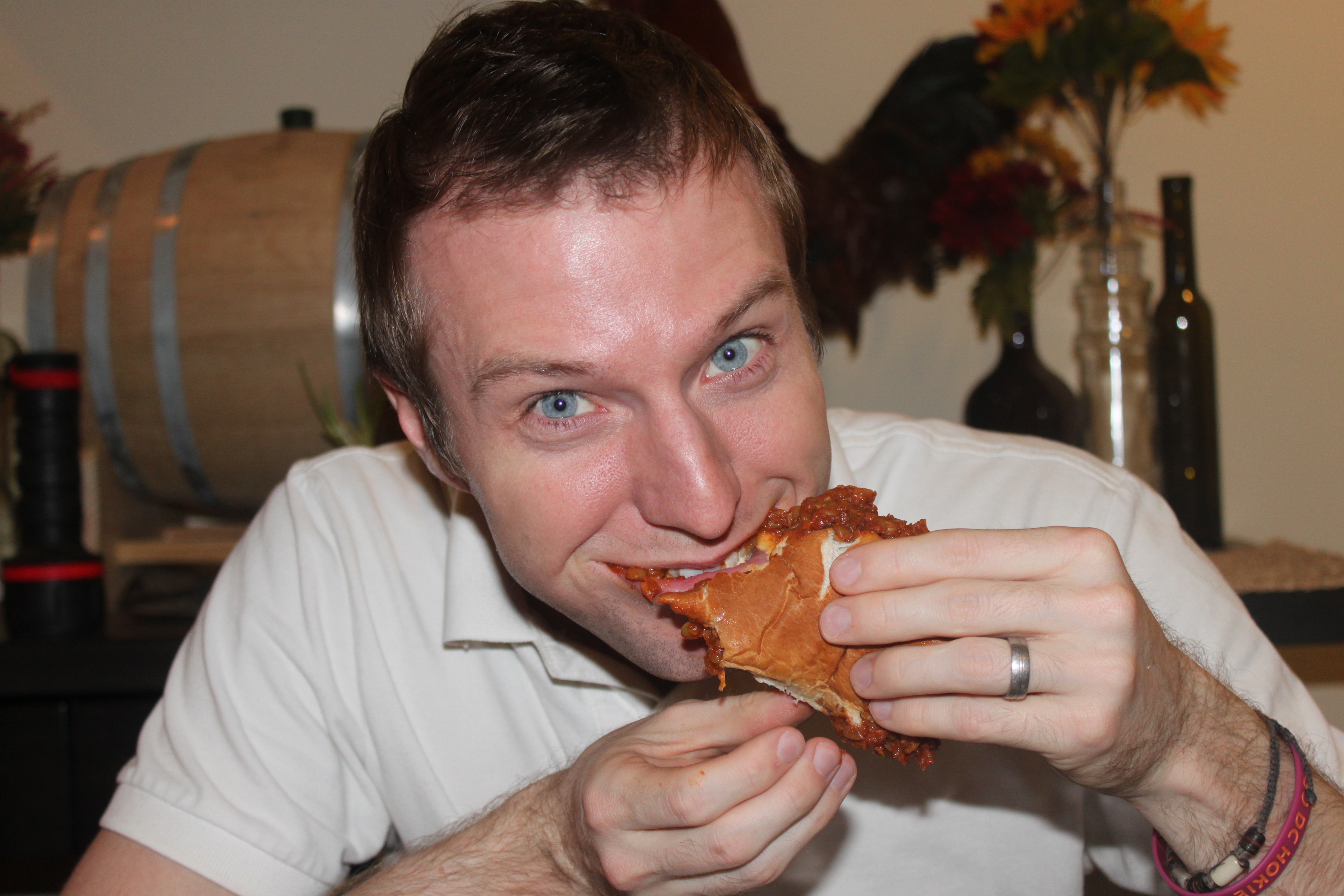 Similar level of sloppiness, right?
Oh wait a minute…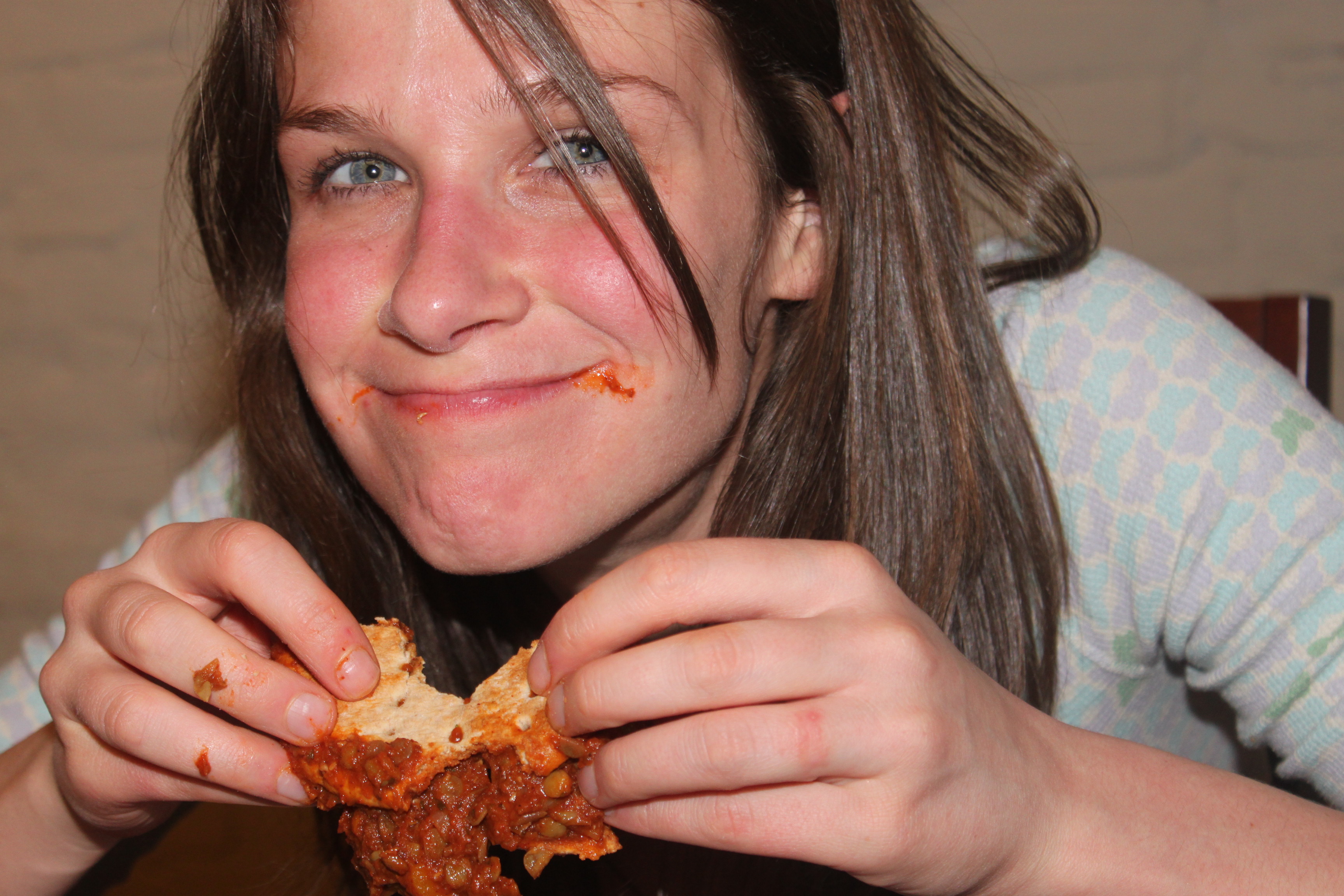 Nevermind.
What can I say, this blog's name didn't come out of no where: I'm a messy lady when I eat.  And cook.  And, well, pretty much always.  My middle name just ain't Grace (although how funny would it be if it was?!)  Hubby (oh, how many times I swore I would never use that word) said to me the other day "you really do break everything."  And it's true.  Cellphones, glassware, copy machines, nails, hearts (okay, probably not so much anymore).
But enough about sloppy Jo.  Let's get back to this Sloppy Joe.   When it looks this scrumptious, can you really blame me for making a mess?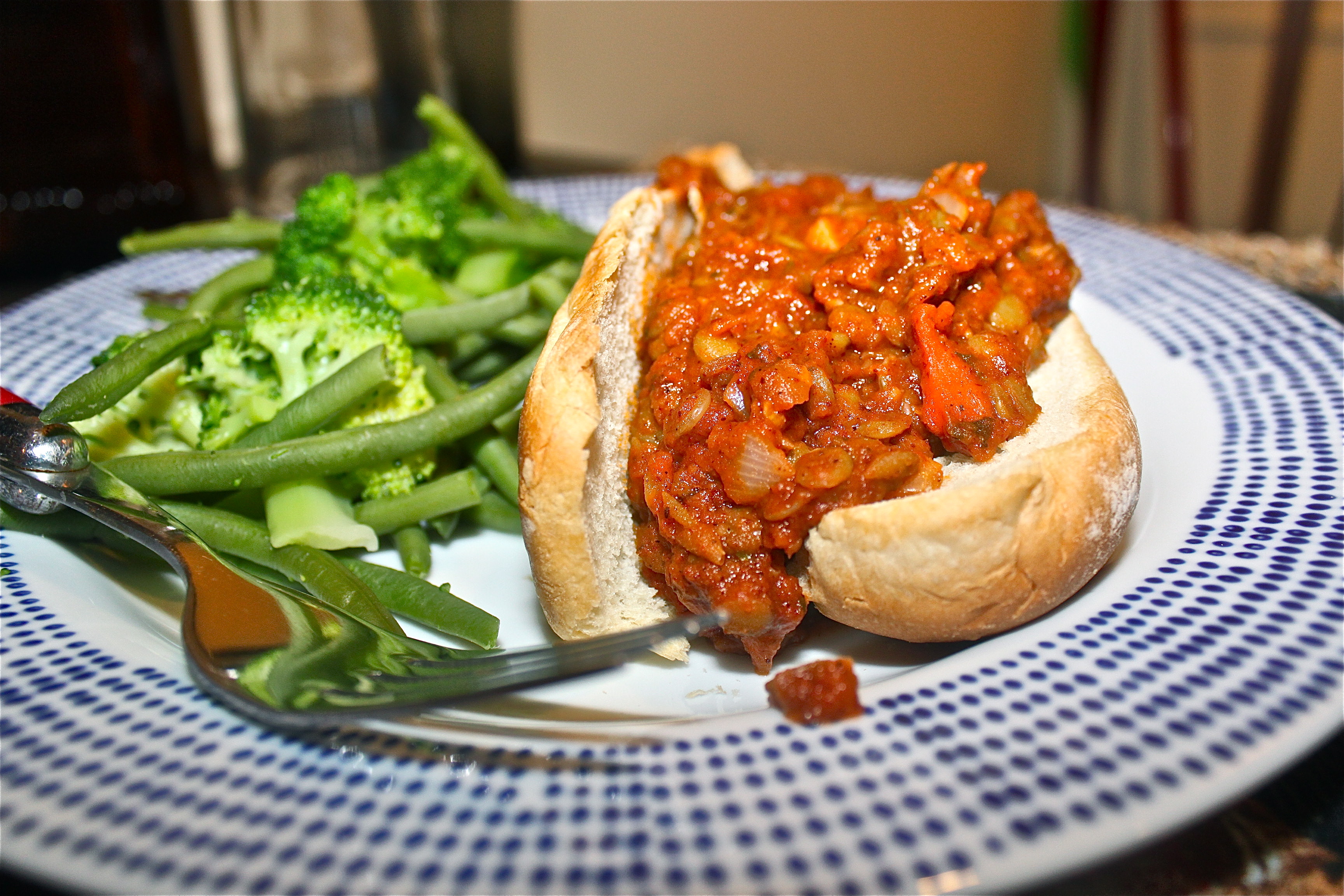 Also: it's vegan!
WHAT?!  You took a quintessentially BEEF-based sandwich and made it vegan?  Why yes, yes I did.  And it ROCKS.  It's absolutely packed full of flavor – you should have seen my meat-lovin' hubby devour it.
Oh wait, you did.
Vegan Sloppy Joe's
Adapted from Post Punk Kitchen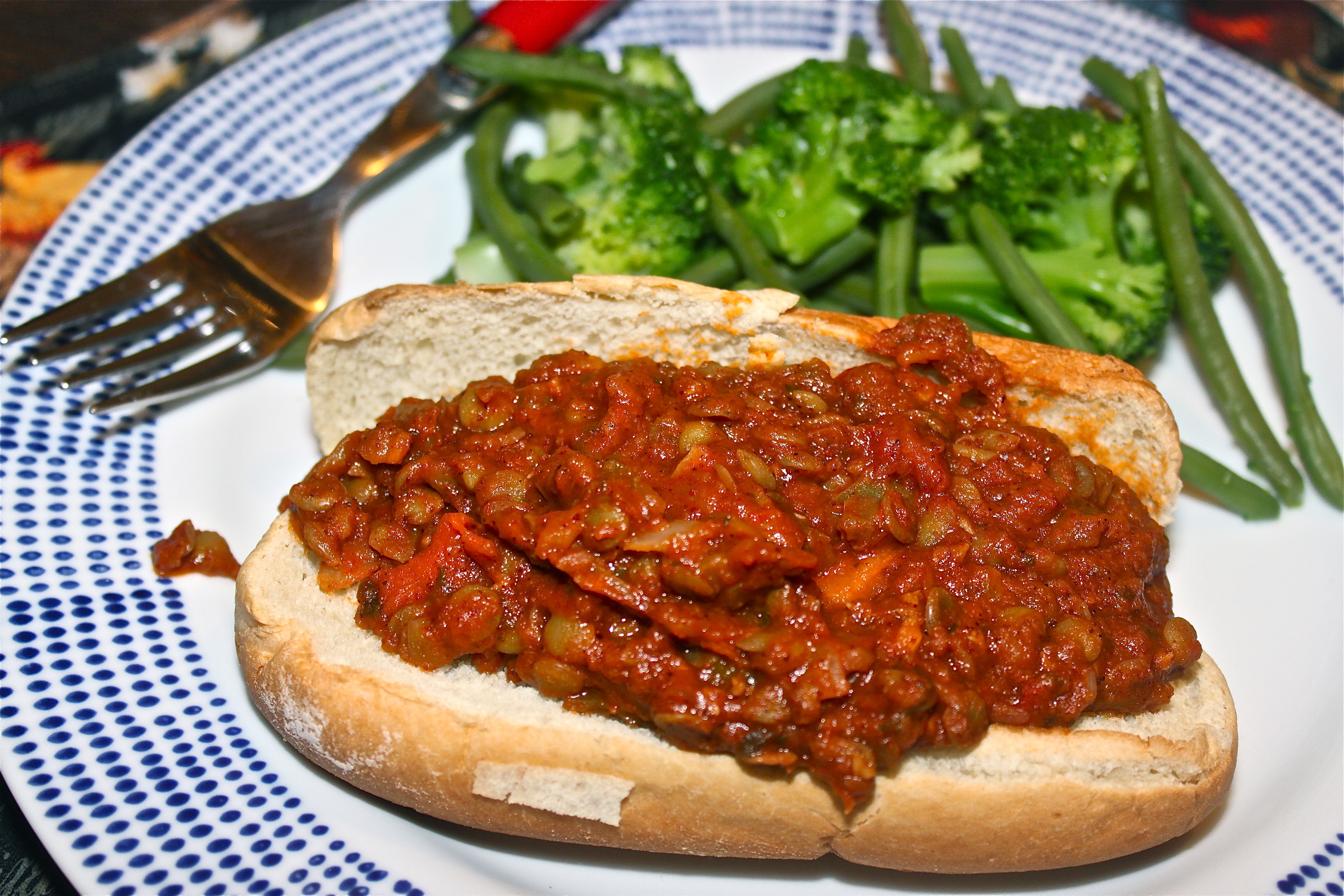 1 cup dry lentils
4 cups water
1 tablespoon olive oil
1 medium yellow onion, diced small
1 bell pepper, diced small
3 cloves garlic, minced
3 Tablespoons chili powder
2 teaspoons oregano
1 teaspoon salt
1 cup tomato sauce
1/4 cup tomato paste
3 tablespoons maple syrup
1 tablespoon spicy mustard
3-4 hot dog buns or bread of choice, for serving

Put the lentils in a medium sauce pot and pour in 4 cups water. Cover and bring to a boil. Once boiling, lower heat and simmer for about 20 minutes, or until lentils are soft and water is absorbed.  This may take longer than 20 minutes, depending on what type of lentils you use.  I recommend checking the package for cook time.
About 10 minutes before the lentils are done boiling, pre-heat a large pan or dutch oven over medium heat. Saute the onion and pepper in the oil for about 7 minutes, until softened. Add the garlic and saute a minute more.  Add the cooked lentils, the chili powder, oregano and salt and mix.  Add the tomato sauce and tomato paste. Cook for another 5 minutes, careful not to let the bottom burn.
Stir in the maple syrup and mustard.  If you have the patience, turn the heat off and let sit for about 10 minutes, so that the flavors can meld.