This is What's Up Doc: Vegan Carrot Soup with Toasted Chickpeas and Tahini Crema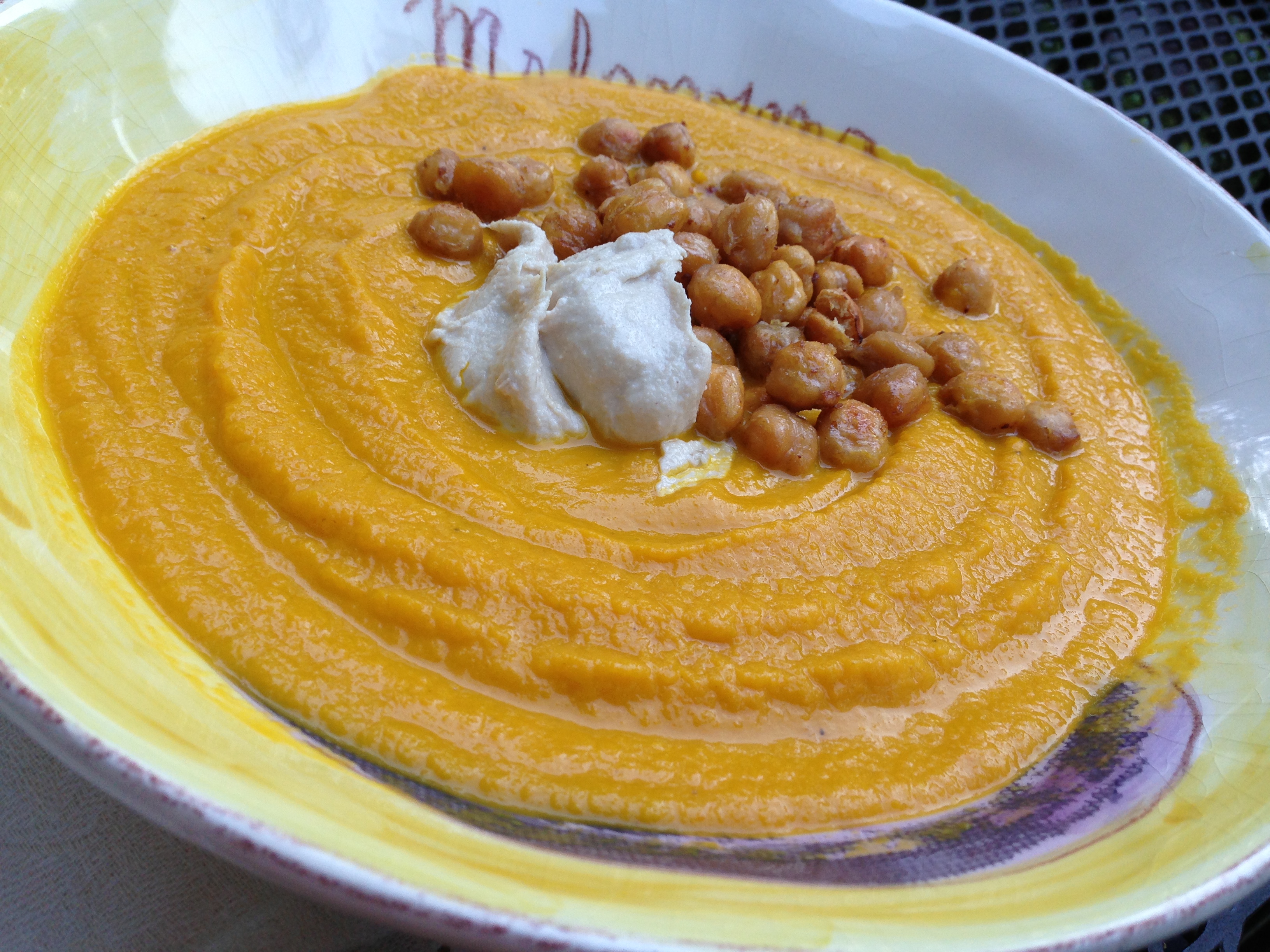 I am definitely a sucker for soup with fancy condiments.  In fact, writing this post just reminded me that it's about time to get this Thai Peanut Soup with Grilled Peanut Butter Sandwich Croutons back in the rotation.  But really, a couple funky garnishes can turn  "just soup" into a meal I can get excited about!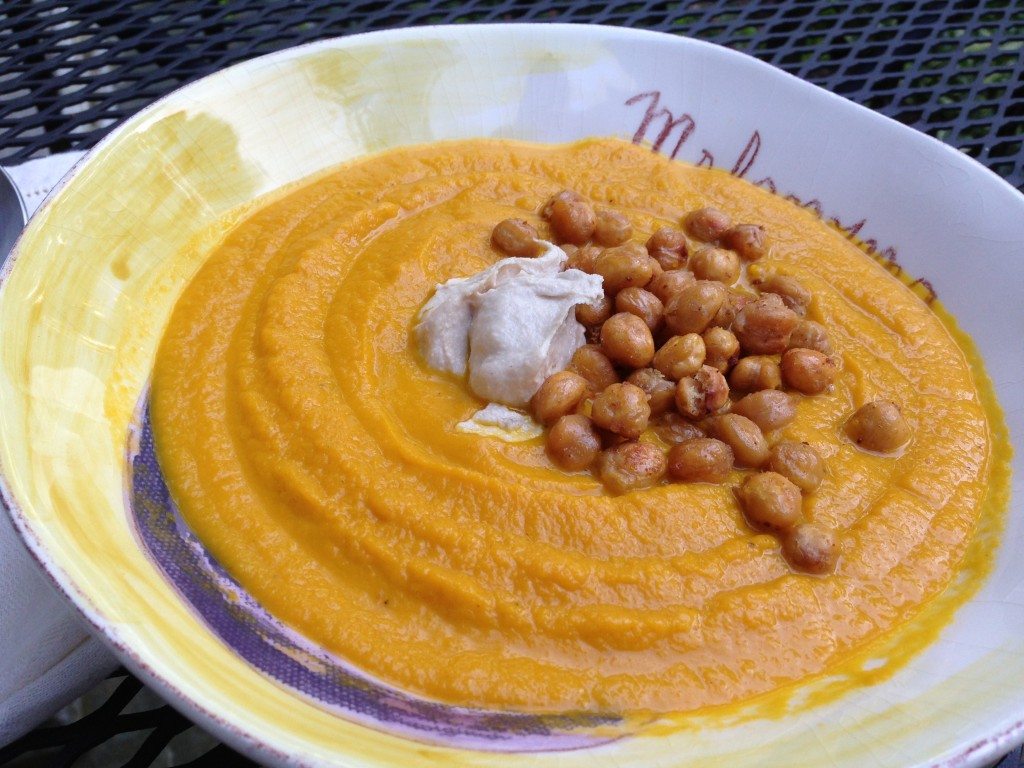 This right here is a perfect example.  The soup itself is a simple, well-spiced carrot bisque.  It's lovely on its own, but somewhat one-dimensional.  Luckily the garnishes do a wonderful job of adding layers of both texture and flavor.  First you have the crispy chickpeas, which I would be perfectly happy to munch on as a snack.  The oven dehydrates them and the oil and seasoning give them an almost chip like effect.  They give the soup both flavor and crunch.  Then you have the tahini crema, which not only gives the soup a creamier consistency, but also brings a salty tang.
How you choose to eat the soup reflects your own personal style!  Courtney chose the "immediately stir everything together, because it's all going the same place anyways!" approach, while I preferred to keep things separate and scoop up a representative sample in each bite, occasionally sampling each component individually.  But really, you can't go wrong (well, unless you ask your husband to blend the soup while you make the salad, and he puts too much soup in the blender and it sprays all over your parents' kitchen, scalding the poor boy and causing your mom to think someone just projectile vomited all over her rug… and counters… and wall… luckily the pups were more than happy to help clean up!)  I recommend serving this soup with a simple salad and a good hardy bread (AHEM!)
Vegan Carrot Soup with Toasted Chickpeas and Tahini Crema
Adapted from Smitten Kitchen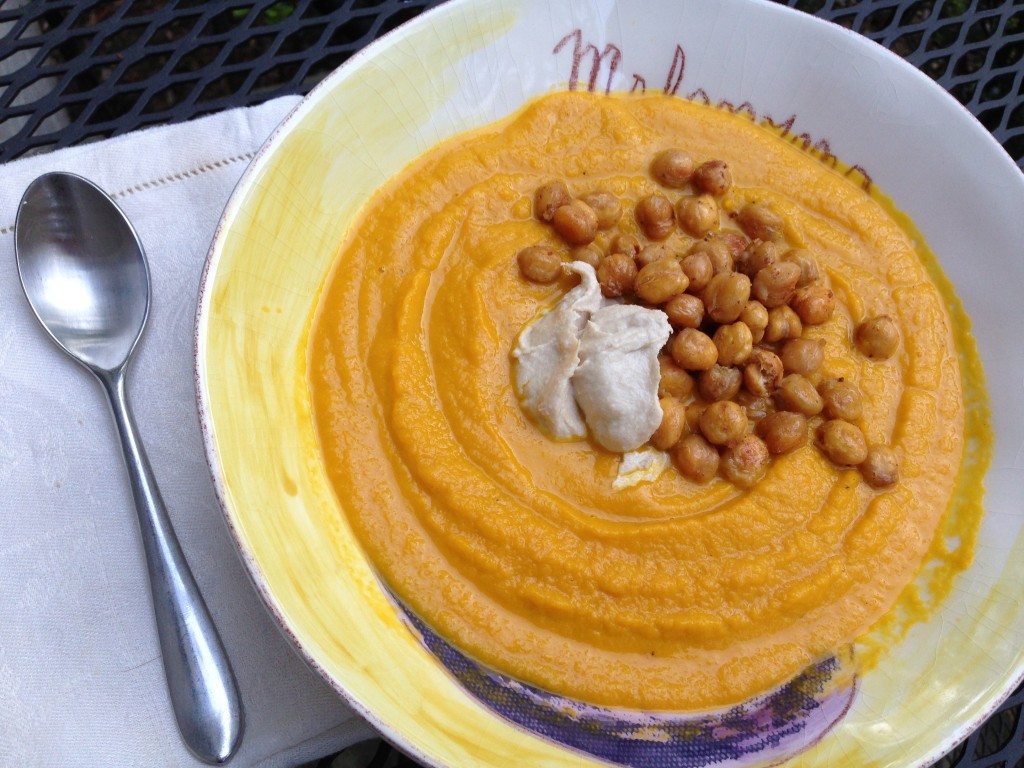 Serves 4 as an entree or 6 as a starter
Soup
2 tablespoons olive oil
2 pounds carrots, diced
1 large onion, finely chopped
4 regular or 6 small garlic cloves, peeled and smashed
1/4 teaspoon ground coriander
1 teaspoon ground cumin
1/2 teaspoon table salt, or more or less to taste*
Pinch of Aleppo pepper or red pepper flakes (optional)
4 cups low-sodium vegetable broth
*I recommend going light on the salt – the chickpeas and tahini add the perfect amount of saltiness.
Crisped chickpeas
1 3/4 cups cooked chickpeas, or 1 15-ounce can, drained and rinsed
1 generous tablespoon olive oil
1/2 teaspoon coarse salt
1/2 teaspoon ground cumin
Tahini Crema
3 tablespoons tahini paste
2 tablespoons lemon juice
Pinch or two of salt
2 tablespoons water
Heat two tablespoons olive oil in a large pot over medium heat.  Add carrots, onion, garlic, coriander, cumin, salt and pepper flakes and sauté until they begin to brown, about 15 minutes.
Meanwhile, heat your oven to 425 degrees F.  In a medium sized bowl, toss chickpeas with  olive oil, salt and cumin until they're all coated.  Spread them on a baking sheet or pan and roast them in the oven until they're browned and crisp, 10 to 20 minutes.  Stir them occasionally to make sure they're toasting evenly.
Once vegetables have begun to brown, add broth, using it to scrape up any bits stuck to the bottom of the pot.  Cover pot with lid and simmer until carrots are tender, stirring occasionally, about 30 minutes.
Meanwhile, in a small dish, whisk together tahini, lemon juice, salt and water until smooth with a yogurt-like consistency.
Puree soup in a blender or with an immersion blender until smooth. Ladle into bowls. Dollop each with lemon-tahini and sprinkle with crisped chickpeas.