Celebrating the Colors of Summer: Pineapple and Cashew Quinoa Bowl with Tofu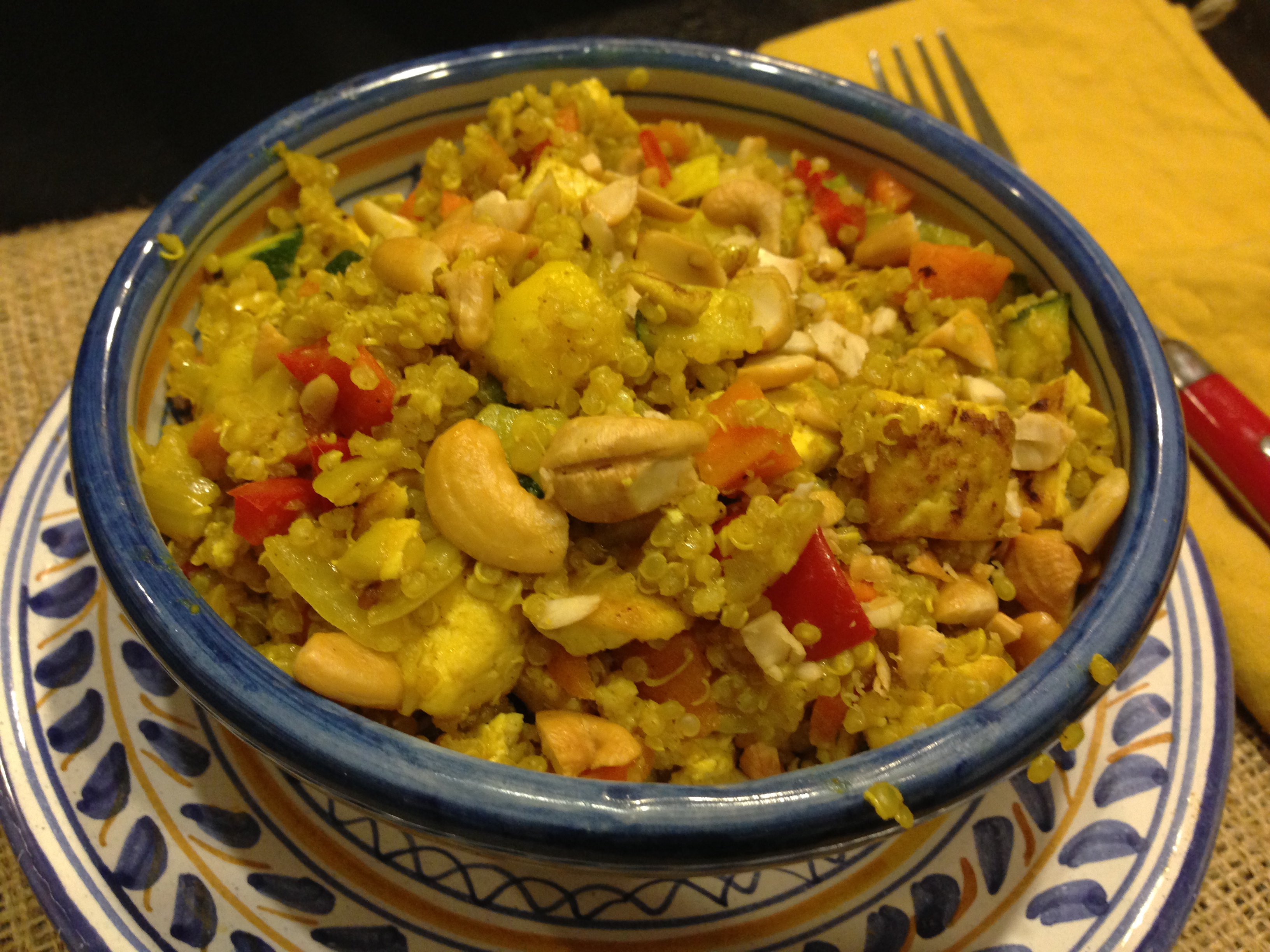 This afternoon we set off for Columbia, the country.  But before we go, I wanted to bring one more recipe!  I'm sure many of you will be relieved to see that a) it's not breakfast and b) it doesn't involve protein  powder!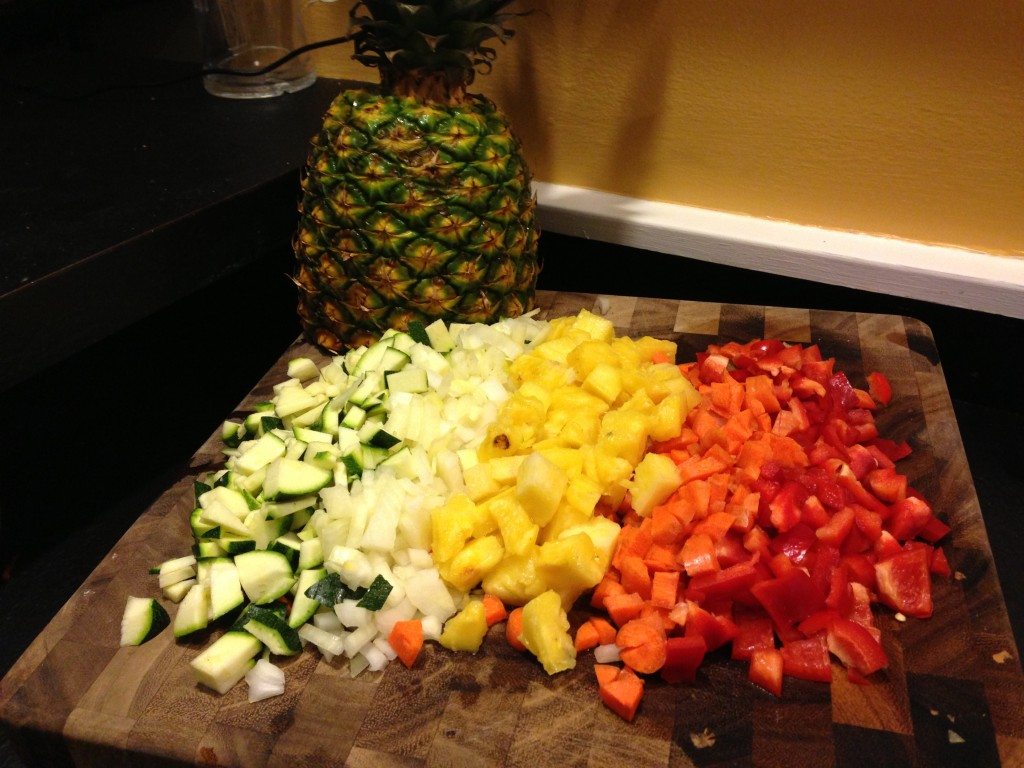 What it does involve is lots of vibrant colors and fresh produce.  So go ahead and take a look at the list below, head on over to the farmer's market, and whip yourself up a little bowl of Summer!
Pineapple and Cashew Quinoa Bowl [Vegan]
From The Fig Tree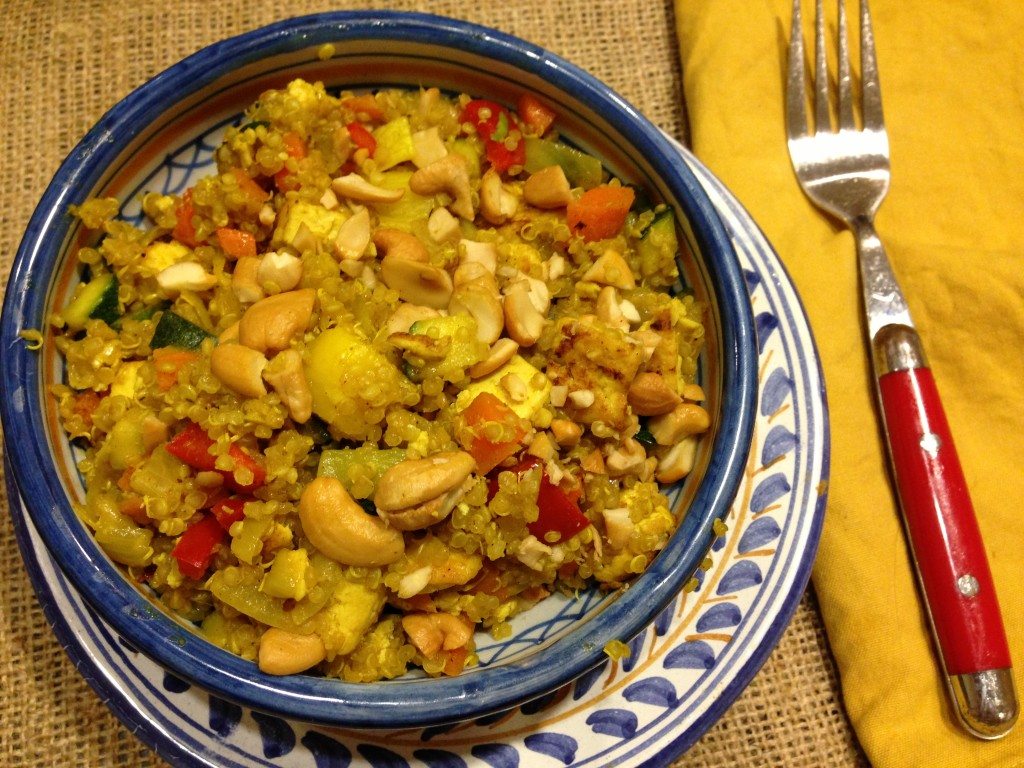 Ingredients:
1 cup of uncooked quinoa
1 and 1/2 cups of water
1 tablespoon olive oil
1 small onion, diced
3 cloves of garlic, peeled and minced
1 red pepper, diced
2 carrots, chopped
1 large zucchini, chopped
1 tablespoon of good quality curry powder
1/2 teaspoon of ground coriander
1 heaping teaspoon of chile-garlic sauce
1 block (15 oz) pressed tofu, pressed and diced
salt and pepper to taste
1 cup of fresh (or canned) diced pineapple
1/2 cup of vegetable broth
3/4 cup of unsalted roasted cashews
1. In a medium saucepan, bring the water and quinoa to a boil. Once boiling, reduce the heat to a simmer and cover. Cook on low heat for 15 minutes. Remove from heat and allow quinoa to sit for 5 minutes covered. Remove lid and fluff with a fork.
2. In a wok or large sauce pan, heat oil on medium-high heat. Sauté onions until they are soft and lightly browned. Add garlic and sauté for a minute or so. Add the peppers, zucchini and carrots. Sweat the vegetables for 5 minutes and then add the curry powder, coriander powder, and chile-garlic sauce. Add the vegetable broth to create a sauce. Season with salt and pepper.
3. Add the quinoa, pineapple pieces, cashews and tofu. Mix well. Heat everything through for 5 minutes at a simmer. Allow mixture to sit for about 10 minutes before serving.
Serves 4-5