For the Love of Carbs: Spaghetti Stuffed Garlic Bread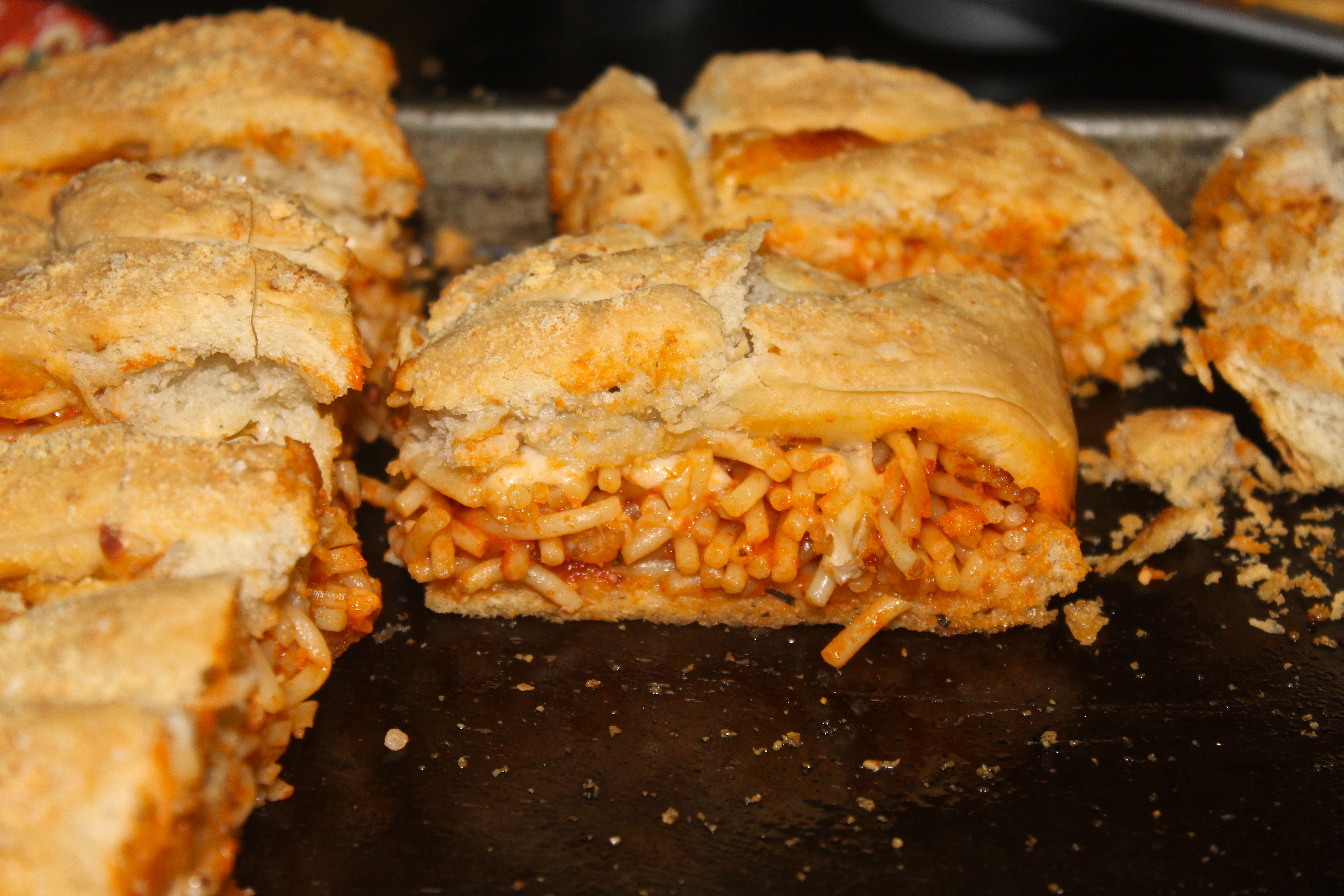 At both family dinner tables and Italian restaurants across the country, when you're served spaghetti it often comes side-by-side with a piece of garlic bread.  I've always thought it sort of ironic that much less often do you see garlic bread with a salad, a chicken breast, or any other dish that isn't already pure carbs.  But that's America: if we're going to eat carbs, we want to go all in.  Take my husband when he goes to Olive Garden (which is much less often now that I have anything to say about it): he always orders the Tour of Italy.  Which should really be called the "Tour of the Heaviest and Most Cliché Americanized Italian Foods," but I digress.  The point is, who wants just the lasagna when you can have lasagna, chicken parmigiana and fettuchini alfredo?  Which comes with a side of garlic bread sticks, of course!
Yes, my husband loves his carbs, and fortunately he's one of the lucky few who can eat them at his leisure and still keep his body fat percentage in the single digits.  For his birthday this year, I decided to make a party spread of all his favorite things, which of course had to include pasta.  Since pasta doesn't exactly lend itself to being the best finger food at a party, I decided on a twist of the dinner table classic: spaghetti stuffed inside garlic bread.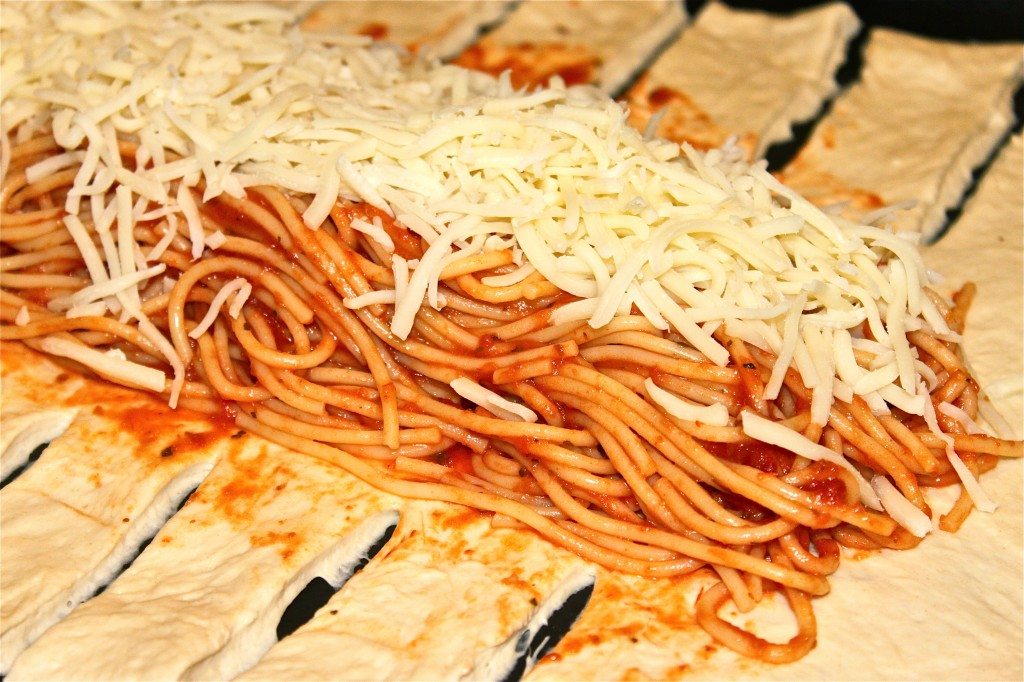 And Oh. My. God.  Even this girl can get on board for this cheesy, saucy, carb-o-gasmic masterpiece.  I wasn't able to find pre-made bread dough at the store, so I made mine from scratch.  It's not hard, surely tastes better, and I included the recipe is below.  I was surrounded by hungry eyes and empty plates as I pulled this out of the oven, so I failed to get a picture of the fully baked loaf before we cut into it.  I did, however, hold the vultures off while I took a picture of the cheese and spaghetti oozing out of the warm-baked garlic bread.  So make this, but in the meantime enjoy some food porn!
Spaghetti Stuffed Garlic Bread
Adapted from Rhodes Bake-N-Serv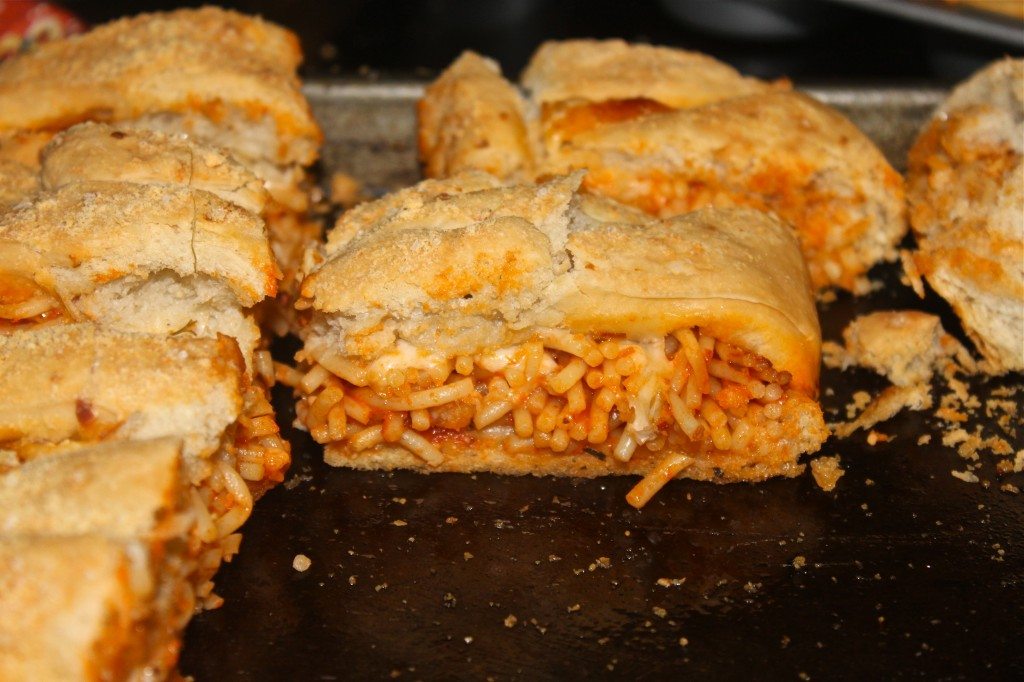 Ingredients:
1 recipe dough (see below)
6 oz spaghetti, cooked according to instructions
1 cup thick spaghetti sauce
8 oz shredded mozzarella cheese
1-2 T Olive oil
2 T grated Parmesan cheese
3 gloves garlic, minced
Sea salt
Fresh or dried rosemary (or Italian seasoning)
Cooking Instructions:
In a medium bowl, toss spaghetti with marinara sauce.
On a floured sheet of parchment paper, roll your dough into a large rectangle.
Spread spaghetti mixture evenly in a strip down the center of the dough, leaving about 4-5 inches on each side.  Top with shredded mozzarella.
Make cuts 1 ½-inches apart on long sides of dough to within ½-inch of filling.  It should look something like this:
Begin braid by folding top and bottom strips toward filling. Then braid strips left over right, right over left. Finish by pulling last strip over and tucking under braid.  It should look like this photo, which I have borrowed from the Rhode's because I failed to take a photo of this step and want you to see what it looks like.

Photo Credit: Rhode's Bread

In a small bowl, combine olive oil and minced garlic.  Brush mixture onto bread and sprinkle with parmesan and rosemary.
Transfer parchment paper to a baking sheet.  Bake at 350 degrees for 35-40 minutes, or until golden brown.  Cool slightly, slight and serve.
For the dough:
1/4 cup milk
1 1/2 Tbsp sugar
1 tsp salt
1 1/2 Tbsp unsalted butter
1 package active dry yeast (equal to 1/4 oz or 2 1/4 tsps)
2 1/2 to 3 1/2 cups all purpose flour 

Cooking spray
In a small bowl, stir together yeast and 1 cup warm water.  Allow to sit for about five minutes.
Meanwhile, melt butter in a microwave and add butter, milk, sugar, salt and yeast to the bowl of a stand mixer ((if you do not have a stand mixer, this can be done in a large bowl, you will just need to kneed it later)).  Add the yeast and mix well.
Start by adding 2 cups of flour and stir using your bread hook attachment.  While continuing to stir, add the flour about 1/4 cup at a time until the dough is still slightly sticky, but it doesn't stick to the dough hook or the bottom of the bowl.
Now you can just continue to stir using the dough hook for 5-7 minutes, or kneed by hand on a clean dry surface if you don't have a stand mixer.  Finish by shaping dough into a ball.
Place dough in a medium-sized bowl coated in cooking spray and allow to rise for at least an hour.