Vegan Curried Pumpkin Soup with Caramelized Onions and Maple Tempeh Bacon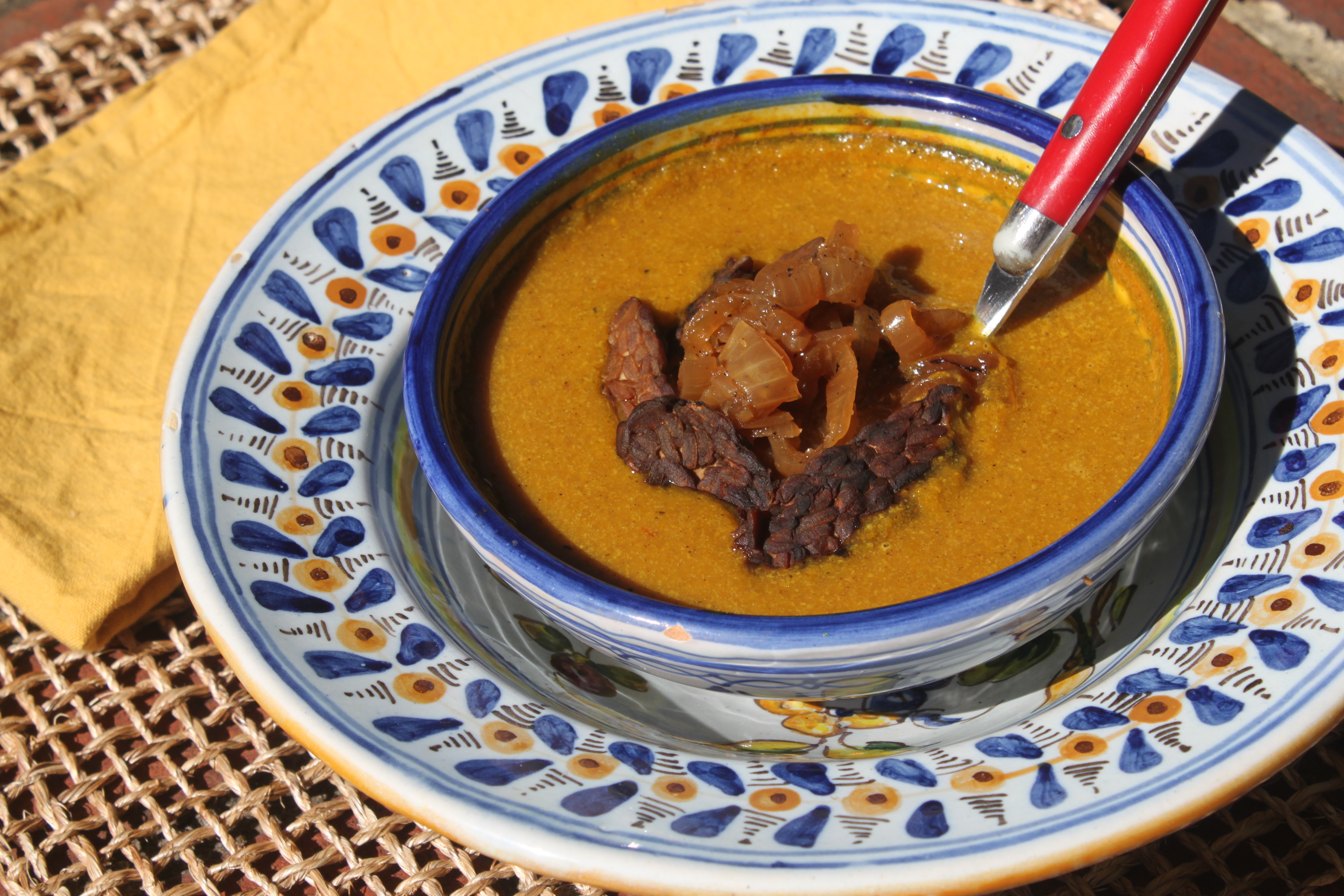 I'm convinced this recipe was designed to be the seasonal soup option in the Fall at a hip little vegan restaurant that may or may not have a rooster theme.  Okay, maybe we're getting a little too specific here.  But this makes an excellent Fall soup.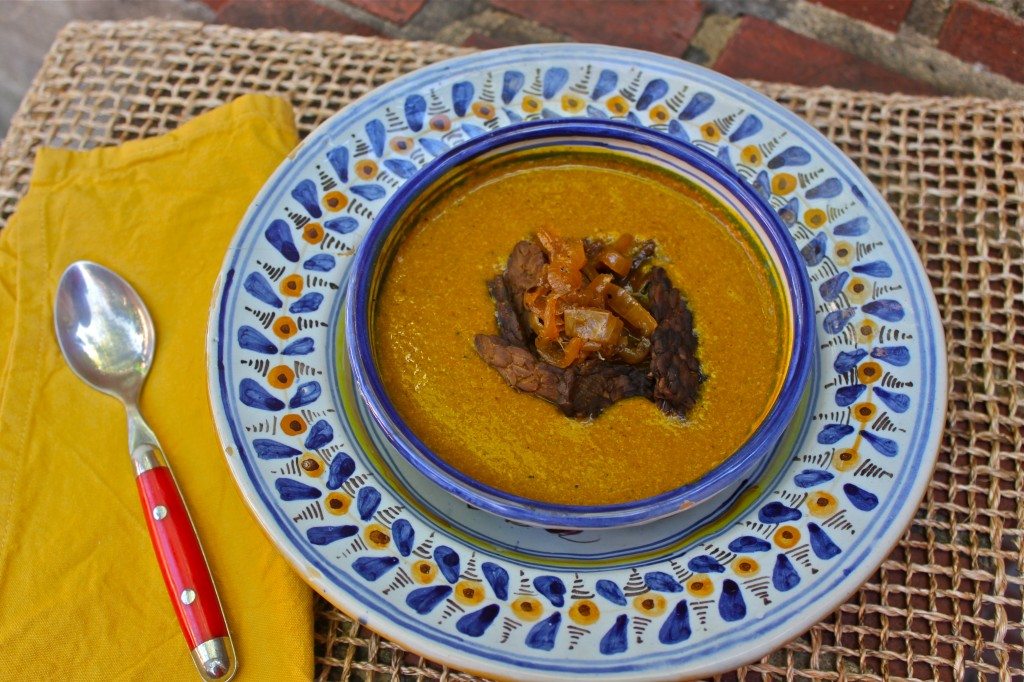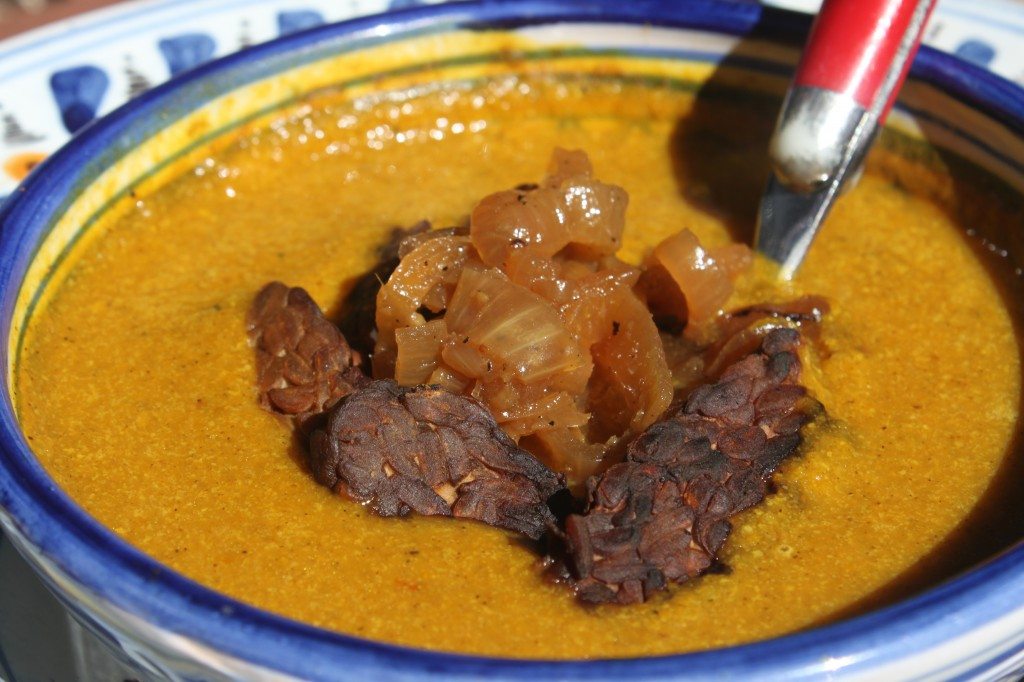 The curry gives it the perfect kick to warm your belly on a cold Fall night.  The gingery caramelized onions and the maple smoked tempeh bacon add the perfect amount of pizzaz to an otherwise simple base.  The only thing I'd add next time around is a great big warm slice of freshly baked honey oatmeal bread.
Curried Pumpkin Soup with Caramelized Onions and Maple Tempeh Bacon
Adapted from The Endless Meal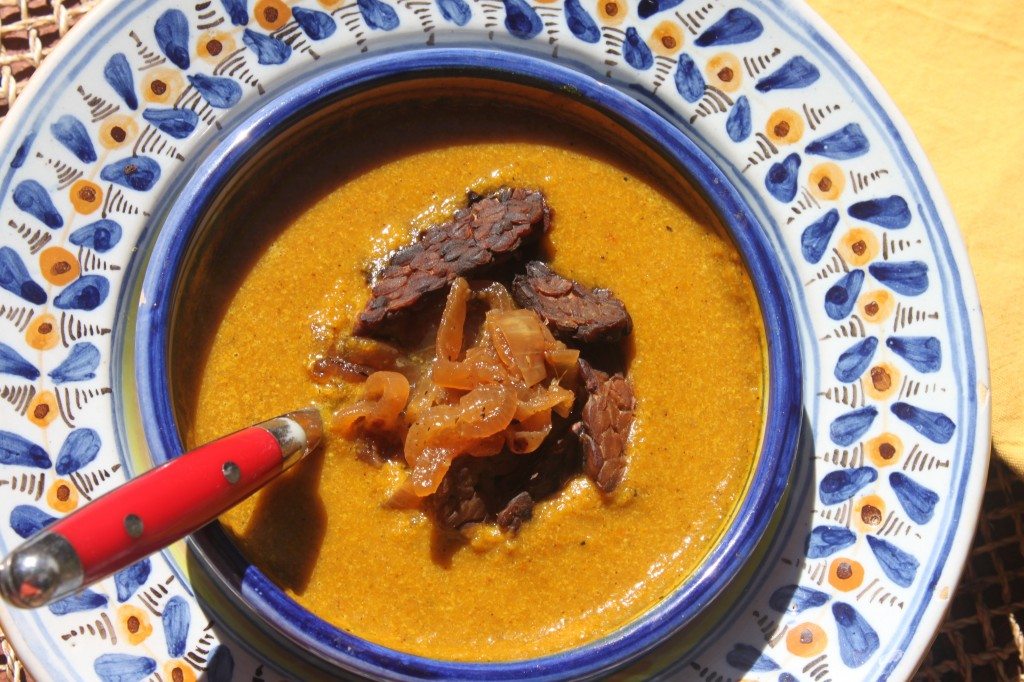 Ingredients
8 slices of smoky tempeh bacon (I used Turtle Island)
2 large yellow onions, one thinly sliced and the other diced
¼ cup maple syrup
2 T grated fresh ginger (or you can use the fresh paste in a tube)
15-ounce can pumpkin
2 T olive oil
1 T curry powder
1 T cinnamon
Cayenne powder, to taste
1 large apple, cored and diced
Juice of 1 large orange
3 cups almond milk
Sea salt and freshly ground pepper, to taste
Instructions
Heat 1 T olive oil in a medium skillet.  Add sliced onions and cook until very soft and slightly browned, about 10 minutes. Add the maple syrup and ginger, reduce heat to medium low and continue cooking, stirring often, until the onions are thick and caramelized, about 10 minutes.
Meanwhile, in a large pot over medium-high heat, combine 1 T of olive oil and the diced onion, curry powder, cayenne, cinnamon and apple. Sauté until the onion is tender, about 5 minutes.
Mix in the pumpkin and orange juice, then transfer everything in the pot into a food processor or blender. Add the milk and puree until smooth.
Return the soup to the pot and bring to a gentle simmer. Season generously with salt and pepper.
Meanwhile, seer the tempeh bacon in a skilled until it's nice and crispy.
To serve, ladle the soup into bowls and top with caramelized onions and tempeh bacon.
Serve 4 as an Entree or 6 as a Side