There's been a great deal of talk about leftovers here at the Messy Kitchen since our big feast last week.  I've eaten so much turkey I'm starting to fear I might become one.  Today, we'll still be talking leftovers, but fear not, I'm giving you a break from the bird.  For today we're talking Leftovers Club!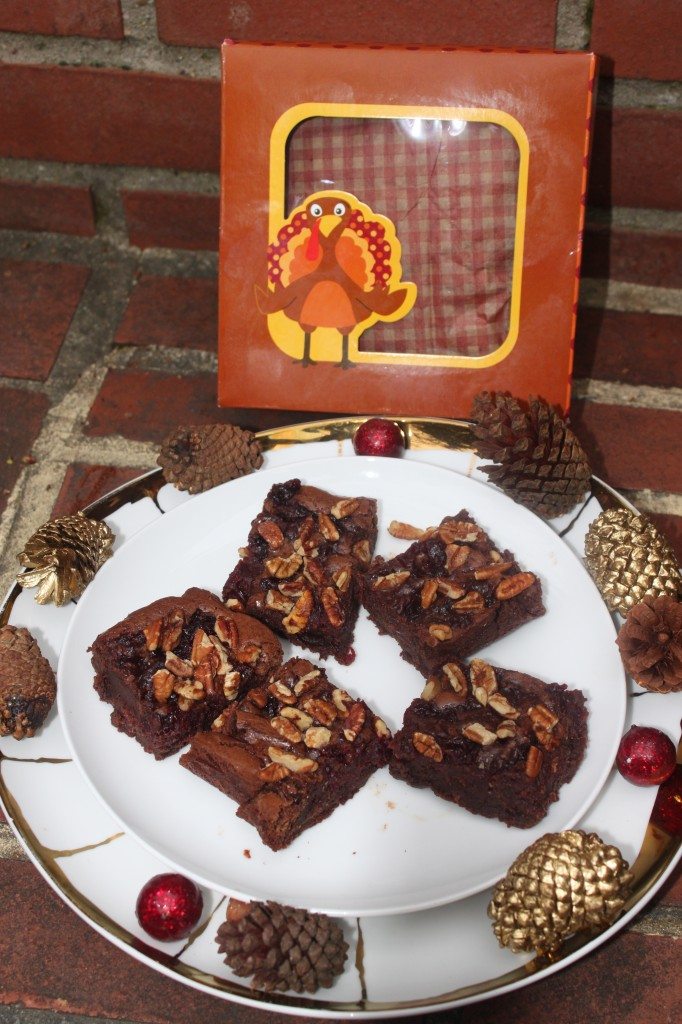 Actually, our Thanksgiving leftovers were incorporated into the treat I sent this month.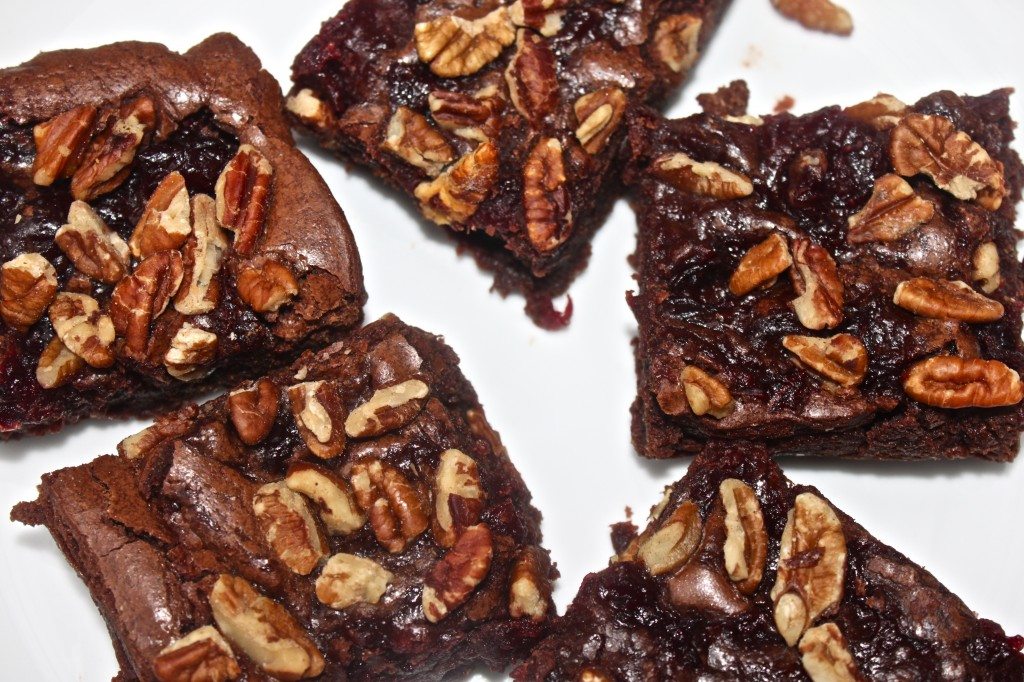 NO I didn't make turkey brownies, worry you not.  These babies are swirled with cranberry sauce.  Orange-bourbon cranberry sauce, to be precise.
This month I was paired with Shaina with Take a Bite Out of Boca.  When we introduced ourselves, we discovered a shared love for dark chocolate.  Shaina also said she loved Fall spices and flavors, so I got to thinking, "how could I incorporate Thanksgiving into a deep dark chocolate brownie?"  And so these brownies were born.
For the brownie base, I googled "best brownies" and discovered David Lebovitz's recipe for these absolutely outrageous dark chocolate brownies.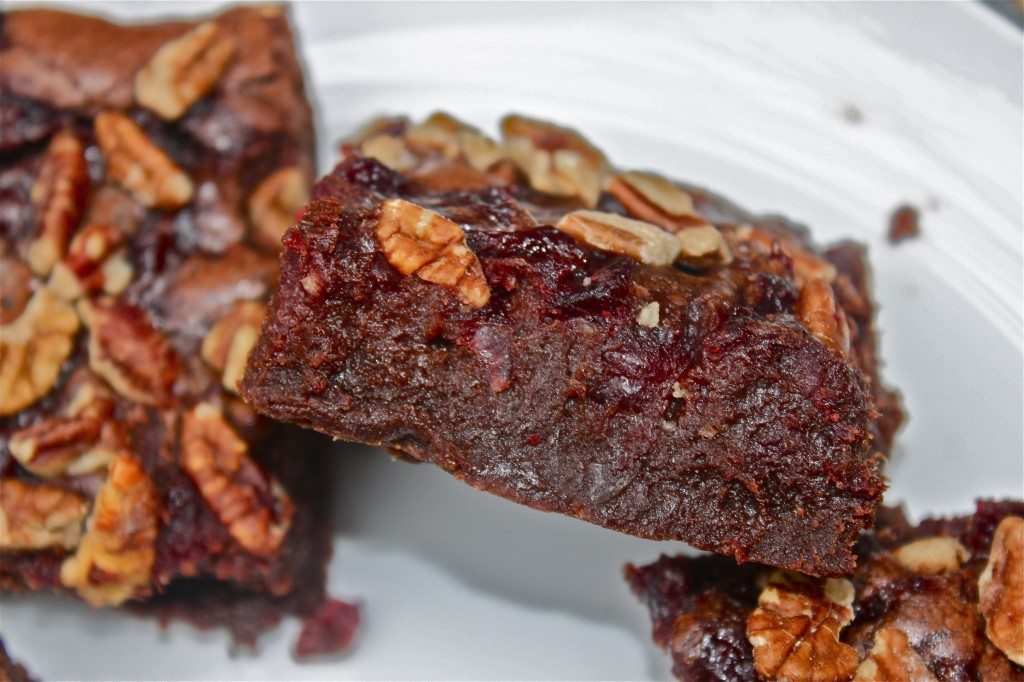 If you are a fan of cakey brownies, these are not for you.  With only 1/4 cup of flour for the entire batch, these are some of the fudgiest brownies you'll ever come across.  I absolutely adored the way these brownies were dense, chewy and rich with just a thin layer of crispy crust on the top, almost as if they'd been brûléed.  The tart cranberry sauce with hints of citrus and booze was the perfect touch!
Like to bake, but prefer to share?  
Want a surprise on your door step each month?  
Join The Leftovers Club!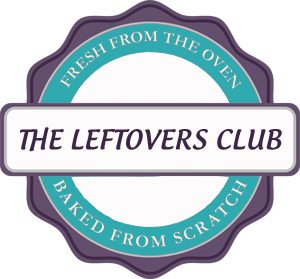 Dark Chocolate Brownies Swirled with Orange-Bourbon Cranberry Sauce
Brownie Base from "Robert's Absolute Best Brownies" by David Lebovitz's Ready for Dessert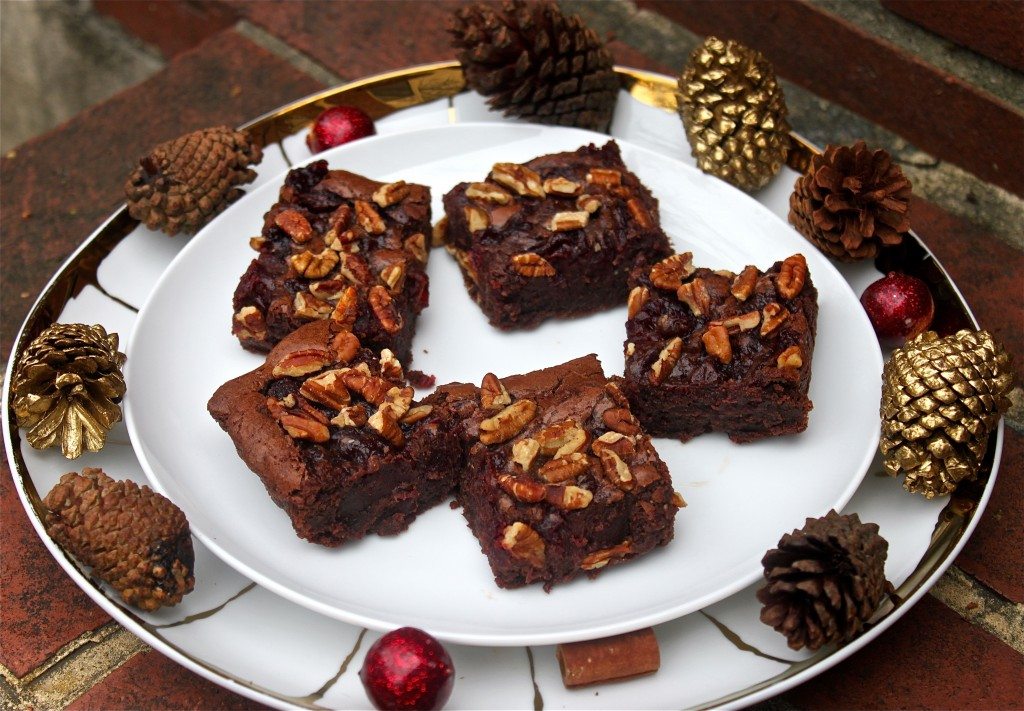 Ingredients:
6 tablespoons unsalted butter, cut into pieces
8 ounces bittersweet or semisweet chocolate chips
3/4 cup sugar
1 teaspoon vanilla extract
2 large eggs
1/4 cup all-purpose flour
1/2 cup cranberry sauce*
1/3 cup chopped pecans
*You can use whatever cranberry sauce you have leftover.  I used this orange-bourbon cranberry sauce.  During the cooking process I added about twice the upper limit on the bourbon, a tsp of cinnamon and a dash of all spice.
Instructions:
Preheat oven to 350° F.  Line a 8 or 9-inch square baking tin with two pieces of foil or parchment paper, leaving a 2-inch overhang on each side.  Lightly grease with butter or cooking spray and set aside.
Melt the butter in a medium saucepan over low heat.   Add the chocolate and stir over low heat until the chocolate is melted and smooth. Remove from the heat.
Whisk in the sugar and vanilla until well combined.  Add eggs one at a time, whisking until smooth after each addition.
Whisk in eggs one at a time, whisking until smooth after each addition. Whisk in the vanilla.
Add flour and stir batter vigorously with a whisk for 1 full minute.  Time yourself; it is very important that you whisk vigorously and for a full minute until batter loses its graininess and becomes smooth and glossy, and pulls away from the sides of the saucepan.
Pour batter into prepared baking pan.  Spoon dollops of cranberry sauce into pan and swirl using a knife.  Sprinkle with chopped pecans.

Bake for about 30 minutes, until the center is almost set.  [Note: while you definitely do not want to overbake, I found that mine took much longer than 30 minutes to cook.  This may have been because I made two pans of brownies at once, but be prepared that they may beed longer to cook].
Allow to cool completely before cutting.