Paleo Salmon Cakes Over an Asian Style Cobb Salad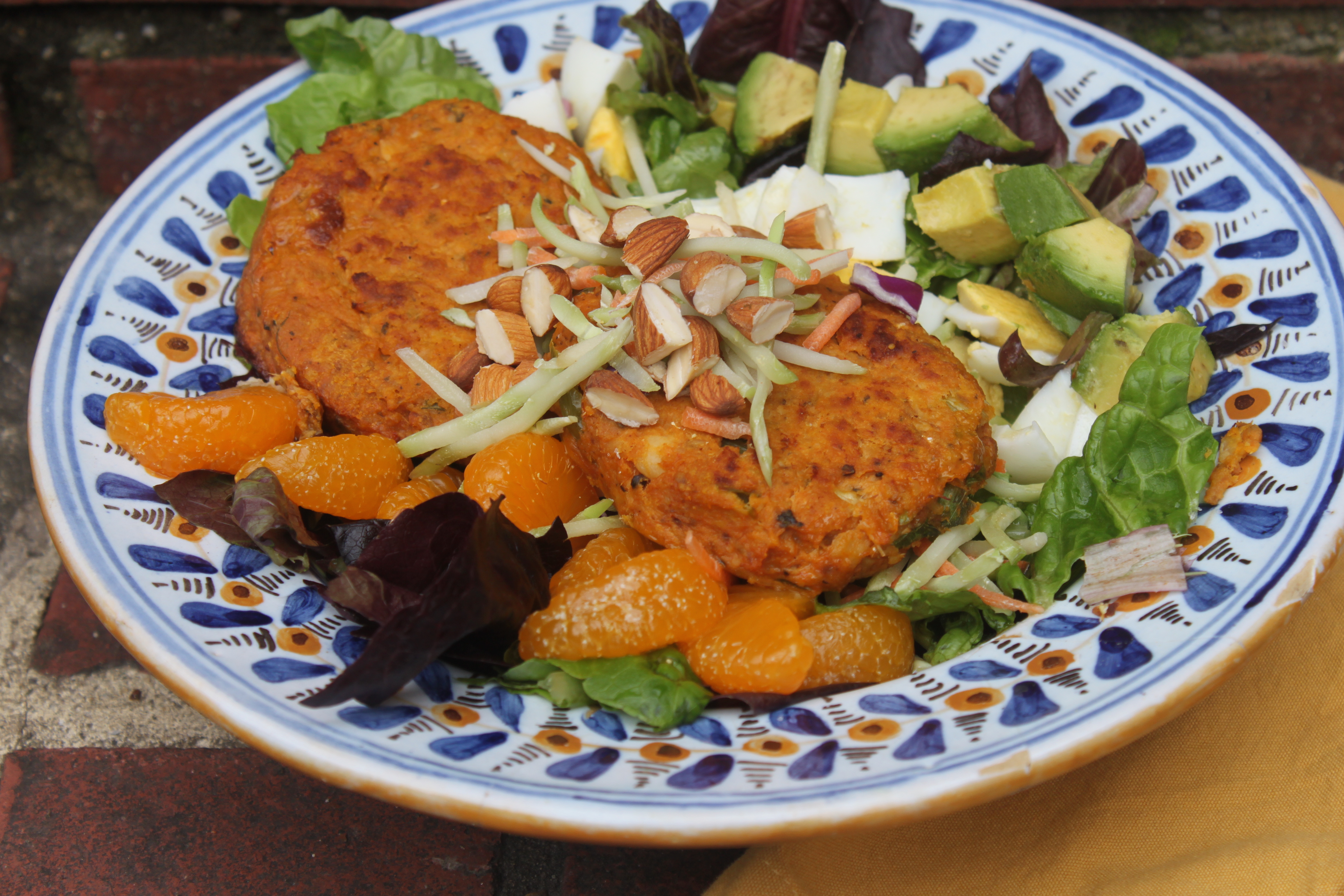 Salmon cakes in the morning, salmon cakes in the evening, salmon cakes at suppertime!  Sorry, Bagel Bites, for any copyright infringement, but that is quite literally how often I have been eating these salmon cakes.  And no, I'm not sick of 'em!  They are so good, yet so different, depending on how you serve them.  Have a look-see: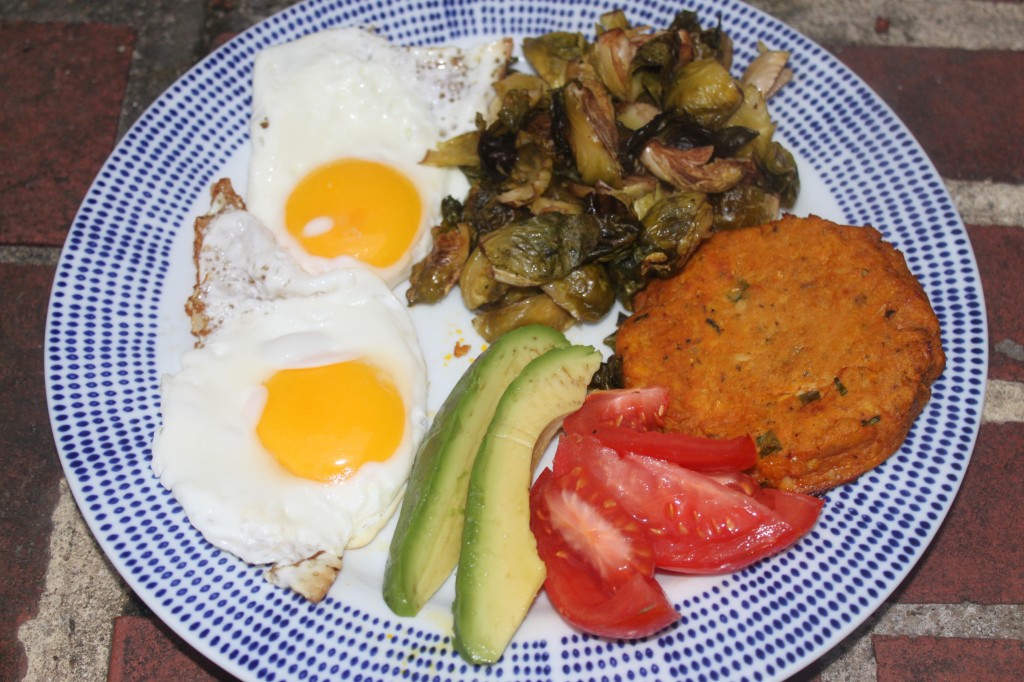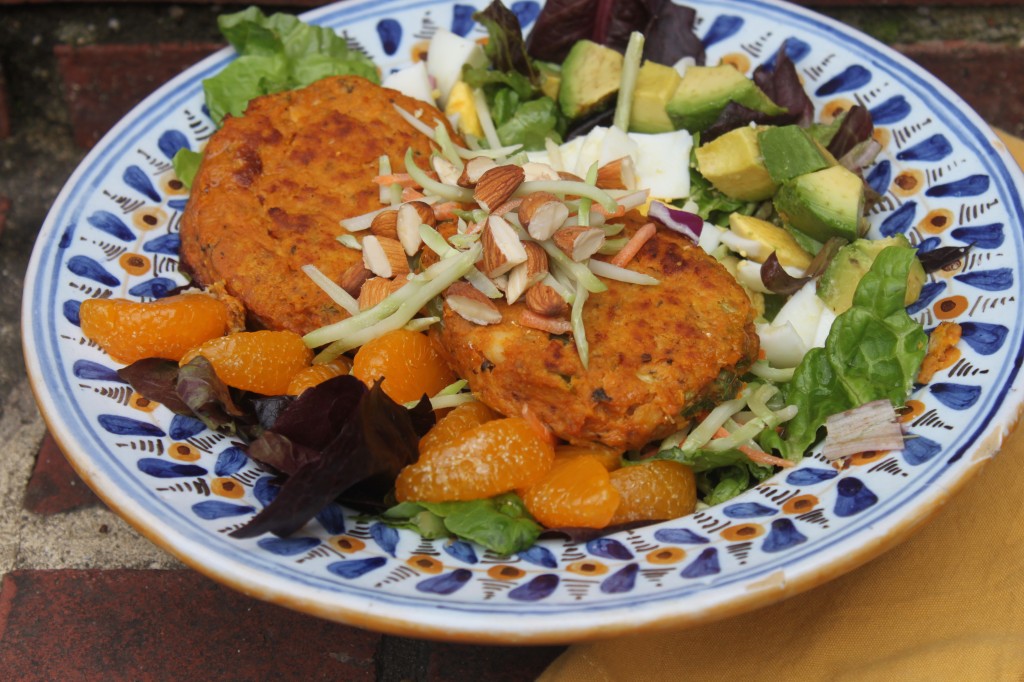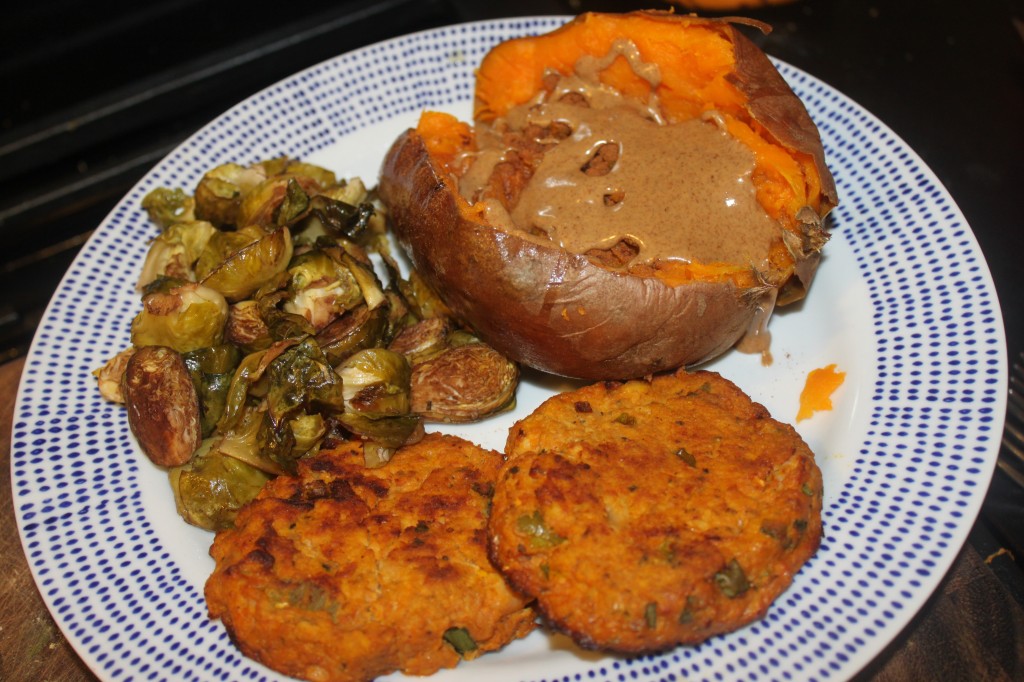 I'm so glad I doubled the recipe.  It adds no additional work, and I expect that these freeze well.  That is, if you don't eat 'em all for breakfast, lunch and dinner 😉
Paleo Salmon Cakes Over an Asian Style Cobb Salad
You will see this dish on the menu at my restaurant some day.
For the Salad
Inspired by NatureBox
Ingredients:
Romaine lettuce
2 Salmon Cakes (see below)
1/2 cup Mandarin Oranges
1/2 avocado, diced
1 boiled egg
Almonds, chopped or slivered
Broccoli slaw
3 Tbsp Sesame Ginger Vinaigrette (See below)
Toss lettuce with 2 Tbsp dressing and arrange in bowl.  Arrange toppings and drizzle with remaining 1 Tbsp of dressing.  Top with two salmon cakes.
For Sesame Ginger Vinaigrette:
1/4 cup plus 2 tablespoons rice wine vinegar
1 clove garlic, pressed
1 tablespoon sesame oil
1 tablespoon honey (omit for Whole30)
1 teaspoon ginger paste
1 teaspoon soy sauce (sub coconut aminos for Whole30)
1/4 cup juice from Mandarin oranges (optional)
Whisk all ingredients together in a bowl, or combined all ingredients in a jar and shake!
Makes enough for several salads
For the Salmon Cakes:
Adapted from Well Fed 2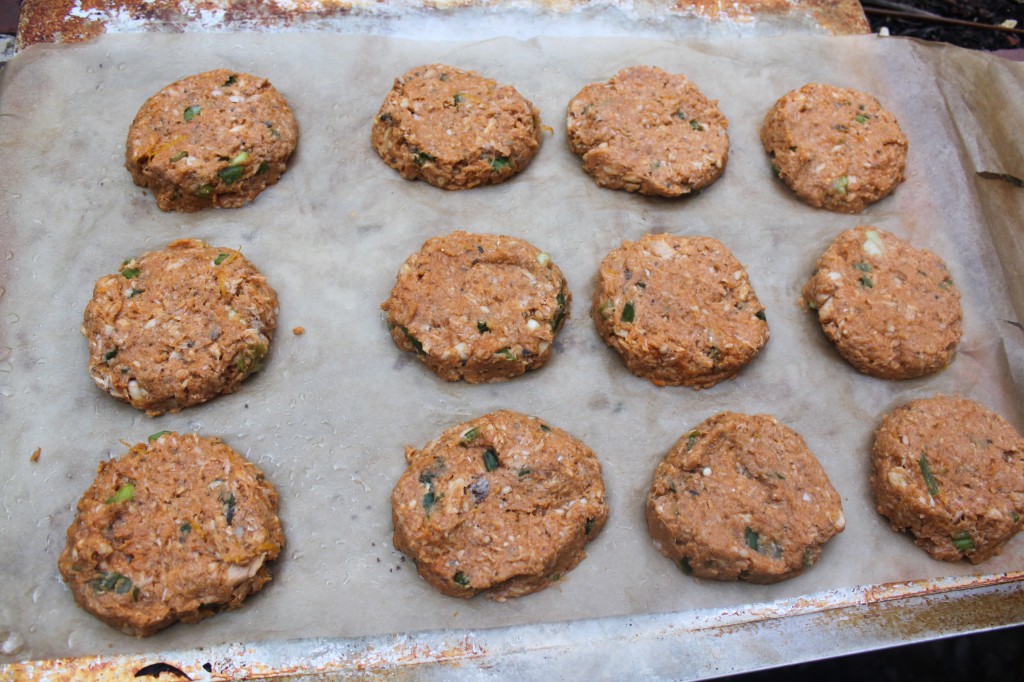 Ingredients:
1 (14.75 ounce) can wild-caught pink or red salmon
1 cup canned pumpkin
2 large eggs, beaten
1/2 cup almond flour
2 green onions, very thinly sliced
1 tablespoon Old Bay Seasoning
1 teaspoon hot sauce
1/2 teaspoon paprika
1/4 teaspoon ground black pepper
1 small jalepeno, deseeded and diced
Zest from 1 lemon
Melted coconut oil or ghee, for cooking
Directions:
Preheat the oven to 425F and cover a large baking sheet with parchment paper.
Drain the liquid from the salmon and using your fingers, crumble the fish into a large mixing bowl, removing any bones and flaking the fish.  Add the pumpkin, eggs, almond flour, jalepeno, green onions, Old Bay Seasoning, hot sauce, paprika, black pepper and lemon zest.  Mix well and refrigerate for 10 minutes.
Brush the parchment paper with coconut oil or melted ghee, then use a 1/3 measuring cup to scoop the cakes and drop them onto the parchment.  Gently shape into patties about 2 1/2 inches wide and about 1 inch thick.  Brush the tops of the cakes with coconut oil or ghee, then bake for 20 minutes.
Carefully flip each patty with a spatula and return to the oven.  Bake an additional 10 minutes until golden brown and crisp.
Makes 4 servings (2 patties per serving)