The Paleo Reuben: Cabbage Rolls with Corned Beef, Sauerkraut and Homemade Russian Dressing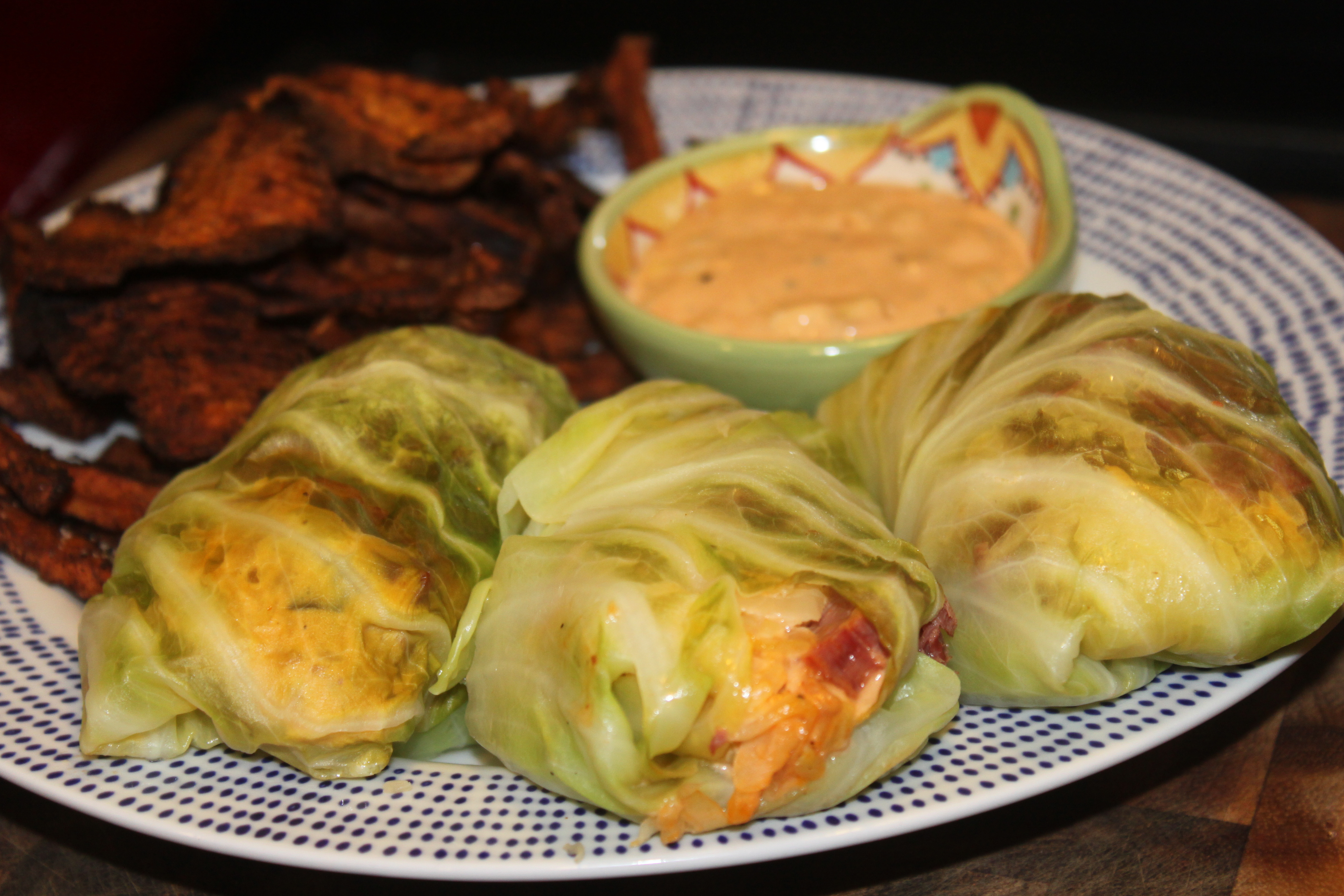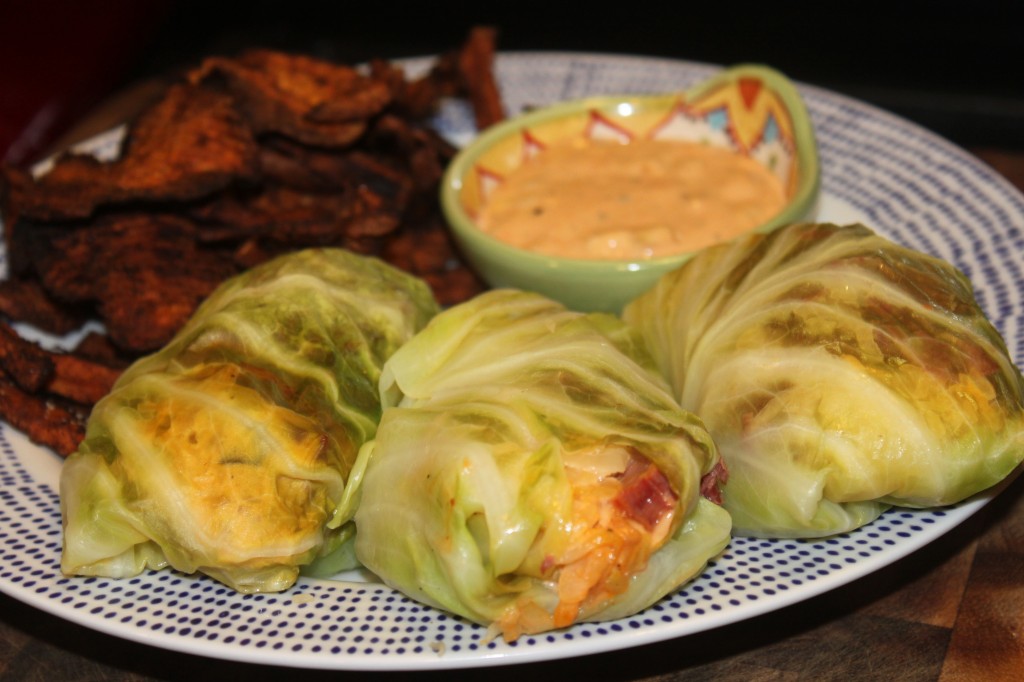 That's right, I'm bringing you not one but two St. Paddy's Day specials today!  This one is a paleo take on the Reuben sandwich.  I have a strange obsession with Reubens.  The strangest part of my obsession is that I don't know that I've have had a real traditional Reuben sandwich.  The traditional Reuben of course is corned beef with sauerkraut, swiss cheese and Russian dressing on rye bread.  Did you know that Russian dressing was invented in New Hampshire?  No?  Well, neither did I until about 10 minutes ago.
I digress.  Anyways, I don't think I've ever had a real Reuben sandwich.  I've never been one for Swiss cheese, didn't like salad dressing for most of my life, and until yesterday, wasn't entirely sure how I felt about sauerkraut.  Yet my obsession with Reubens rivals my obsession with Buffalo chicken everything.  Go to my Pinterest boards and you'll find Reuben dip, Reuben soup, Reuben chowder.  And on my "must try" list are the smoked salmon Reuben from Hank's Oyster Bar and the smoked duck Reuben at Poste.  So naturally when I came across this recipe for a paleo Reuben, I had to make it for St. Patrick's Day.
Cabbage replaces the rye bread and is piled with corned beef, sauerkraut and an outrageous Russian dressing made from a paleo mayo base.  If your goal is simply a gluten-free or low-carb alternative, you can always throw some Swiss cheese in these rolls.  However they certainly don't need it, they're extremely rich as is.  While I still can't tell you how I feel about a traditional Reuben sandwich, I can tell you how I feel about these cabbage roll Reubens: they're are  delicious, dangerously delicious.
Cabbage Rolls with Corned Beef, Sauer Kraut and Homemade Russian Dressing
From Primally Inspired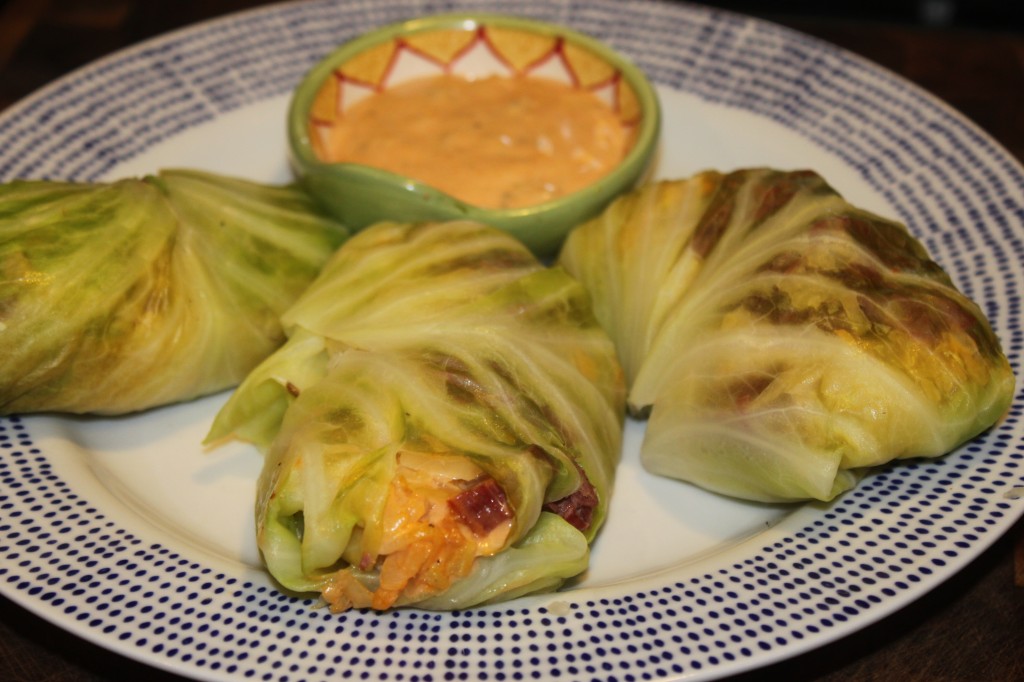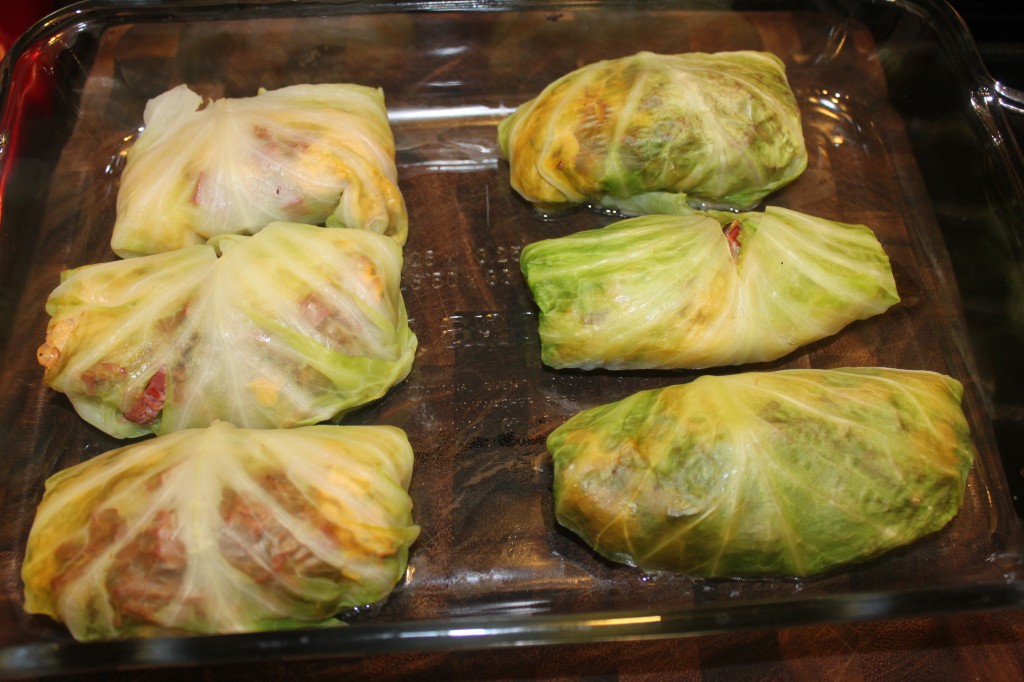 Ingredients:
1 head of cabbage
½ – ¾ lb cooked corned beef, sliced (about 2 cups)
¾ cup sauerkraut
1 recipe Russian Dressing (See below)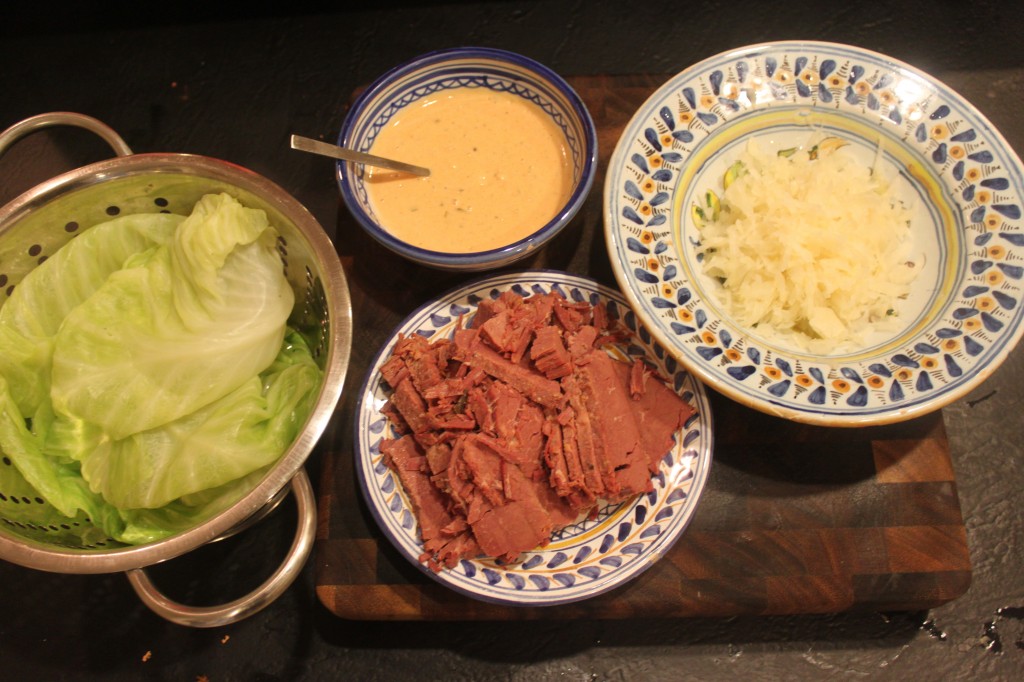 Instructions:
Preheat oven to 400.  Bring a large pot of water to a boil.  You want to fill the pot with enough water so that at least half of the cabbage is submerged. Place the whole cabbage head in the water. After about a minute, the outer leaf will begin to peel back from the cabbage head. Using tongs or a fork and knife, peel that layer away from the head and keep it in the boiling water for 3 minutes. After the leaf has boiled for 3 minutes, take it out of the pot and place it in a colander to dry.  Repeat until you have separated and cooked 6 leaves.
Once your 6 leaves are all boiled, soft, and pliable, cut each tough stem about 2 inches from the bottom in a V shape (see pic below).  Put about 1/3 cup of the corned beef at the top of the roll (the opposite end of the V-shape).  Add 1 T of dressing and top that with about 2 T of sauerkraut.  Starting at the top, roll up the leave once. Fold the edges in and continue rolling.  Place the stuffed roll into the 13×9 pan.  Repeat with remaining leaves.
Cover and bake for 20 minutes.  Let cool for a few minutes. Use the leftover dressing as a dipping sauce for the cabbage rolls or place a dollop on top of each roll.
 Serves 2-3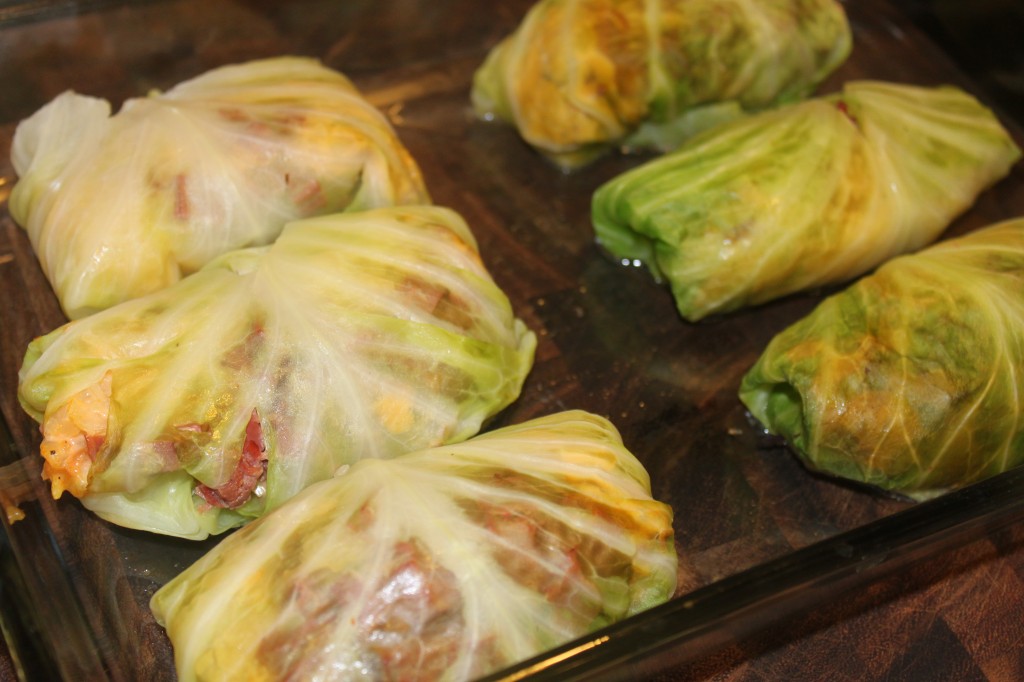 Russian Dressing: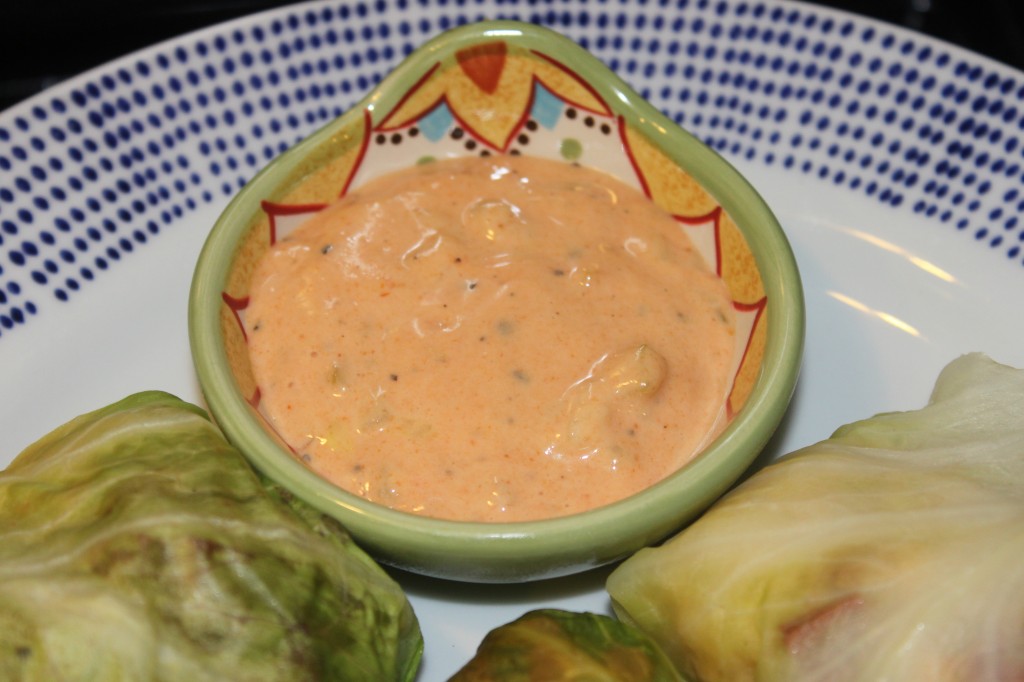 ½ cup paleo mayonnaise
2 T ketchup
1 T fresh lemon juice
1 T onion, finely chopped
3 T dill pickle, finely chopped
Salt and pepper, to taste
Combine all ingredients in a small bowl and mix well.