Grain-Free Paleo Pumpkin Porridge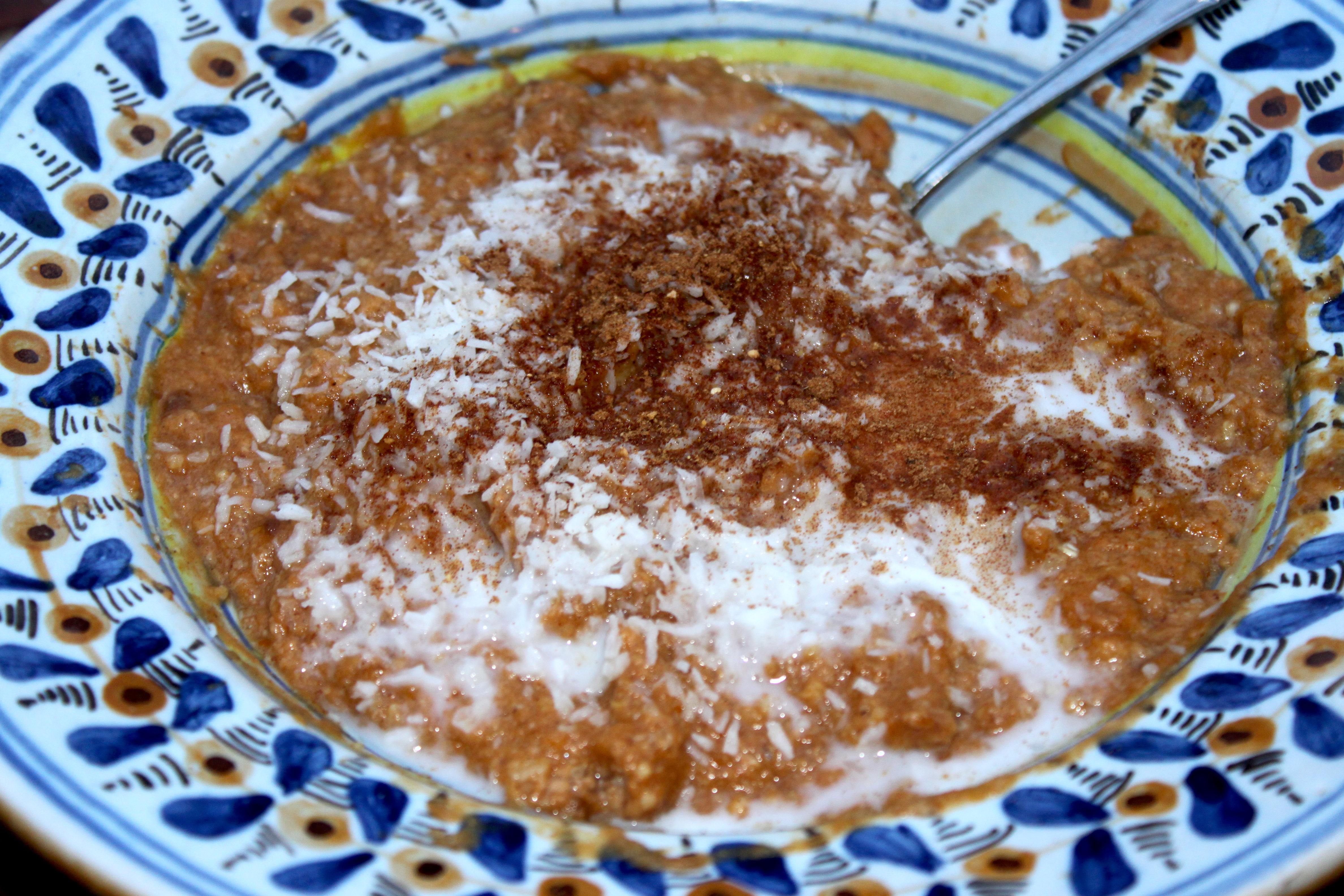 Seriously, D.C., what is going on!?  It is now the end of March and it feels like WINTER IS COMING!  While I find the flakes that fall around Christmas time  vaguely nostalgic  and even celebrate the occasional snow day, snow at the end of March is about as charming as Miley Cyrus in a bear suit.
Alas, I have stopped insisting "this surely must be the last of it!"  We may as well settle in for the winter.  Here, have some porridge.
Grain-Free Paleo Pumpkin Porridge
A Messy Kitchen Original
Ingredients:
1 small handful each of walnuts and cashews (can use nuts of choice; almonds, pecans and hazelnuts would also work!)
2 tbsp flax seed meal
1/2 cup canned pumpkin
1/4 cup unsweetened almond milk (or your milk of choice)
4 egg whites
1 tsp vanilla extract
1/2 tsp pumpkin pie spice
1 tbsp date paste (or substitute your favorite sweetener)
Shredded coconut, maple syrup and coconut milk to garnish (optional)
Instructions:
Add nuts, flax meal and spices to a food processor and pulse it down to a course grain, making sure to stop before it's totally ground into a powder.  Set aside.
Thoroughly whisk together eggs, pumpkin, almond milk and vanilla.  Stir in the nut mixture.
Microwave until the "no-oatmeal" reaches your desired consistency; this should only take a  2-3 minutes, stirring after ninety seconds.  This can also be done stove top.
Garnish with desired toppings and serve!
1 Serving