Crunchy Chicken Plantain Salad with Honey Mustard Dressing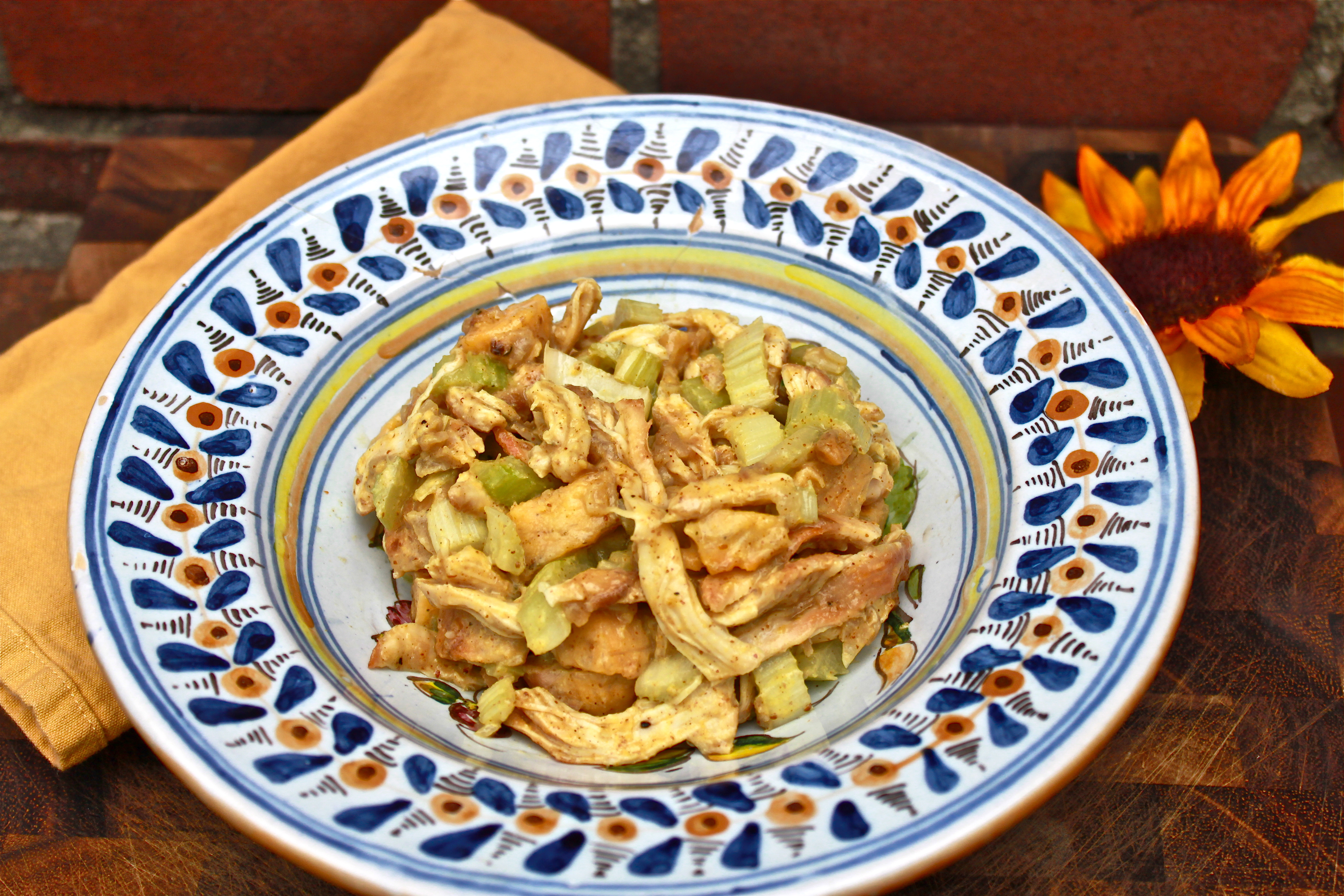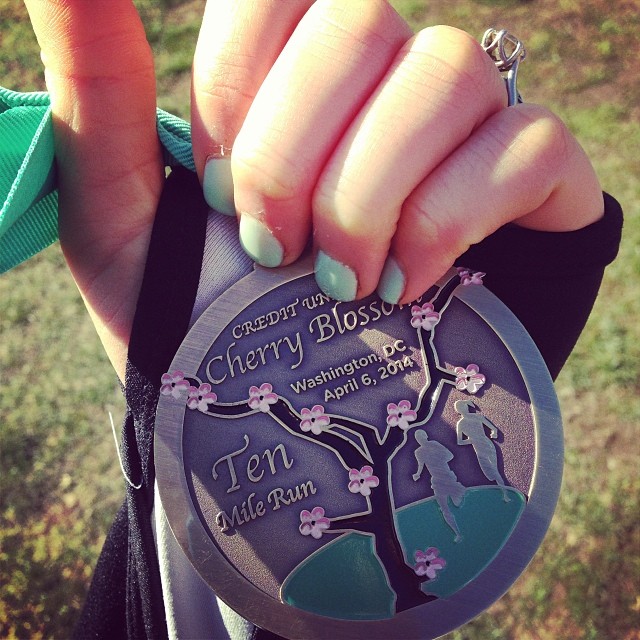 The Cherry Blossom 10-Miler yesterday went better than expected.  Of the three years I've run the course (2011, 2012, 2014), yesterday was the slowest I've ever run it (1:26:26, an 8:39 pace), a full 5 minutes 11 seconds slower than my PR in 2012.  I'm going to blame that on being horrendously under-trained instead of on getting old, because the latter is just too depressing.  Regardless, I was just pleased to finish, and to do so in a time that while slower than my norm was at least not super embarrassing.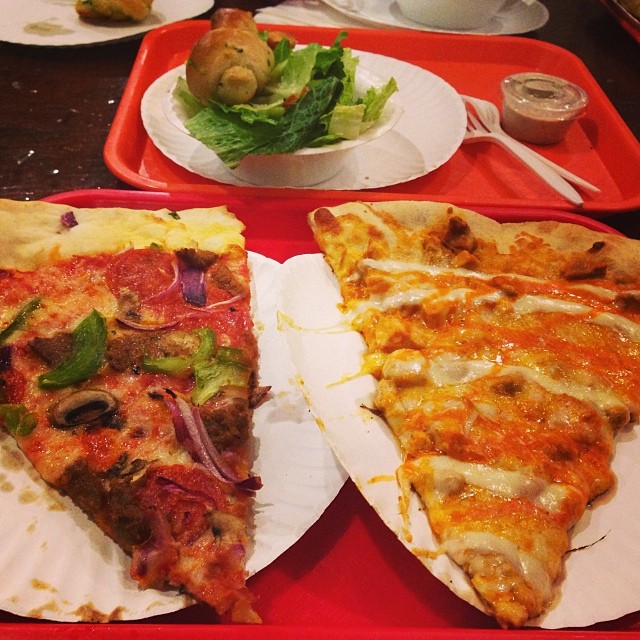 Also, apparently it was a poor choice to carb load with greasy pizza after not having eaten a whole lot of gluten or cheese over the past two months.  Have you ever run 10 miles with a stomach ache?  Let's just say there were a few points I thought my results might be more embarrassing than a bad time.  Although Courtney had Oreos and beer on the course, and he was just fine… except when he got it in his eye.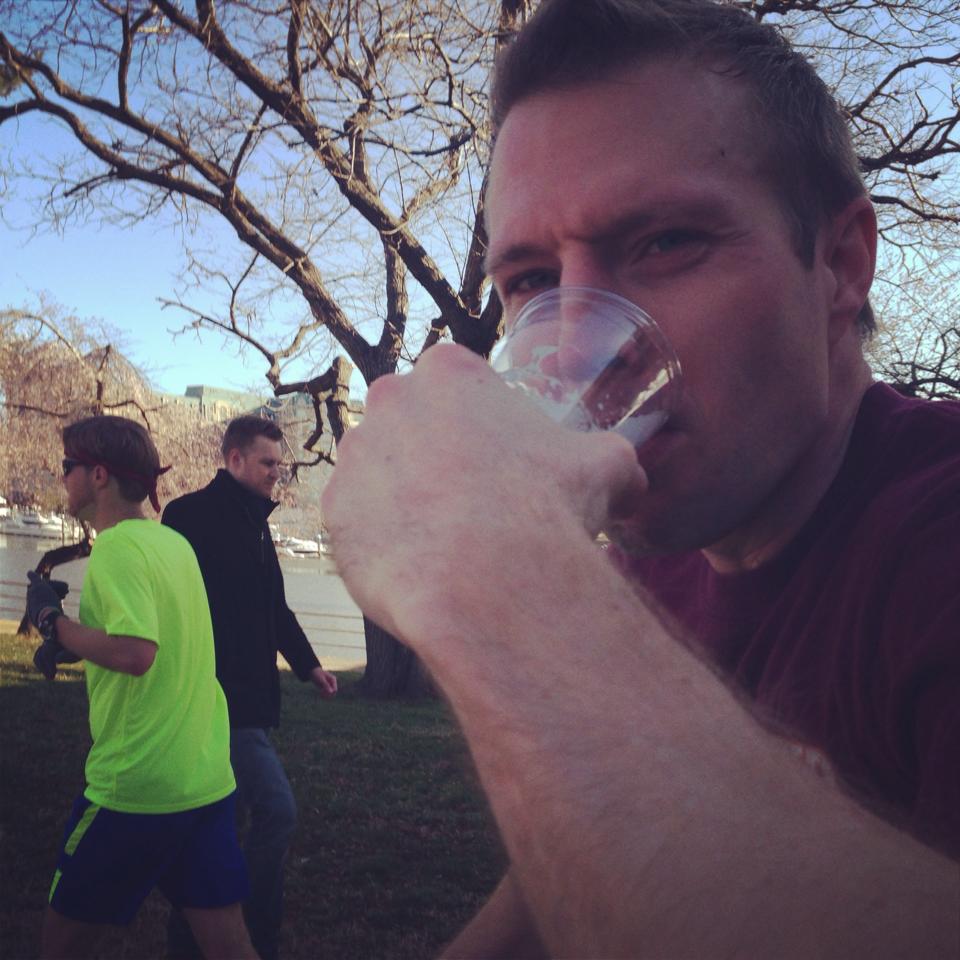 I felt good enough afterwards that I actually planned to sign up for the GW Parkway 10-Miler next weekend, but when I got to their website to sign up I found it was completely sold out.  Well ain't that a shame!
In other fitness news, we've started testing the waters for the possibility of completing a triathlon in September.  I swam just under a mile last week (albeit very slowly) and we've started to look at road bikes.  I find big purchases that involve a lot of options stressful.  So far from the test rides and research I've done, all I've really figured out is that I want to be comfortable while riding and not to die… although the former is starting to seem unlikely.  Can we talk about how much road bike seats hurt the lady parts?!  Okay, maybe we shouldn't talk about it.  But seriously!  (Note to self: buy padded bike shorts). 
Although we haven't committed yet, it's already clear that if we do we're going to have to invest a lot of time and money in training properly.  Just because we can go out and run 10 miles without proper training doesn't mean we can expect to add a bike and swim leg to the mix.  I know that I for one have a lot of work to do just to get comfortable on the bike and in open water.  Oh, and I should probably be a little smarter about replacing the greasy pizza with nutritious food that's actually going to fuel my body.  This chicken plantain salad is an excellent example!  I absolutely loved the flavors and textures of this dish, the crunch of the celery and sweet plantains with the crispy chicken and sweet and tangy honey mustard sauce.  It's something I'll definitely be making again.  Next time, I think I'll serve it over a salad of fresh butter lettuce and avocado.  Mmm…
Crunchy Chicken Plantain Salad with Honey Mustard Dressing
Adapted From PaleOMG
2-3 tablespoons coconut oil
2 garlic clove, minced
2 large yellow plantains (still slightly green – should not be mushy or soft), peeled and diced
1 pound boneless skinless chicken breast, cooked and shredded
1 teaspoon garlic powder
½ teaspoon cayenne pepper
salt and pepper, to taste
6 stalks of celery, diced
1 small yellow onion, diced
1/2 cup dijon mustard
1/3 cup raw honey*
*I may try reducing this next time.  That's a lot of sugar for four servings.
Instructions
Place a medium skillet over medium-high heat.  Add coconut oil and minced garlic. Once garlic has become fragrant, add the onion and diced plantains to the hot pan and cook on all sides until the become slightly crispy and light brown (5-7 minutes, stirring frequently).
Meanwhile, in a small bowl combine dijon and raw honey.
Next, add your shredded chicken to the pan.  Season with garlic powder, cayenne pepper, salt and pepper.
Remove from heat and transfer to a large bowl.  Add the celery and stir in the honey mustard.
Serve warm or cold, it's delicious both ways!
Serves 4