Maple Blueberry Breakfast Carnitas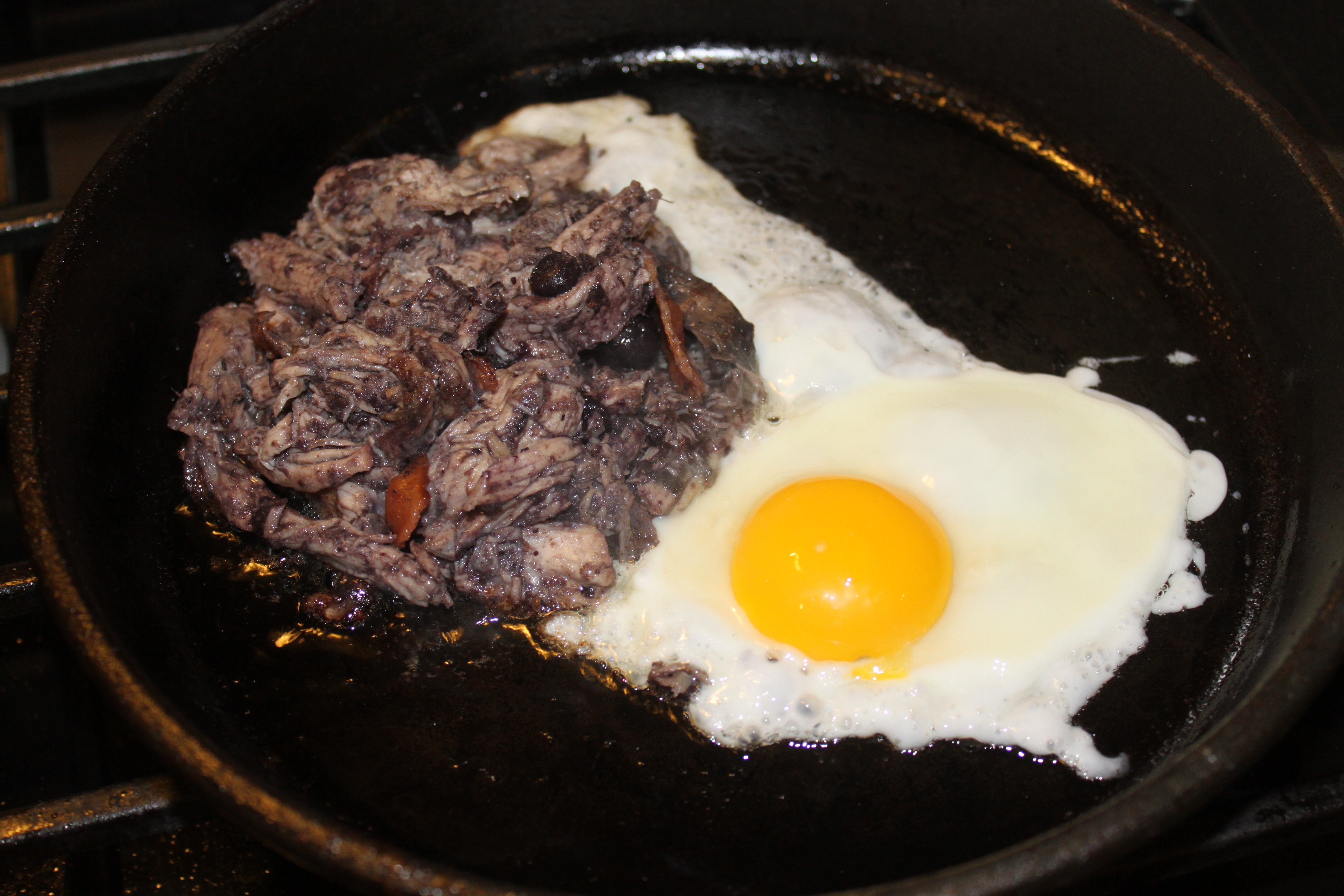 I have a confession to make: I haven't cooked since I got back from Korea nearly two weeks ago.  Like, at all.  (Unless you count an omelette, which I most definitely do not).  I've been having yogurt for breakfast and eating out pretty much every other meal, with the exception of a few lovely salads thrown together with fresh fruits and veggies courtesy of my CSA deliveries (also known as the highlight of my week).
Luckily I had thrown this pulled pork in my freezer right before I left (pulled pork freezes remarkable well!), so for lunch this week, I've been putting it over mixed greens with tomatoes, avocado and corn for a lovely little Mexican salad.  Topped with BBQ dressing I've been making with buttermilk, BBQ sauce and mayo.  I am so healthy.
Hopefully next week I find my ambition to cook and plan meals, because my freezer is almost empty and as much as I love my CSA deliveries, I'm not sure how long one can live off of mixed greens.  In the meantime, enjoy some delicious pork product!
Maple Blueberry Breakfast Carnitas
Adapted from PaleOMG
Ingredients:
2-3 pound pork shoulder (I usually buy a little more and trim the fat)
2 cups blueberries (I used frozen, just thawed them first)
½ cup apple juice
¼ cup maple syrup
1 teaspoon cinnamon
1 teaspoon dried parsley
½ teaspoon dried sage
¼ teaspoon nutmeg
lots of salt, your call
dash of black pepper
4-5 strips of bacon (or more!)
Instructions:
Place pork shoulder in the slow cooker.
Pour in the apple juice into the bottom of the slow cooker.
Pour the maple syrup over the roast then add the cinnamon, dried parsley, dried sage, nutmeg and salt and pepper on top of the roast. Then finish by topping the roast off with blueberries. 
Cover and cook on low for 8 hours. I did this overnight.
Once the pork is done cooking, pull the meat out and shred.  RESERVE THE BROTH AND BLUEBERRIES!
Transfer the broth and blueberries to a saucepan and simmer to cook down until thickened.  Mash the blueberries with a fork (you can also transfer to a blender).  Mix the sauce you just created in with the pulled pork.
Now cook the bacon in a pan on the stove top.  Reserve half the grease.  Once cool, dice into pieces and mix into pork.
Place your bacon fat pan over medium high heat (or if you're like me and the idea of cooking your pork in pork fat is just a bit much, toss the grease and use coconut oil!  Use your hands or a large spoon to collect a ball of the shredded pork and bacon, then press down to create a patty. Put on skillet, press down more with a spatula, and let cook for about 3-4 minutes per side, or until crispy, then flip.
Serve with a fried egg!  Or however you like (but you'll like it with a fried egg, trust me!)   I also ate some of the leftovers (untried) over a Mexican style salad!