Layered Greek-Style Chickpea Salad with Pesto Vinaigrette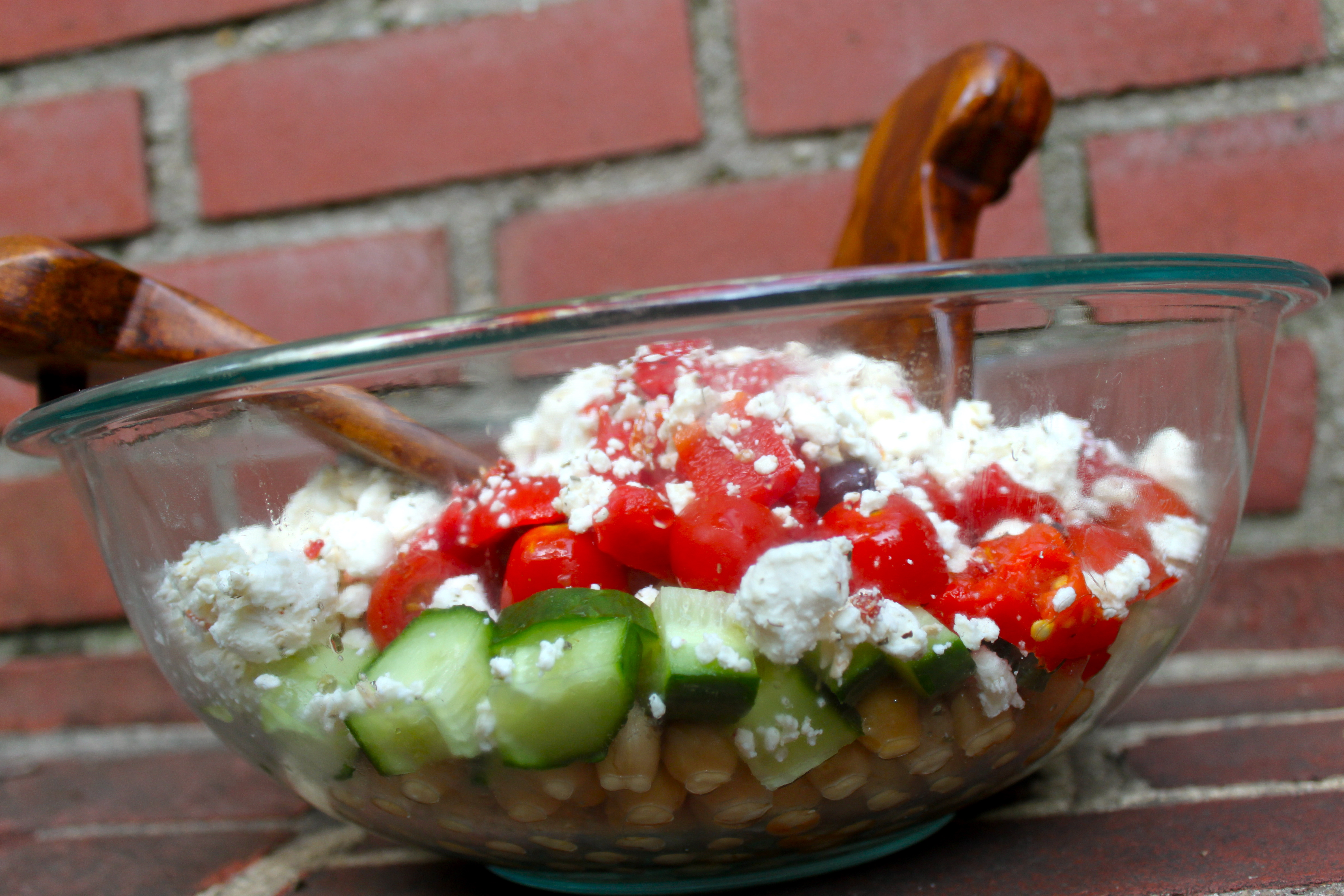 I'm superbly cranky today for no particularly good reason.  Yesterday, I should have been cranky; it was Monday, I locked myself out of the house, my phone wouldn't work and I couldn't leave my desk all day.  But I seem to have saved the crank for today.
It could be because I'm doing another DIY Juice Cleanse (why do I always seem to think these things are a good idea!?), although I've hardly been doing it strictly to the letter.  During the USA game on Sunday, a Bloody Mary (definitely counts as juice!) turned into a couple of beers and fireballs shots (still kind of juice-like!) which turned into a sandwich and some ice cream (okay, okay definitely not juice).  Now doesn't this sound like the kind of juice cleanse you can get behind?
Anyways, I'm cranky, in no mood for juice (or people) and have a feeling looking at food isn't helping my cause. But for your sake, I will share this lovely layered Greek salad that I made for Screen on Green last week.  I dressed it with a homemade pesto vinaigrette because pesto is my jam, but I'm sure the oregano vinaigrette in the original recipe would be delicious, as would just about any balsamic vinaigrette.
I hate the word vinaigrette.  I can never remember how to spell it.  It's the bane of my food writing existence, really.  Did I mention I'm cranky?
Layered Greek-Style Chickpea Salad with Pesto Vinaigrette
Adapted from Cafe Johnsonia
Ingredients:
2 cans chickpeas, drained and rinsed
1 large cucumber,  diced
½ to 1 cup sliced kalamata olives, sliced
1 pint grape tomatoes, halved
1 jar roasted red pepper,  diced
6 oz. feta cheese, crumbled
Pesto vinaigrette (see below)
Directions:  In a large glass bowl, layer chickpeas, cucumber, kalamata olive, tomatoes, roasted red pepper and feta cheese. Cover and chill until ready to serve.  Pour dressing over the salad just before serving.
Serves 6-8
For the dressing: 
1/2 cup pesto
2 cloves garlic, pressed
2 tbsp red wine vinegar
2 tsp dijon mustard
1 tsp honey or agave
A bit of water to thin as necessary
Combine all ingredients in a jar and shake!