Bourbon & Pie in July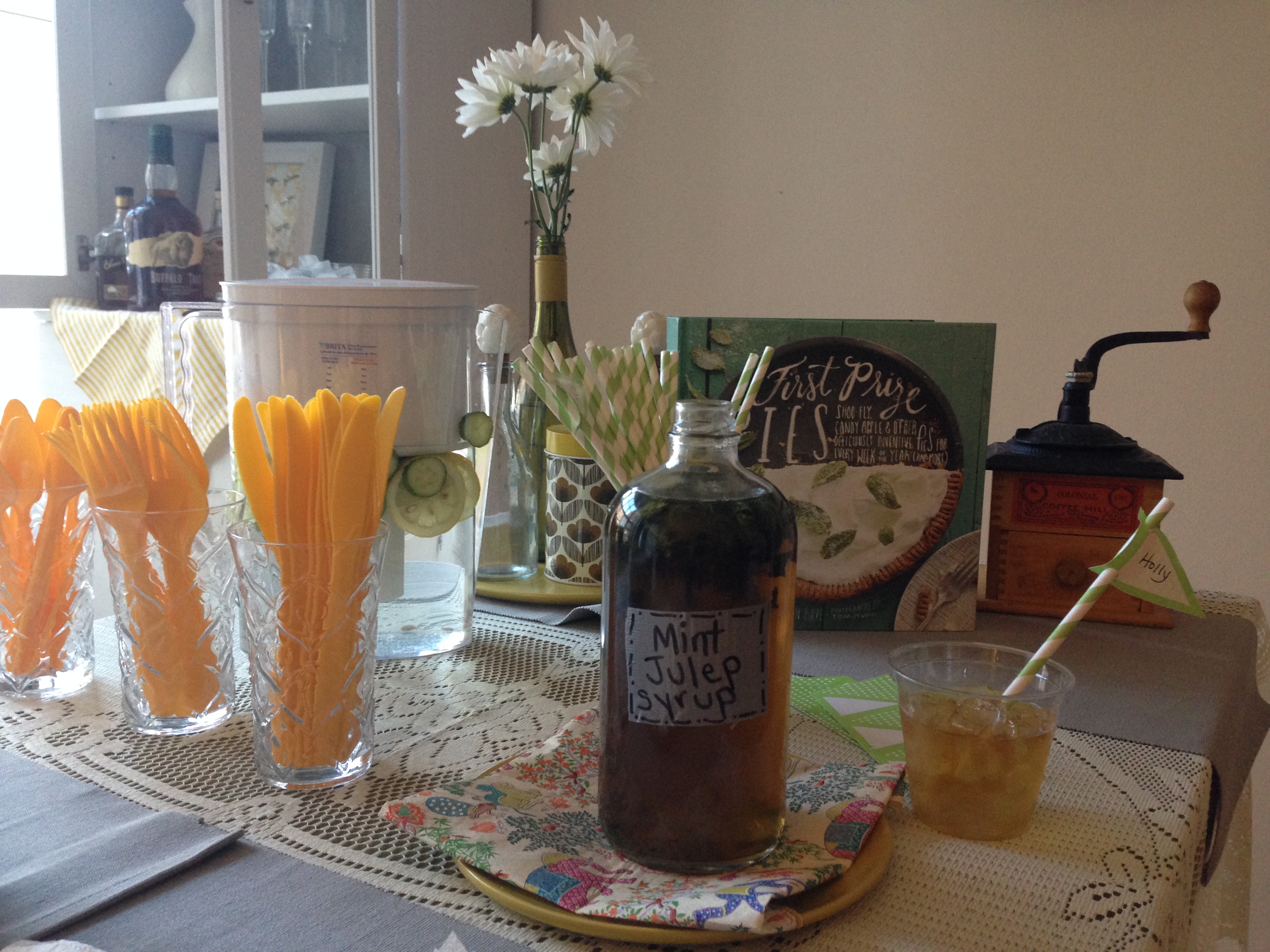 I was super excited when Holly sent the invitation for Jason's birthday party.  Bourbon and pie?  Seriously, how much better does it get?  I love me a good mint julep, and I'm always excited about the opportunity to try out a recipe I probably otherwise wouldn't make (no, pie is not on the regular rotation in the Messy Kitchen).  I left it up to Jason to decide whether I should make a sweet or savory pie, but I was secretly hoping he'd pick savory.  It's taken some effort to use all of the produce I've been getting from my CSA each week (especially with Wednesday deliveries!), and I figured a savory pie would give me the chance to do just that!  I decided that the spring onions and large bunch of Swiss chard in my fridge were destined to be pie.  Obviously I had to add bacon.  To finish it off, I went to the cheese station in Eastern Market and inquired what might go good with the aforementioned ingredients in my soon-to-be pie.  After trying a gouda that I was concerned would be too overpowering, I went with a perfectly pungent aged goat cheese.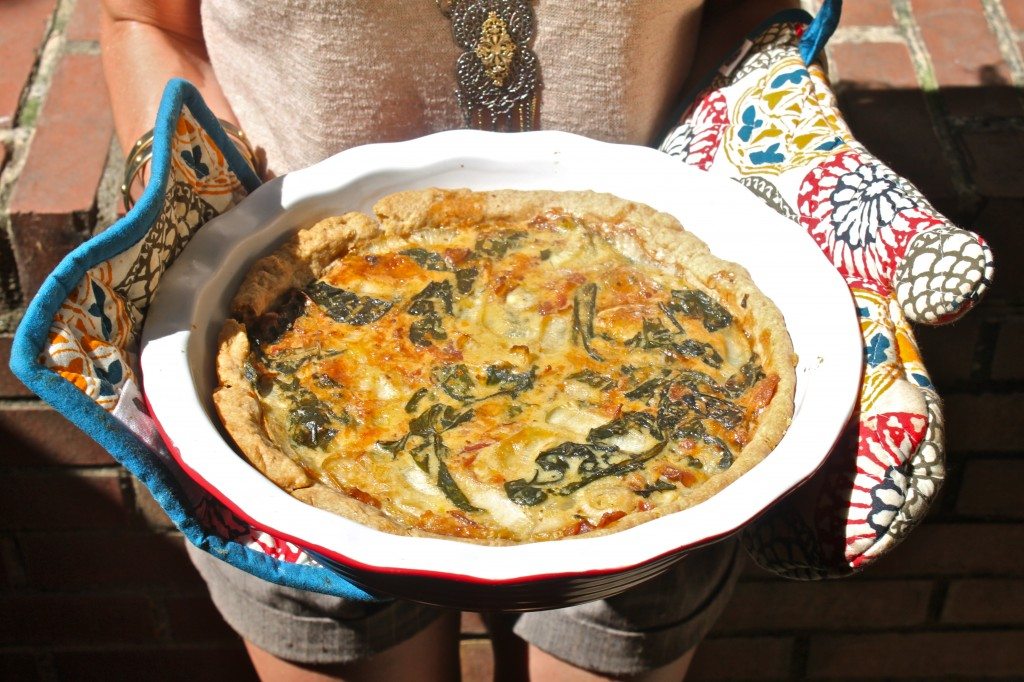 Despite a potential crisis that involved accidentally adding three times the intended amount of baking powder, I convinced my dough to settle down and my pie came out beautifully!  The best part is that Holly & Jason's new abode is just around the corner from us, so I could pop it out of the oven and walk it over still warm!
We had a beautiful spread of pies!  Jason made a strawberry basil pie, as well as a boozy masterpiece called a 'perfect Manhattan.'  Our resident pastry chef Whitney made a Jefferson Davis Pie, a rich Southern confection topped with a marvelous bourbon whipped cream.  In addition to my pie, we had two savory options from Dangerously Delicious, the S.M.O.G. and the Hot Rod Potato (not pictured).  Needless to say we had plenty of options, of which I tried all but one.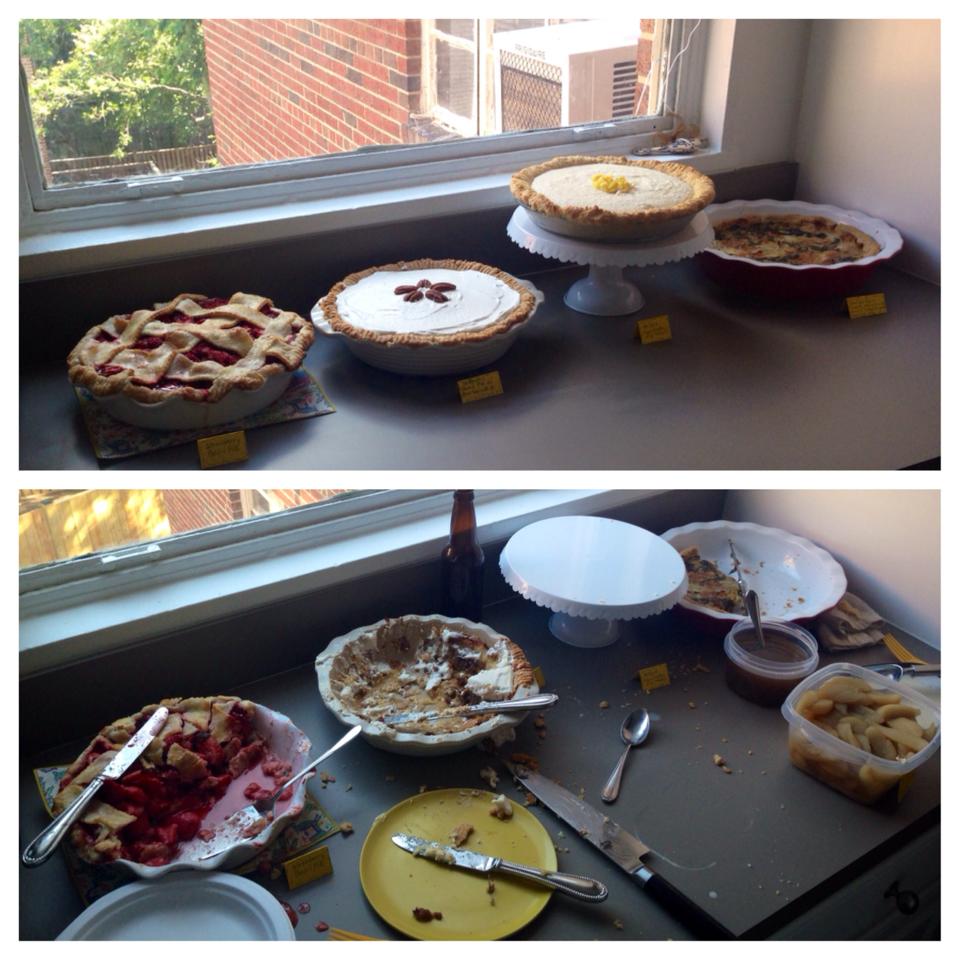 We also enjoyed mint juleps with Jason's homemade mint simple syrup, as well as Old Fashioneds with an array of bitters to choose from.  Just look at this beautiful spread!  They've really made their new home look so lovely!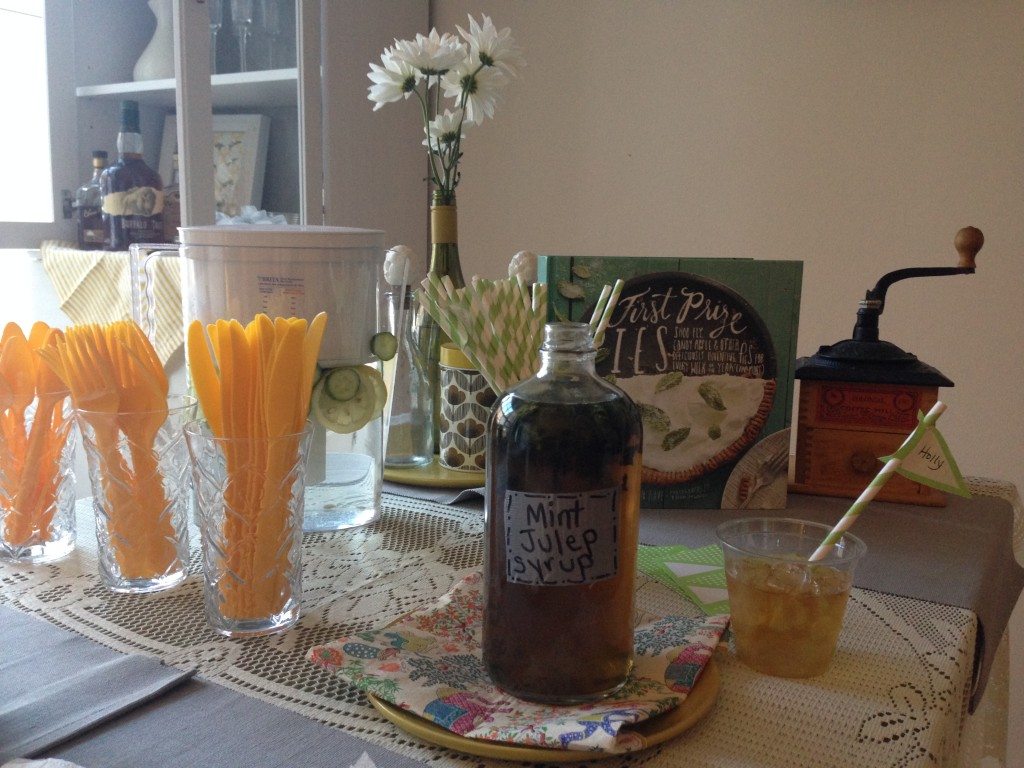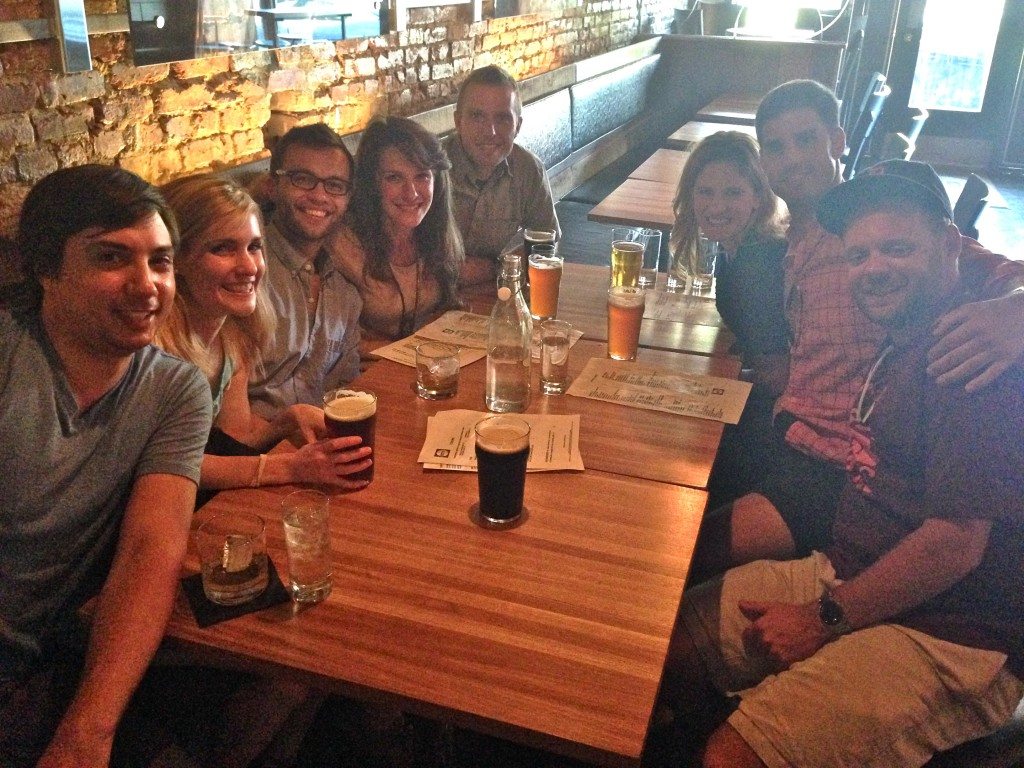 We ended the evening at Barrel, the new(ish) bourbon bar that has taken over the old 18th Amendment.  While I'm a bit bitter about the demise of all my favorite Hill watering holes (so many memories were made in the basement of 18th!), I have to admit I was quite impressed by the cocktails and the beer list at Barrel.  I'll have to  return when I'm not five pies deep to try their food!  After finding out our waitress and Jason shared a birthday, of course we couldn't leave before getting them a birthday shot of Jameson!
Caramelized Onion, Swiss Chard, Bacon and Aged Goat Cheese Savory Pie
A Messy Kitchen Original
Ingredients:
Homemade or store bought crust of choice (9-10″); my recipe is below
1 medium onion, sliced
1 bunch Swiss chard, stems removed
7 slices bacon
4 oz aged goat cheese, shredded
2 eggs
1/2 cup heavy cream
Salt and pepper to taste
How To:
Cook bacon in a medium skillet; set aside, reserving grease in pan.
Add sliced onion and cook until soft and translucent.  Rip chard leaves into pieces and add to pan.  Add salt and pepper, to taste.  Cover and cook until wilted.

In a medium bowl, combine eggs and cream.  Add shredded cheese.  Chop bacon into pieces and add that as well.  Mix in onion and chard blend.
Transfer filling into a prepared pie crust.  Cook at 400 degrees for 35-40 minutes.
For the Crust:
8 oz all purpose flour
4 oz wheat flour
1/4 tsp baking powder
1/2 tsp salt
1/2 lb (2 sticks) butter, chopped
3 oz ice water
In a medium bowl, combine flours, baking powder and salt.  Add in the butter and ice cold water (strain out cubes) and mix.  Let sit for a few minutes, then roll to fit a 9-10″ pie pan, about 1/8″ thick.  Carefully transfer to pie pan and press to create a nice crust.  Bake at 400 degrees for 20-25 minutes before adding your filling.