SNAP Challenge Day 7: No Room for Error… Or House Guests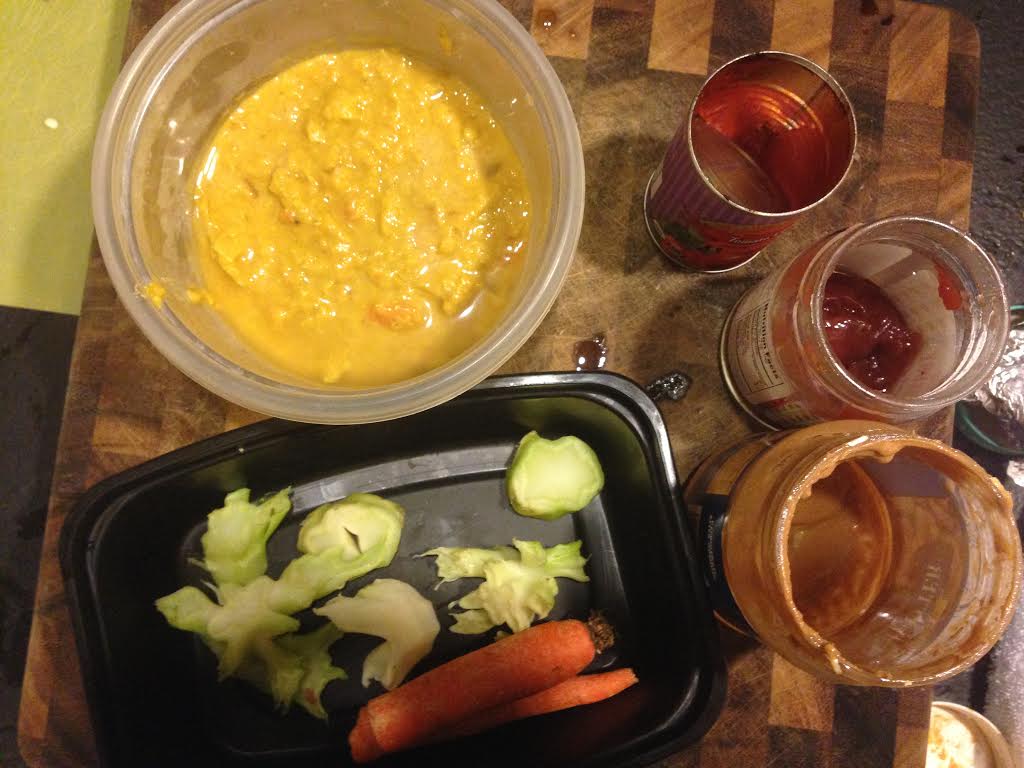 This post is part of a series.  Read post one, post two, post three, post four, post five, post six, post seven, and post eight. 
Well, I successfully made it through my one week SNAP Challenge with $1.01 to spare.  However, that was about all I had to spare.  Foodwise, I was down to one serving of Thai Lentil Curry (which would have been dinner Sunday night, had I been including that in my challenge), 1/2 a can of tomato paste, a few broccoli stems, a carrot, and a bit of peanut butter and jelly.  If I had to make it through just one more day, I would had to straight up go hungry for most of it.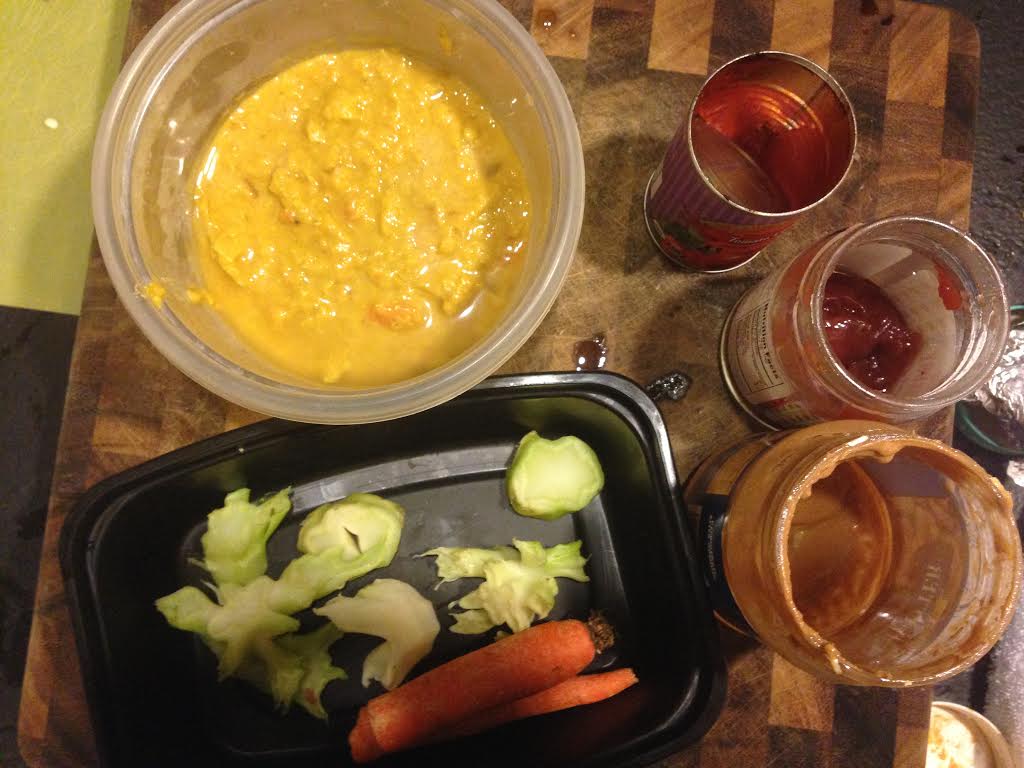 What I learned here was that there's zero room for error on a food stamp budget.  This means serious planning is required.  It also means that the misfortunes that I think of as frustrating inconveniences can be much more dire for SNAP recipients.  Breaking eggs, spilling milk, burning dinner, letting something go bad, finding that your naughty dogs have eaten the casserole cooling on the stove.  Any of these things can literally mean going hungry if you've already spent your entire food budget.
I planned this challenge to end after lunch on Sunday because I had a long-standing social engagement Sunday evening that I knew there was absolutely no way I could make work on a SNAP budget.  This brings me to the other issue I really want to hit on.  In addition to the more obvious physical repercussions of food insecurity, it can also lead to social isolation.  Not only is there zero room for error, there really isn't room for company.  I shared my stew with Courtney one evening, but sharing any more would have meant missing a meal.  Having another couple over for dinner would cost nearly my entire budget for the week.  And this is a reality for many families on SNAP or simply on a strict food budget.  A friend told me a story of growing up on a tight budget and having a couple over for dinner.  Her mother made lasagna, already a splurge meal but generally one that would have lasted them all week.  She recalls watching one of the guests have seconds, then thirds and knowing that he was eating their dinner for the next couple of nights.
Food insecurity doesn't just mean not having people over, it also means turning down invitations.  There is an unspoken norm of reciprocation; if you know you can't afford to return the favor, often you just won't go.  Even potlucks, which we think of as the affordable alternative, can be cost-prohibitive on this tight of a budget.  For instance, the dish I made for the gathering I attended last night cost me $22.56, not including the three sticks of butter I already had at home.  That would have meant spending two thirds of my weekly budget on my contribution to a single meal.  Not at all reasonable, but there is a great deal of embarrassment around not being able to contribute or reciprocate.  Many folks would seriously compromise their ability to eat the rest of the week or turn down social engagements all together rather  than break this social norm.
Meal Log:
Pre-Workout Snack: 1/2 Banana and 1 T Peanut Butter
Breakfast: Two eggs scrambled with broccoli, peanut butter and jelly toast, 1/2 banana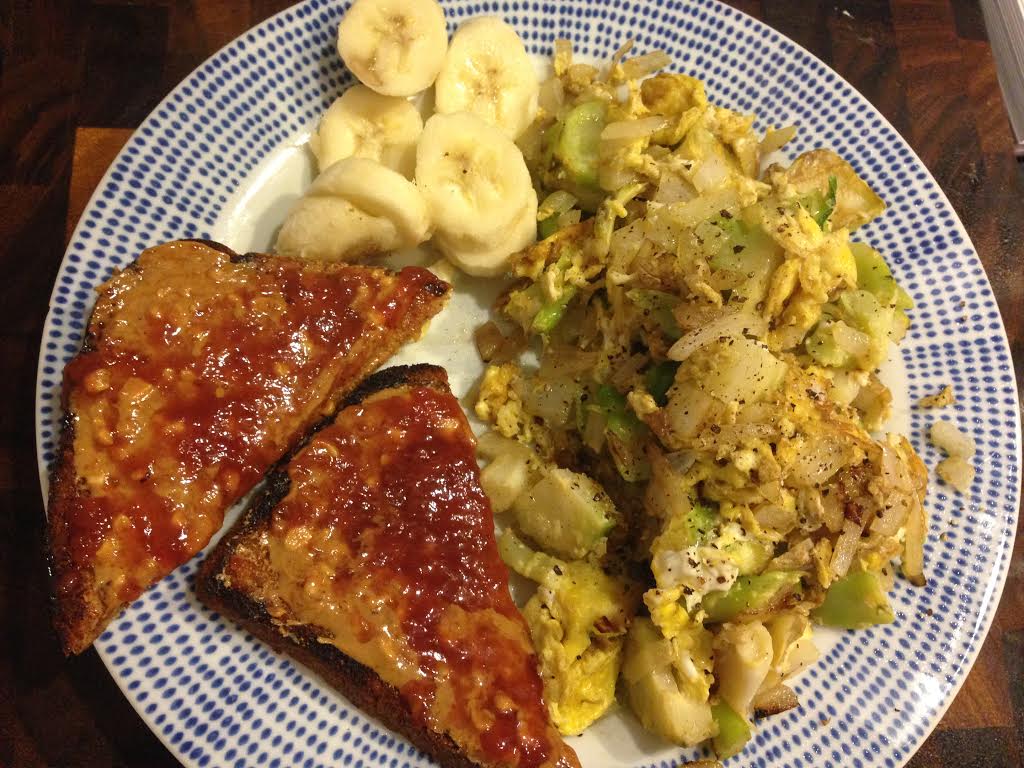 Afternoon Snack: 1/2 apple