Chipotle-Glazed Roast Chicken with Sweet Potatoes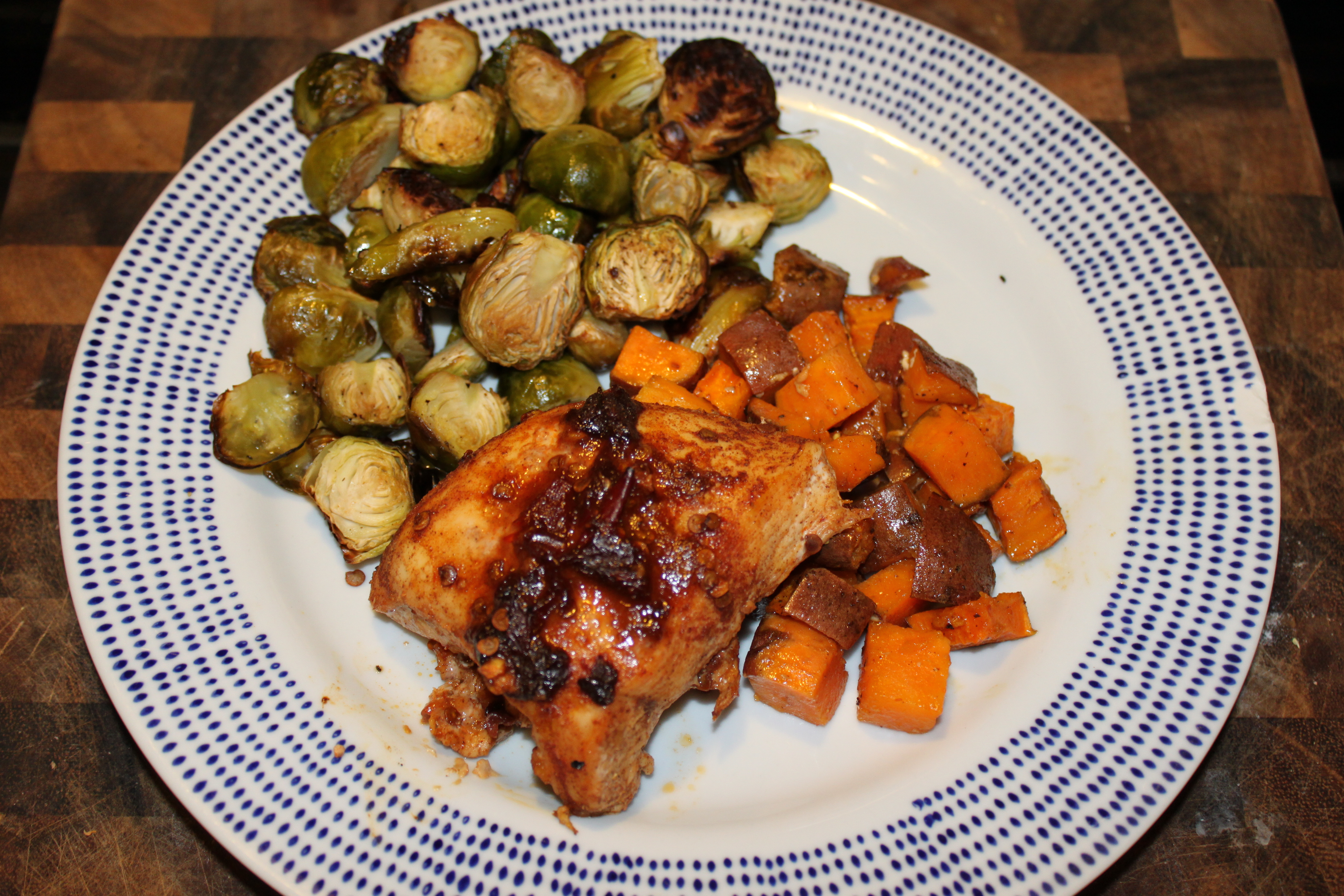 With little time on my hands these days, having something I can easily pop in the microwave is key. That way I can eat at my desk and avoid spending unnecessary money in the cafeteria… or at Sweet Green, which I will admit I've been frequently as of late.  When I come home at 8:00pm with 2-3 hours of homework still to be done, having a healthy meal on hand can make the difference between between getting enough sleep and being exhausted the next day.  Although I've been pretty exhausted anyways.  But I'd be even more exhausted if I had to spent an extra hour cooking.  So on Saturday I made a pot pie and on Sunday, I made a giant pan of chicken and sweet potatoes and a giant pan of Brussels sprouts.  And voila! that was the extent of my cooking for the week. This dish was healthy and delicious with just the right amount of spice, and I enjoyed it all week!
Chipotle-Glazed Roast Chicken with Sweet Potatoes
Adapted from Fitness Magazine
Ingredients:
2.5 lbs sweet potatoes, cut into 1-inch pieces
2 tablespoons olive oil
4 chipotle chilies in adobo sauce, minced + a couple tablespoons adobo sauce
2 garlic cloves, minced
2 tablespoons honey
2 teaspoons cider vinegar
1 teaspoon salt
2 teaspoons cumin
1 teaspoon cinnamon
2 pounds boneless, skinless chicken breasts
Directions
Preheat the oven to 400 F.  In a medium bowl, toss the sweet potatoes in the olive oil and scatter on the bottom of a roasting pan. Roast for 15 minutes.
In a small bowl, mix together the chilies, garlic, honey, vinegar, salt, cumin, and cinnamon to make a paste. Rub the paste evenly over each breast.
Place the chicken breasts on top of the sweet potatoes and roast until the chicken is just cooked through, about 25 to 30 minutes.
Serves 8