In true passed-down-from-Ethiopian-mamas fashion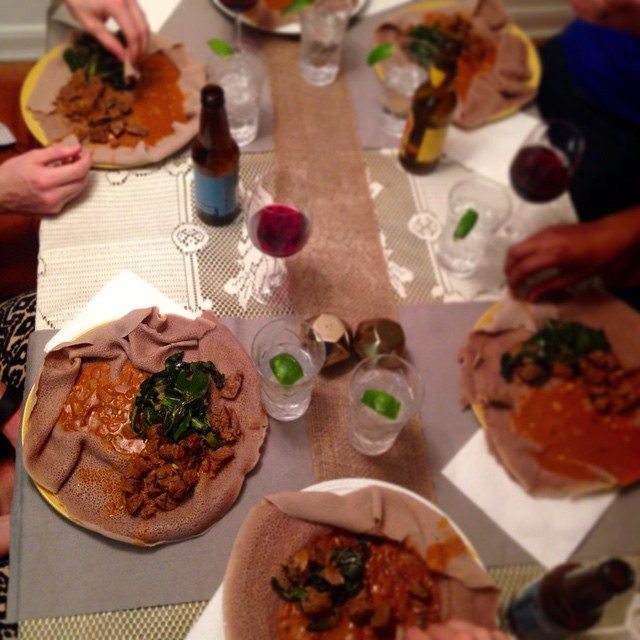 I must admit I had absolutely no knowledge of Ethiopian food before moving to D.C.  To be completely honest, back then when I thought about food in the context of Ethiopia, it was hunger that first came to mind not cuisine (and I think it's important not to forget that hunger and malnutrition are still a reality in the native country when we enjoy this type of feast). But back then I knew nothing of the plate-sized sour dough risen flat bread known as injera, perfect for soaking up the juices and the flavors of food. I knew nothing of the numerous varieties of wat that are served on top of the flatbread, ranging from beef, chicken and lamb to the many varieties of spectacular vegetarian and vegan options that focus on vegetables and legumes.  And I knew nothing of the joys of sharing a wat platter family style, as it is often served, allowing for variety and affordability when eating out.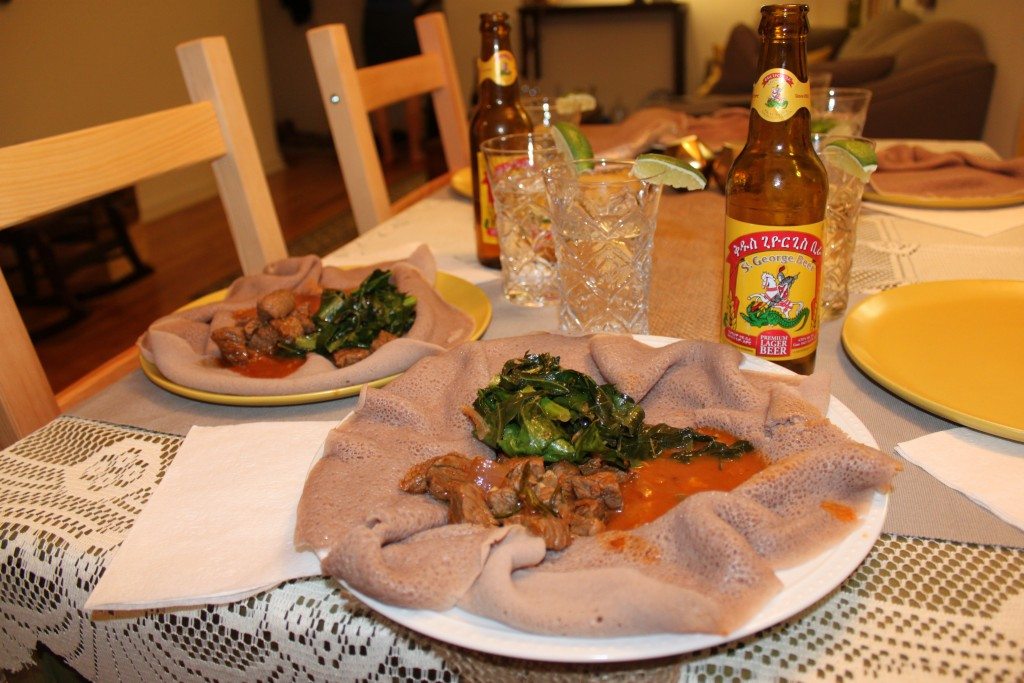 But the first time I tried Ethiopian, I was sold.  It was actually a vegetarian combo platter that wooed me – and this is still often what I order to this day – but I've since also enjoyed the tender, stewed meats.  When my friend Hannah suggested we do an Ethiopian cooking night with her and her husband Brook, who grew up in Ethiopia and still gets packages of fresh spices and kibbeh (clarified spiced butter) from his mom in Addis Ababa, I immediately jumped on the idea.  Learning to cook the cuisines of various cultures is a passion of mine and I couldn't be more excited to learn to cook Ethiopian.
While our Ethiopian couples cooking night was a long time in the talks, we finally made it happen this past Friday night, and it was totally worth the wait.  Hannah and Brook guided us through three dishes: shiro wot (chickpea stew), gomen besiga (collard greens with beef) and key siga wot (spicy beef stew).  Really, I should say Hannah and Brook cooked us three dishes while Holly and I chopped and washed here and there between taking photos and Jason and Courtney caught up over Ethipian beers.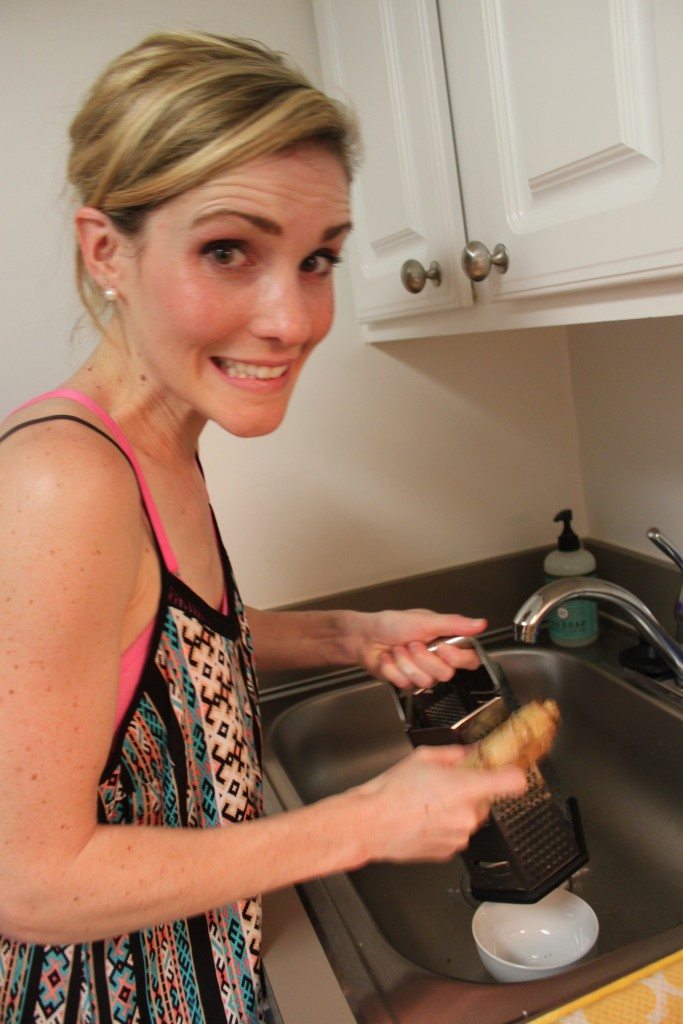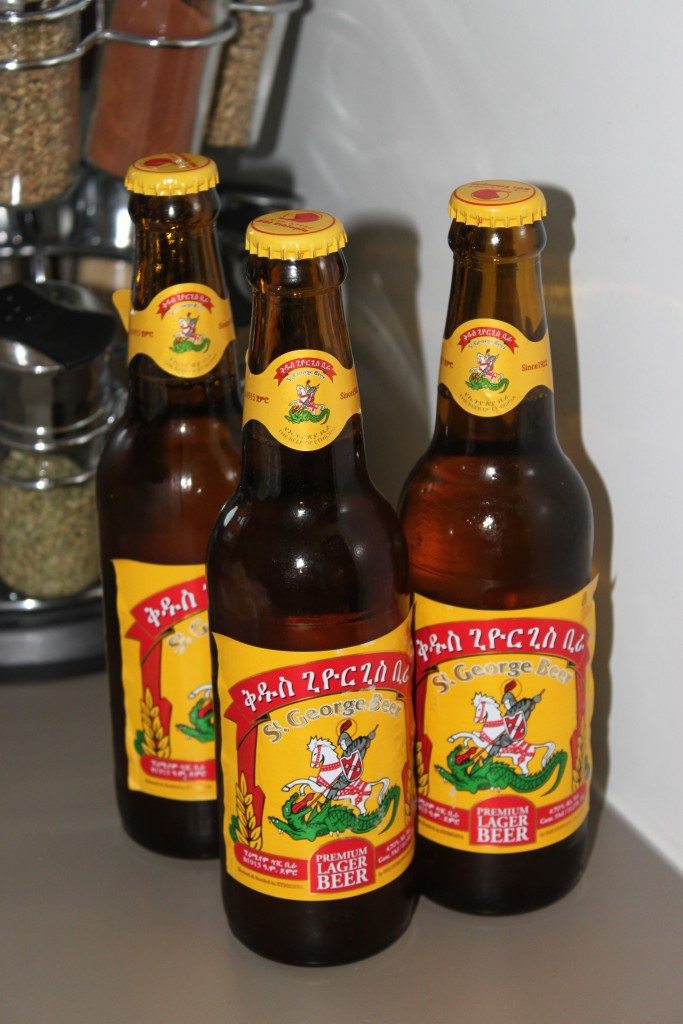 The amounts in all of the recipes are very much based on look and feel in true "passed-down-from-Ethiopian-mamas" fashion. And really, isn't that what cooking should be?  But I'll try to give you a rough idea.  To make all three dishes, you will need:
Injera, for serving (we didn't make this from scratch, although you can)
Shiro (chickpea powder)
Berbere (red pepper spice mix)
Kibbeh (spiced charified butter)
3 lbs piece of boneless beef
1 very large (or 2 medium) bunch of collard greens
2 red onions
1 head garlic
1 piece of fresh ginger
1 jalapeño pepper
Fresh rosemary
Olive oil
Salt

This will make enough to serve four people who like going back for seconds and still give you leftovers for lunch the next day.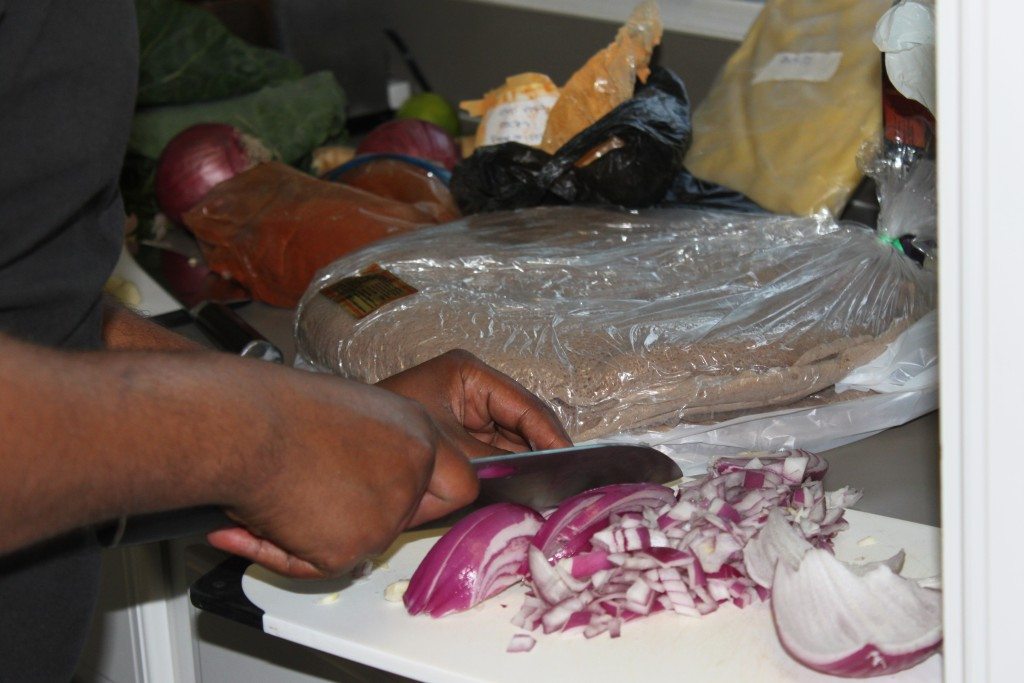 You're going to want to start by making the base: dice the onions, mince the garlic and grate the ginger.  All three recipes (as well as most Ethiopian dishes) start by cooking diced onions in a pan with oil, then adding minced garlic and grated ginger, followed by berbere.  The berbere is where the spice comes from, so you can add more or less based on taste.  Generally though, these are intended to be fairly spicy dishes.  You will want to add lots of berbere to the key siga wat and a smaller amount to the pans where you will make the other two dishes.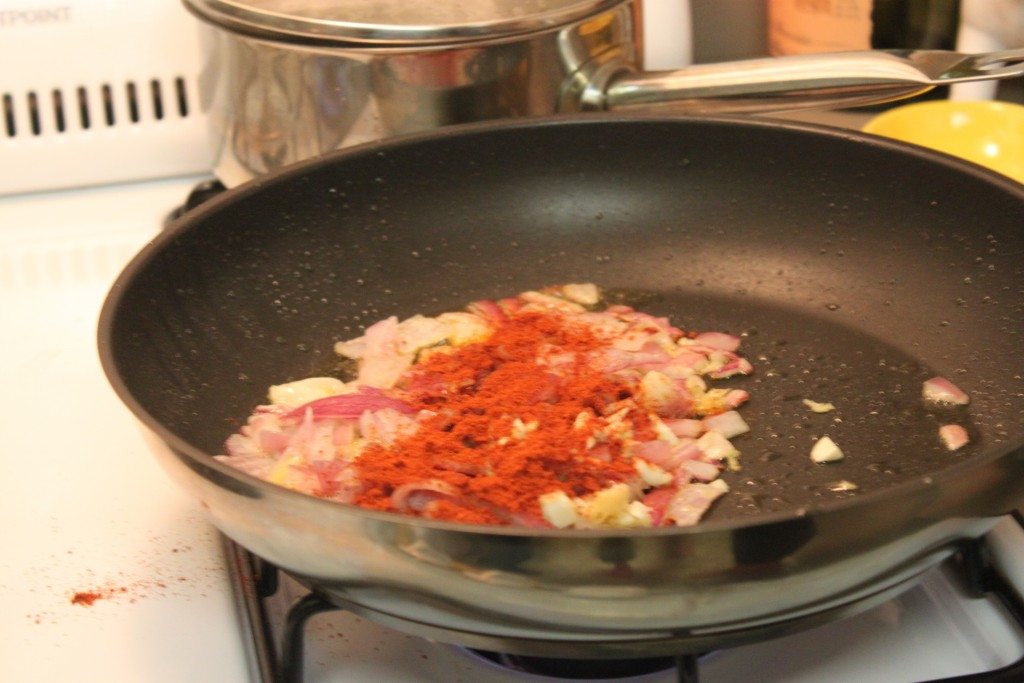 Once you have the base cooking in three separate pans…
For the key siga wot (spicy beef stew): add cubed beef, some more berbere if desired and pan-fry; add a bit of water partway through.  Near the end, add salt, diced jalapeno, fresh rosemary and kibbeh (clarified spiced butter).
For the gomen besiga (collard greens with beef): add chopped collards to pan, stir-fry for a minute or two.  Add meat to the pan if using (gomen – greens – can be cooked on their own, or besiga meaning "with meat"). Add salt and water, cover and let cook until greens and meat are cooked through.  Finish by adding kibbeh, rosemary and jalapenos.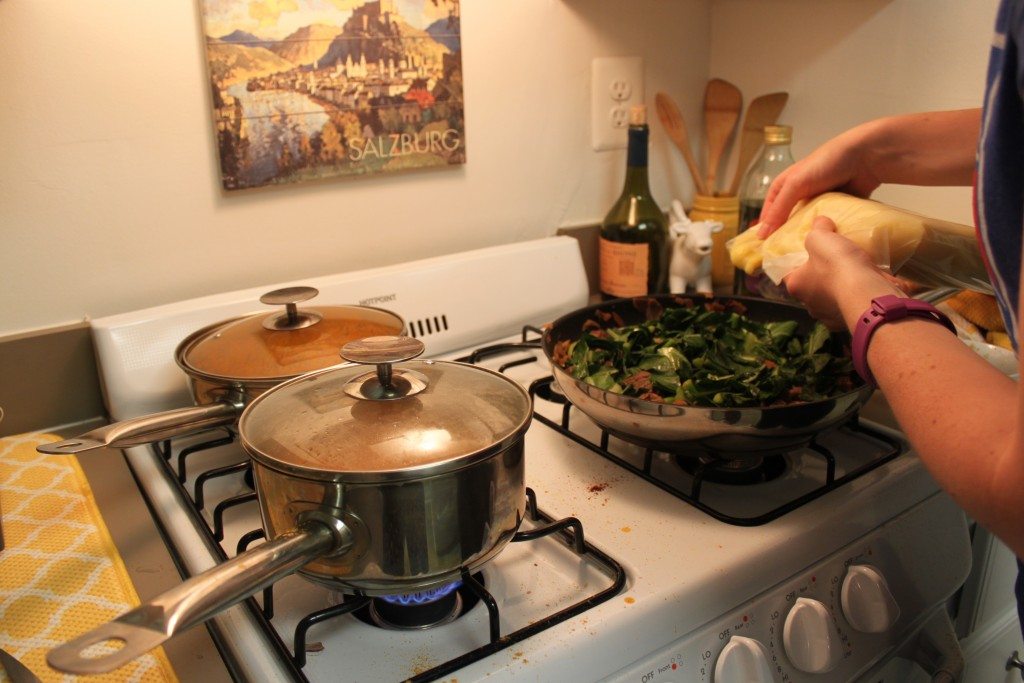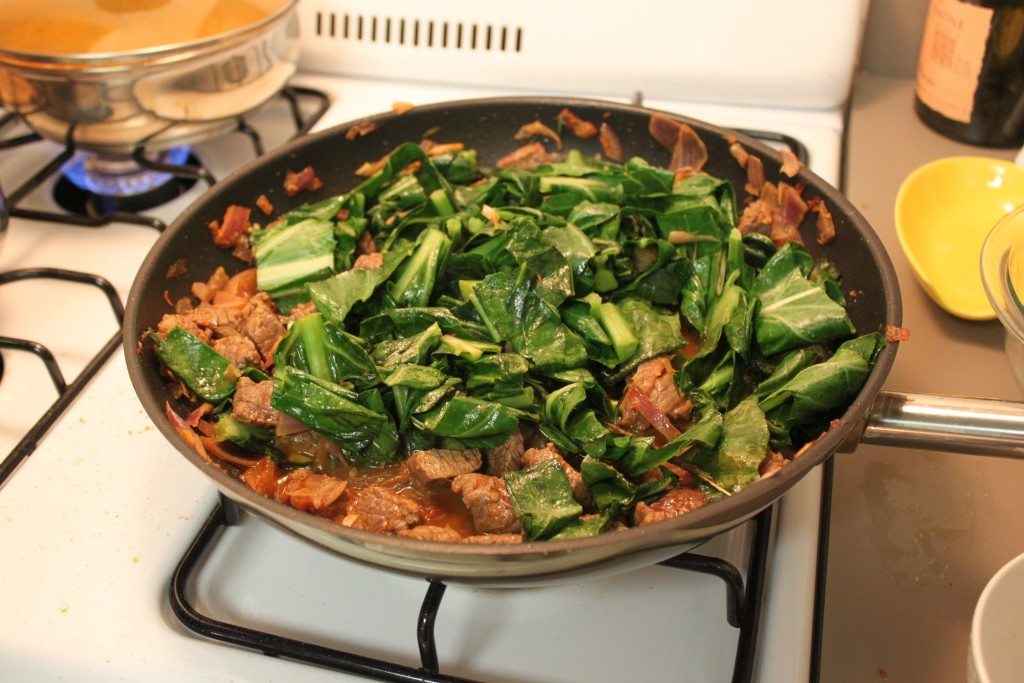 For the shiro wot (chickpea stew): add shiro powder and oil and stir rapidly to make a paste with the onions, garlic, ginger, and berbere that are already in the saucepan.  Add water (probably a cup or two) until the mixture is quite liquidy and keep stirring. Add a bit more shiro and simmer until the mixture thickens (rather like a gravy). Add salt to taste, and more kibbeh, rosemary, and jalapenos at the end, if desired.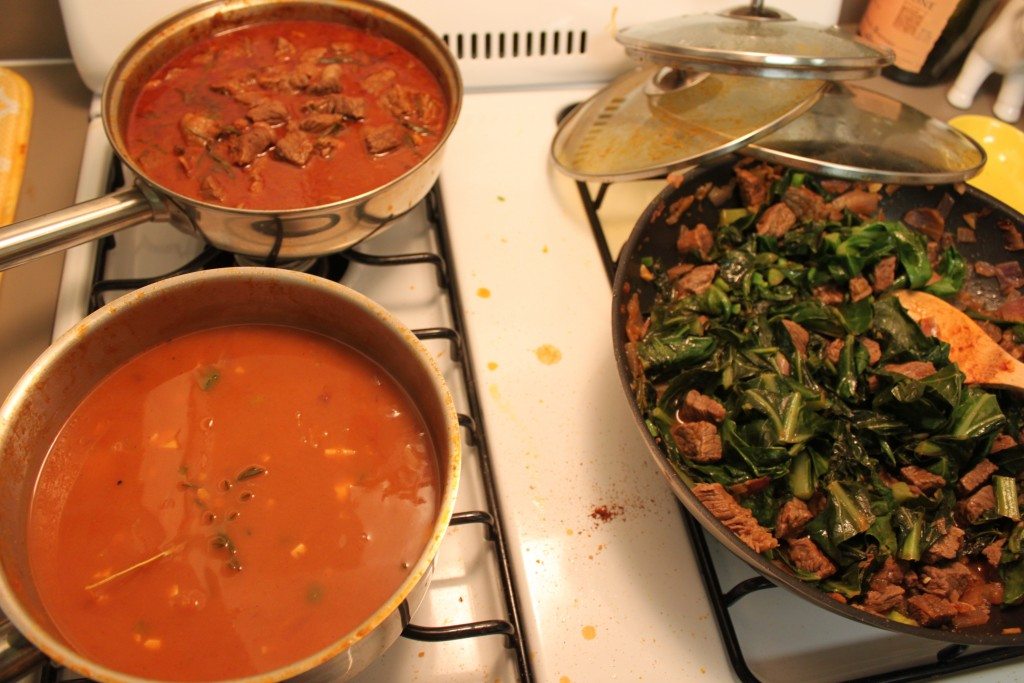 To serve, top a piece of injera with a scoop of each dish.  Leave room around the edge to rip pieces, as this is what you will use to eat your wat (you won't find forks or knives in a true Ethiopian restaurant!)  Put additional injera on the table.
This was truly one of the most fun cooking experiences I've had and also one of the best meals I've had in quite some time!  Huge thanks to Hannah and Brook for showing us how it's done, to Holly and Jason for offering up their kitchen, to Hannah for writing up an explanation of the magic that happen in the kitchen and to Brook's mom for the fresh ingredients!