Paleo Breakfast Lasagna with Sausage, Spinach and Scrambled Eggs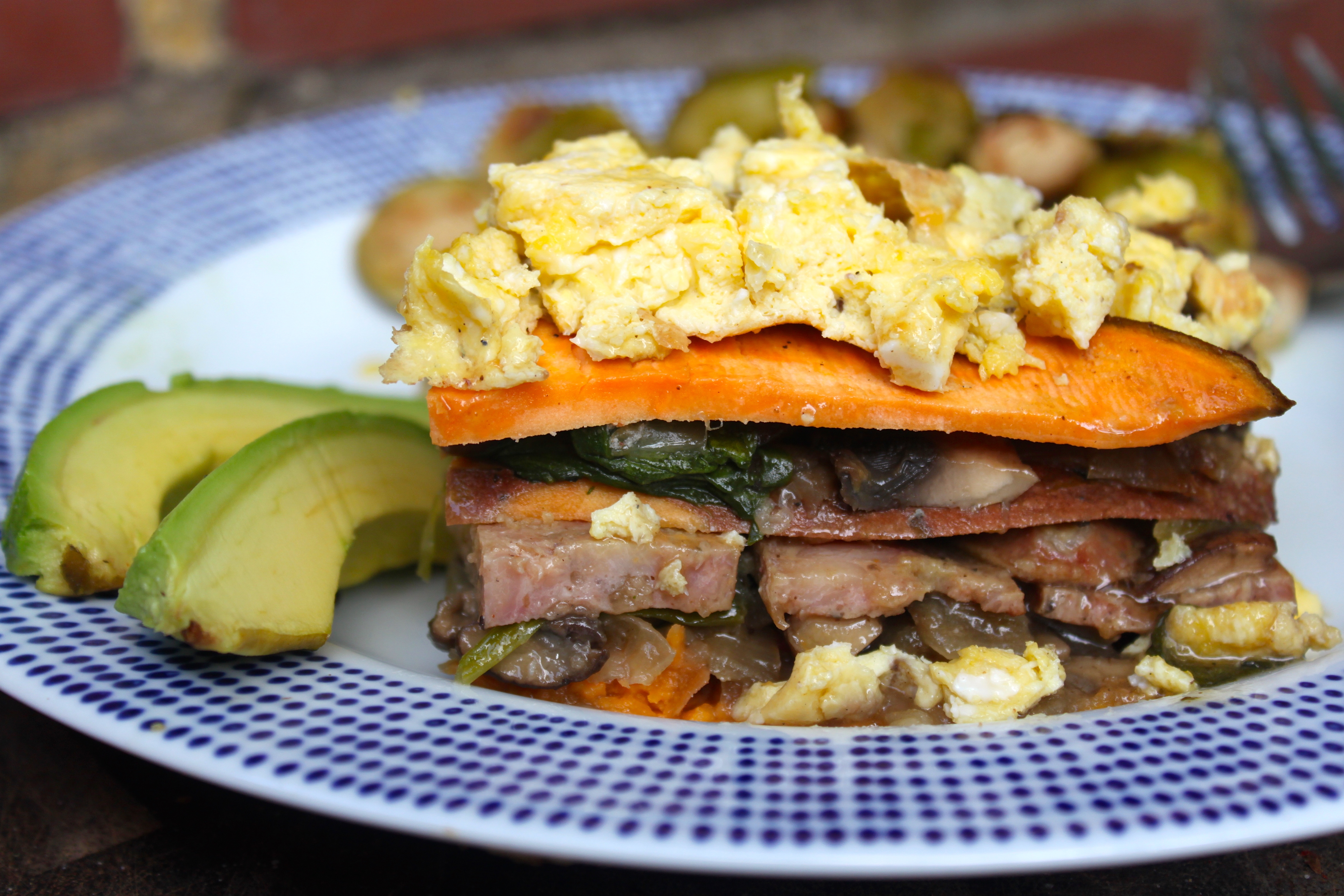 I love breakfast.  I eat it every single day without fail, and usually a hardy one.  In fact, I remember the last time I missed breakfast: it was the day after Super Bowl Sunday and I had food poisoning.  Even then, when I finally could eat (around 7:00pm) I ate breakfast.  I like breakfast so much that one of the saddest parts of my day is when it's over.  And can you blame me when this is a typical breakfast?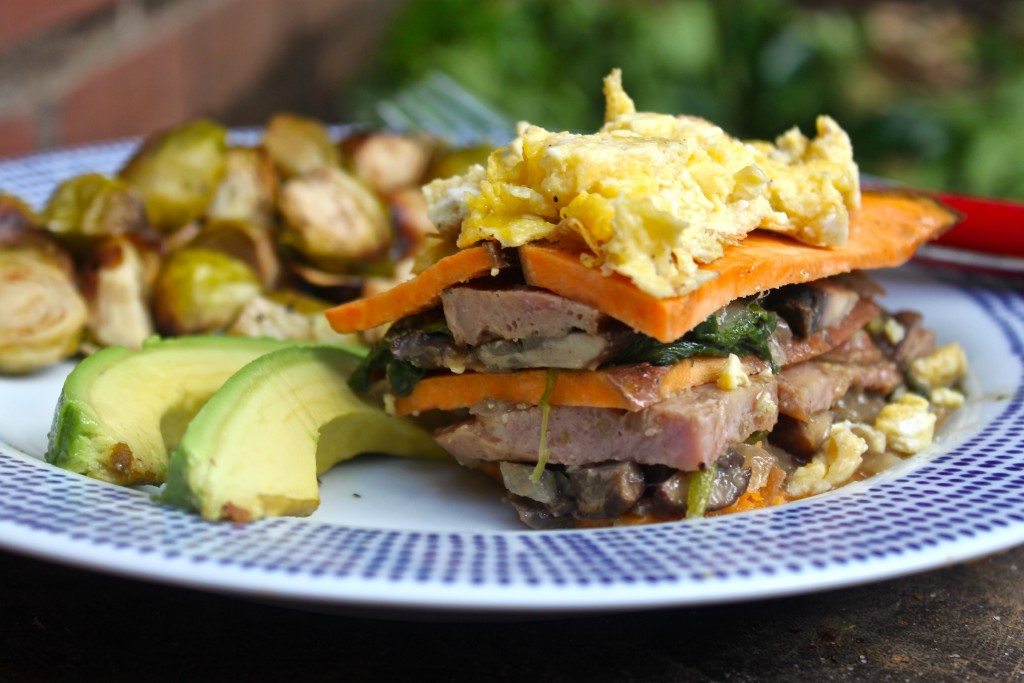 Look at those thick slabs of sausage, layered with sweet potato, spinach and mushrooms, topped with scrambled eggs and obviously served with avocado.  Everything good in the world right here!  This is actually fairly similar to the sweet potato & sausage hash I make most weeks, except you can just heat it and go without even frying an egg (for those of you who my argument that really, it doesn't take any longer to fry the egg than it does to microwave, is lost on… one of whom I'm married to).  If you don't have time, make time.  Treat yo'self to breakfast, you're worth it dude!
Paleo Breakfast Lasagna with Sausage, Spinach and Scrambled Eggs
Adapted from PaleOMG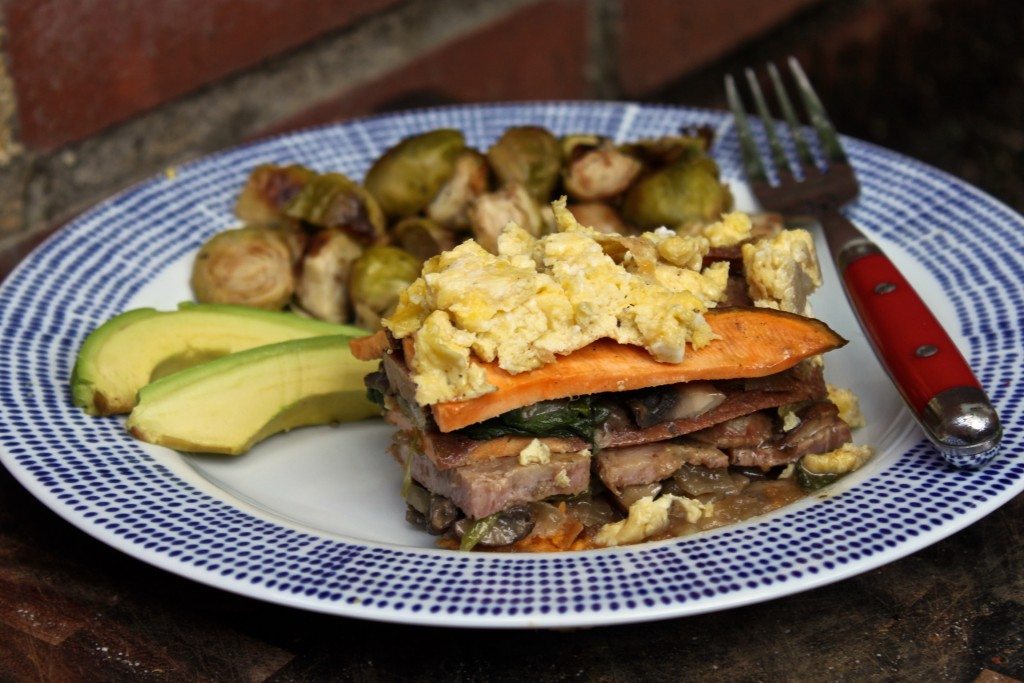 Ingredients:
1 large sweet potato, thinly sliced lengthwise
1 package chicken sausage, sliced lengthwise
1 container sliced mushrooms
2-3 cups fresh spinach
1 yellow onion, sliced thin
⅓ cup canned coconut milk
1 teaspoon garlic powder
1 teaspoon onion powder
salt and pepper, to taste
6 eggs, whisked
1 tablespoons fat olive oil
Instructions:
Preheat oven to 375 degrees.
Add a medium skillet or saucepan over medium heat on a different burner, and add a tablespoon of olive oil.  Place onions in to begin to caramelize. Salt and pepper the onions while they cook. Once your onions have cooked for about 8-10 minutes, add your mushrooms and cover to help cook your mushrooms. Stir in spinach and cook until wilted.
Meanwhile, thinly slice your sweet potato/yam lengthwise with a mandolin so you have even strips. If you don't have a mandolin, just use a sharp knife and thinly slice each slice.
Sear your sausage strips slightly, if desired.
In a bowl, whisk together your coconut milk with garlic powder, onion powder, and a bit of salt and pepper.
Pull out your 8×8 glass baking dish and layer the bottom of your dish with thinly sliced sweet potato/yam.  Place a scoop full of mushrooms and onions on top of your first sweet potato layer, spreading it out, then a layer of chicken sausage.   Repeat layers, ending with a third layer of sweet potato. 
Pour your coconut milk mixture over your lasagna and allow it can creep into all the crevices.  Salt and pepper the top of your lasagna then place aluminum foil on top to create a seal around your baking dish.
Bake for 30-35 minutes or until your sweet potatoes are completely cooked through.
When your lasagna is done baking, let cool for about 10 minutes.
While the lasagna cools, scramble your eggs. Once they're done, spread them over top of the lasagna.
Serves 4-6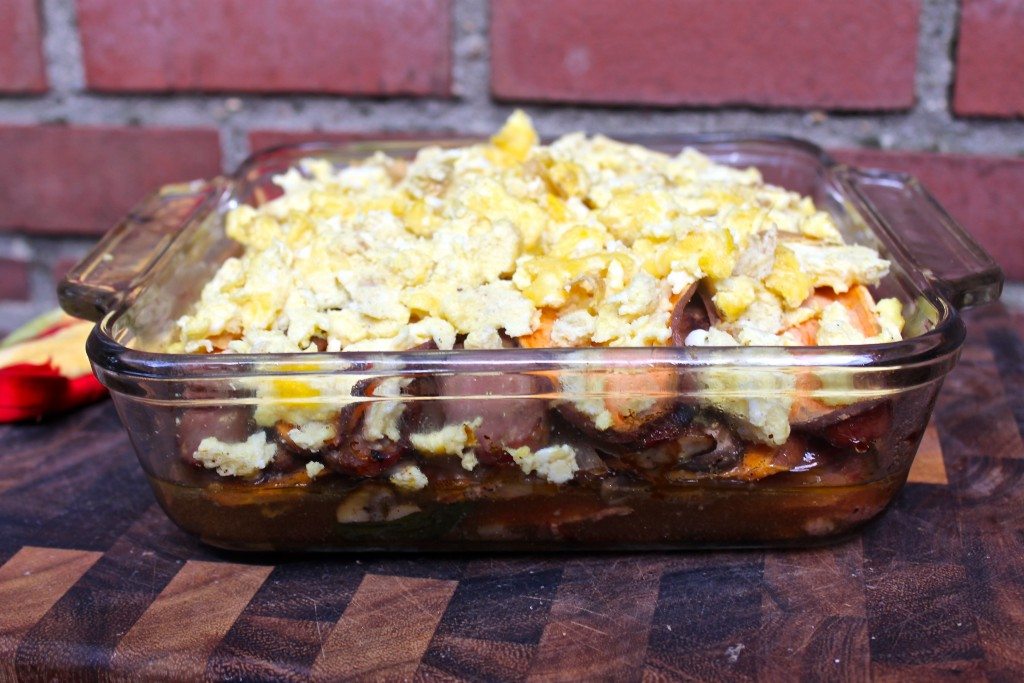 Make this recipe?  Love it?  I'd love to see!  Tag me on Instagram @NotesFromAMessyKitchen or on Twitter @Messy_Kitchen!