Paleo Waffles with Strawberry Chia Jam & Coconut Whipped Cream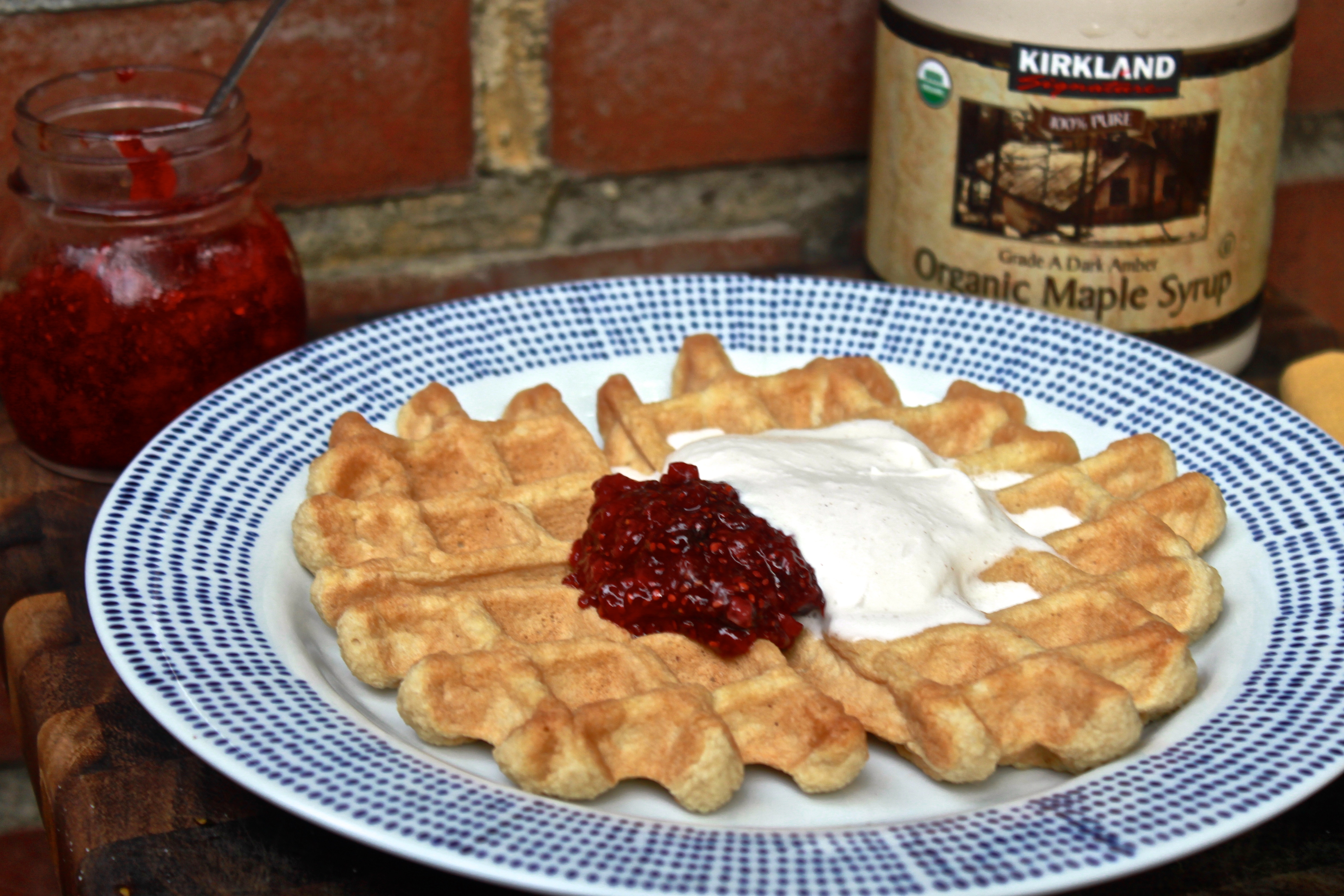 So, I had an embarrassing moment this morning when I got to spin class wearing the exact same outfit (a very brightly colored cut off Superman shirt, nonetheless) I wore to boot camp last night, only to find myself next to the very same girl.  Seriously, who would have thought that someone other than me had little enough going on in their life to go to a 6:15pm class on a Tuesday and a 9:30am class on a Wednesday?  I thought I'd safely catch the happy hour foregoers last night and the stay at home moms this morning, with no overlap.  But nope, guess I need to start showering and changing my clothes.  Such a bummer.
In other exciting news, our air conditioning seems to be protesting the heat wave by refusing to maintain a temperature below 78 in our house.  Free sauna if anyone is interested!  Also, Courtney nearly came through our bedroom ceiling last night with a case of books (which did come through our bedroom ceiling).  So there is a huge gaping hole above our bed.  Maybe we should install a skylight?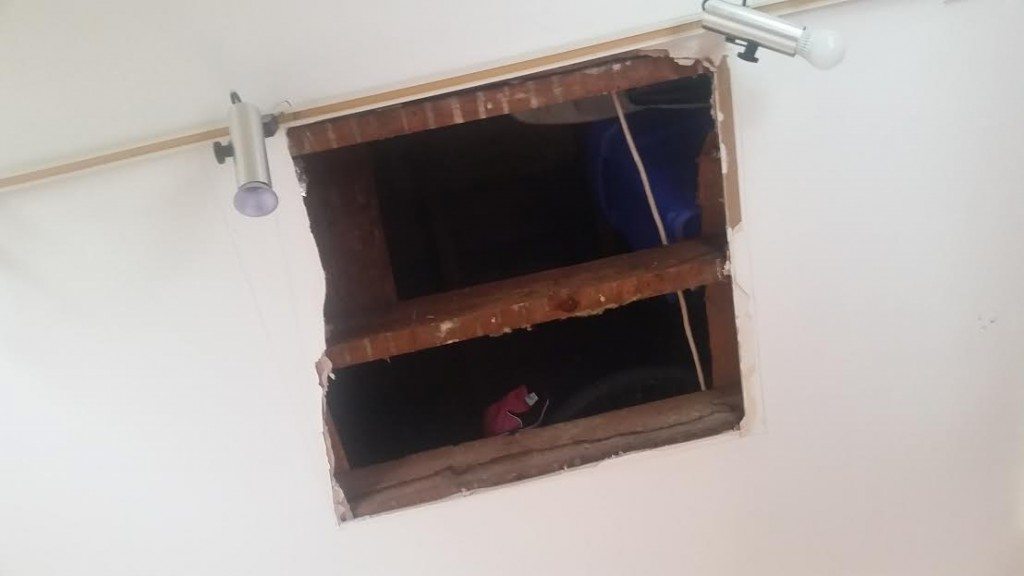 Guess the car repairs scheduled for today are going to have to wait.  Oh, the joys of homeownership!
So, anyways, here's a recipe that's great for those mornings when nothing seems to be going your way.  If I weren't going straight to spin class in dirty gym clothes (and wasn't out of strawberries), I surely would have made it this morning.  The components take a little while though, so it might be a better one to make on the weekend.  This recipe will make about 3 waffles, but you'll have extra strawberry jam and coconut cream, so you can always double the waffle part for guests!
Paleo Waffles with Strawberry Chia Jam & Coconut Whipped Cream
For the strawberry chia jam:
8 oz ripe strawberries, stemmed and roughly chopped
2 tbsp honey
1 tbsp chia seeds
How to: Combine the strawberries and honey in a small saucepan. Cover and bring to a simmer over medium heat, stirring frequently. One the berries begin to soften (about five minutes), mash with a fork. Reduce the heat to low and stir in the chia seeds. Let simmer for about 10 minutes or until reduced down to a jam, stirring frequently.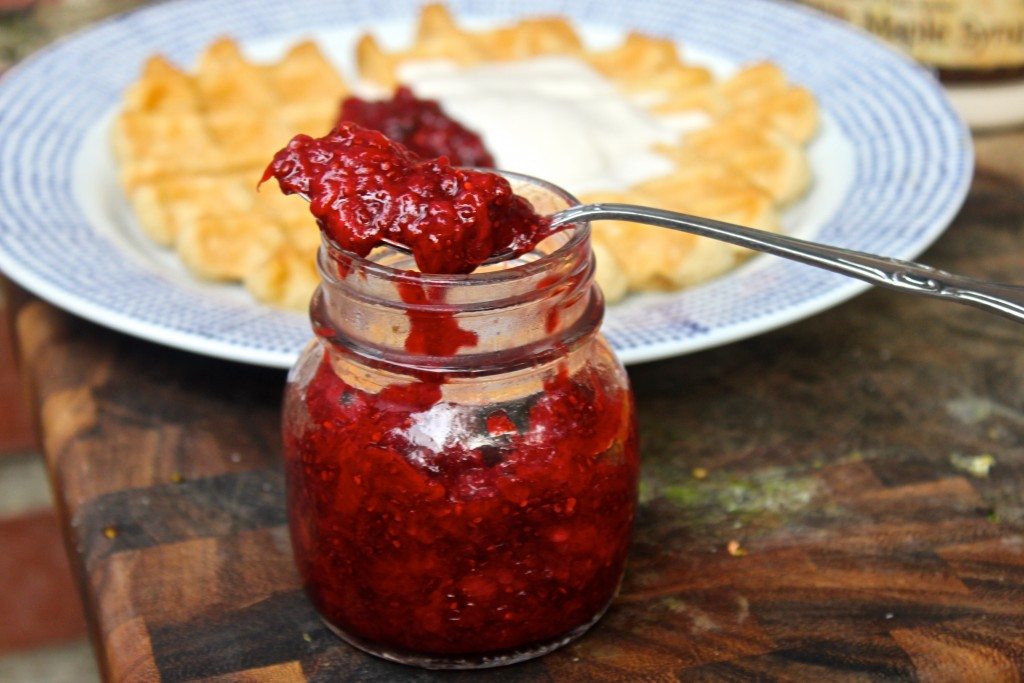 For the coconut cream:
1 can full fat coconut milk, chilled overnight
3 tbsp maple syrup
1 tsp vanilla extract
How to: Flip the can of coconut milk upside down and open from the bottom. Drain the coconut water. Scoop the solid coconut cream into the bowl of your mixer. Add maple syrup and vanilla and beat until fluffy. 
For the waffles:
3 egg, divided
1/4 cup almond milk (or milk of choice)
1 cup almond flour
¼ teaspoon salt
1 teaspoon vanilla
1 teaspoon maple syrup
2 tablespoons coconut oil, melted
How to: Preheat waffle iron.  In a medium bowl, whisk egg yolks and milk.  Add almond flour and salt. Combine until smooth.  Add melted coconut oil.  In a separate bowl, whisk egg whites until they form moist, stiff peaks. Fold the egg whites into the batter a little at a time.  about ¼ of egg whites into batter.  Fold batter into remaining egg whites in three parts.  Add maple syrup and vanilla. Mix well.  Scoop 1/3 cup of batter onto a preheated and greased waffle iron and cook until golden brown.
To Assemble: Top waffles with strawberry chia jam and whipped coconut cream and serve!