Zoodles Alla Puttanesca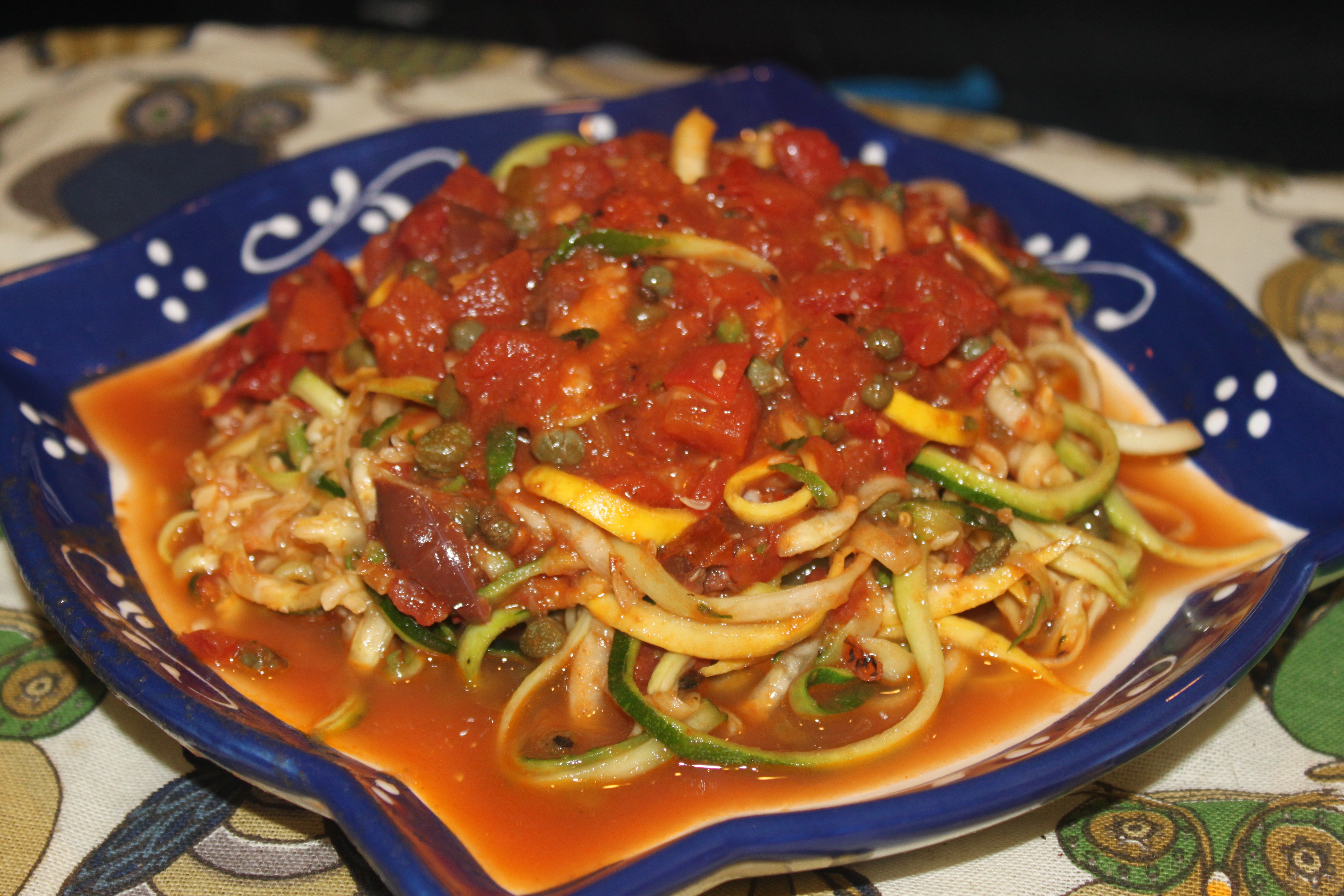 First let's start with a couple of definitions:
Zoodles: Zucchini + Noodles.  A healthy, low-carb and gluten-free alternative to spaghetti.

Alla puttanesca: Translates roughly to "in the garbage style" or "in the whore's style" in Italian.  A tangy, salty pasta dish invented in the mid-20th century that incorporates ingredients typical of Southern Italy: tomatoes, olive oil, olives, capers and garlic.
Okay, so now that you know what we're working with.  I'm not really sure what else you need to know.  Other than it was delicious.  I licked my plate, without shame.  If I had more of it, I would have eaten more of it.  Also without shame.  This simple, healthy, delicious dish gets a "definitely" on the make-again-ability scale.  Next time I might even top it with a fried egg!
Zucchini Noodles Alla Puttanesca
Adapted from the Londoner
Ingredients:
3 large zucchini
Small tin anchovies
3 cloves of garlic, crushed
Very large spoonful of capers (~1/4 cup)
Handful of pitted kalamata olives (~10)
Red chilli flakes
14oz can diced tomatoes
1 tbsp olive oil
Parmesan (optional)
Instructions:
Heat olive oil in a large, heavy-bottomed skillet.  Add crushed garlic and anchovies.  I threw in the oil from the anchovies too, it's delicious.  The anchovies should start to disintegrate in the oil and the garlic gently brown and soften. Add a sprinkle of chilli flakes to the sizzling oil.  Roughly chop up your black olives and capers and add them too.  Give it all a good stir around and fry for a minute.
Add the diced tomatoes and allow it to cook for a few minutes, stirring now and then.
Meanwhile, spiralize your zucchini.  Toss with sauce and separate onto two plates.
Sprinkle with fresh grated parmesan, if desired.
Serves 2
Make-again-ability scale: definitely