Cucumber Noodle Greek Salad with Tahini Glazed Chicken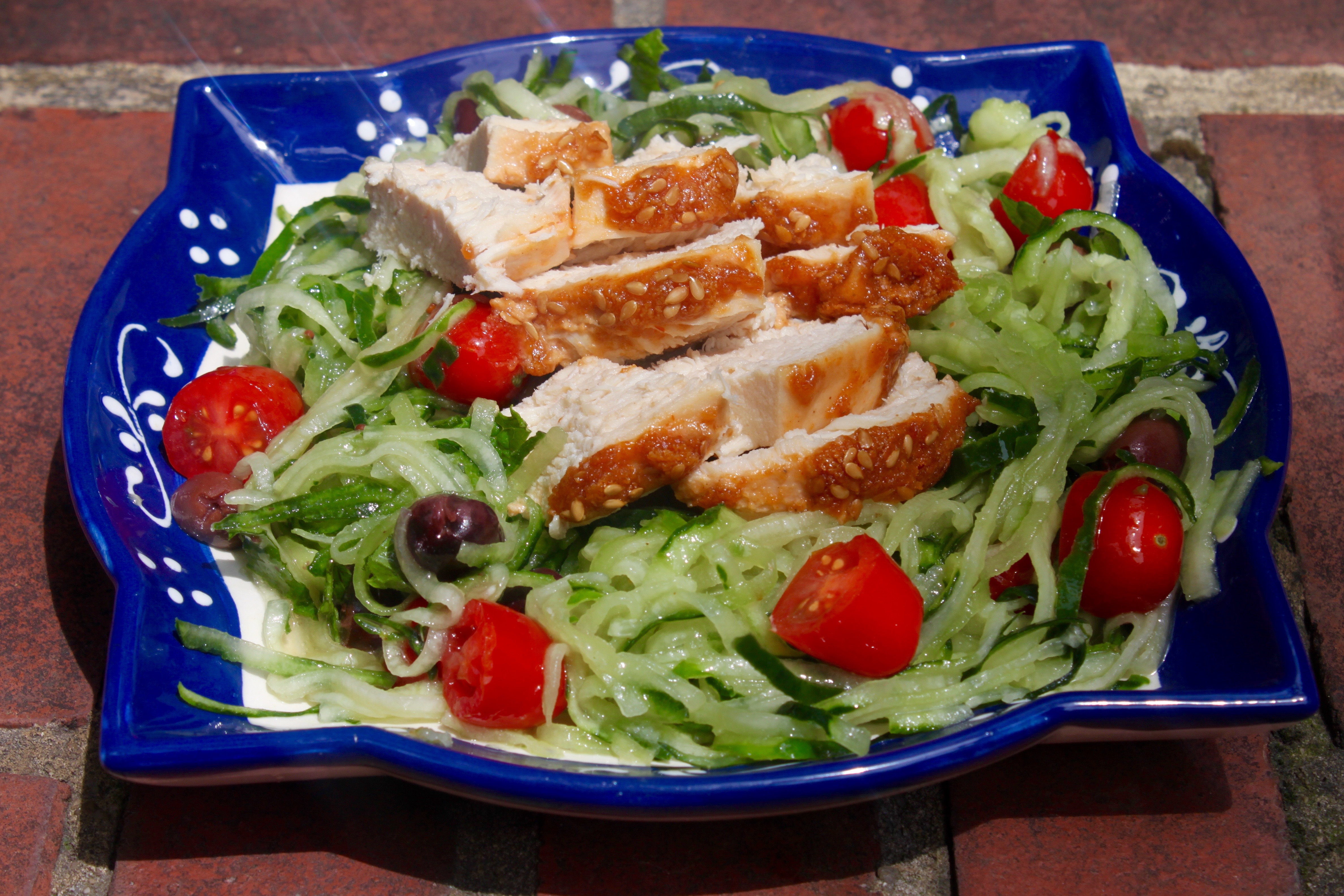 I take a great deal of pride in my ability to make something awesome using only the ingredients on hand.  People have often told me I should go on "Chopped," but I'm afraid my cooking style involves too much cussing, cutting and burning myself to be appropriate for national T.V.  Regardless, it's a nice skill to have.  This recipe came about because I had leftover tahini-glazed chicken and a salad craving, but no lettuce.  Cucumber noodles are a great alternative if you run out of mixed greens.  While this seems like an unlikely scenario, I eat largely in accordance to what my CSA delivers.  While the season for fresh, local greens is behind us for the most part, cucumbers seem to be abundant! Luckily, cucumbers make a great base to a Greek salad.  Did you know that in Greece, a traditional Greek salad actually has no lettuce?  True story!  I remember being caught off guard the first time I ordered one in Athens and received sliced cucumber and tomatoes, black olives and slabs of feta, drizzled generously with olive oil, a bit of balsamic and a sprinkle of salt and pepper.  Delicious, none the less.  Anyways, I loved this salad so much that I made a second batch of tahini chicken to use this week's cucumbers!
Cucumber Noodle Greek Salad with Tahini Glazed Chicken
A Messy Kitchen Original
Ingredients:
1 very large or 2 medium cucumbers, spiralized
Handful of ripe grape or cherry tomatoes
7-10 kalamata olives, sliced
Homemade or store bought dressing of choice
Tahini-glazed chicken (1/4 of this recipe)
Optional: crumbled feta or goat cheese
How to: Remove excess water from spiralized cucumbers.  Toss in a medium sized bowl with tomatoes, olives and dressing.  Transfer to a plate or bowl and  top with tahini-glazed chicken and cheese, if desired!
Serves 1