Mexican Style Cornbread Panzanella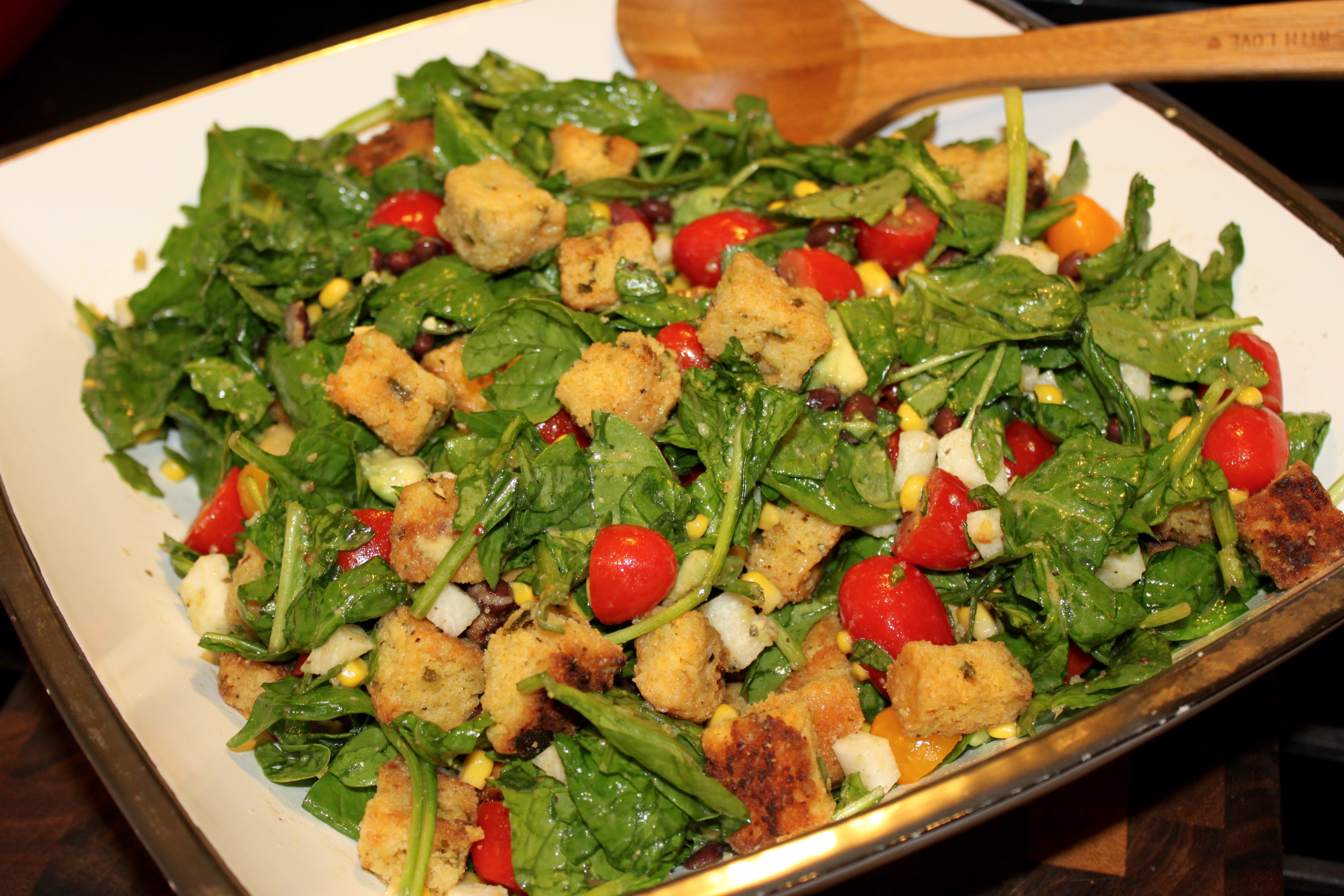 "I like these new beefed up salads you've been making."
That was Courtney's response to panzanella, which would more accurately described as "breaded up."  Panzanella is a Tuscan dish, traditionally composed of stale bread, tomatoes and onions and dressed in oil and vinegar.  This is a very non-traditional panzanella, incorporating corn bread into a Mexican style salad with corn, black beans, tomatoes, avocado and jicama.  Served cold, this is a light and refreshing meal for summer… although don't fool yourself: there's a whole box of corn bread in this "salad," which serves six… you do the math!
Mexican Style Cornbread Panzanella
Adapted from Eats Well With Others
Ingredients
1 9×9 batch of cornbread*, cut into 1″ cubes
11 oz baby spinach
1 15 oz can black beans, rinsed and drained
1 15 oz can corn, drained
juice of 4 limes, divided
1/2 tsp salt, plus more to taste
1/2 tsp black pepper, plus more to taste
1 avocado, cubed
1 pint grape tomatoes, halved
1 cup diced jicama
2 tbsp olive oil
1 tbsp apple cider vinegar
1/2 tbsp red pepper flakes
1 tbsp honey
*You can use your favorite corn bread recipe, or make it from a box!  I had a gluten-free dinner guest so I used a prepackaged gluten-free cornbread mix. While I was worried the consistency might be off, it turned out great! Add a couple jalepenos for a kick!
Instructions
Preheat oven to 425. Spread the cornbread cubes on a parchment lined baking sheet and toast in the oven for 6-7 minutes. Toss and cook for another 6 minutes. Remove from oven and let cool slightly (you can do this step the night before, if desired).
In a large bowl, toss together the spinach, black beans, corn, jicama, half of the lime juice, salt and pepper.  Let sit for 10 minutes.
Toss in the avocado and grape tomatoes. Season to taste with salt and pepper.
In a small bowl, whisk together the olive oil, rice vinegar, red pepper flakes, honey, remaining lime juice and salt and pepper to taste. Add to the salad and toss to combine.
Stir in the cornbread cubes and serve!
Serves 6