Butternut Squash & Salmon Curry (Paleo)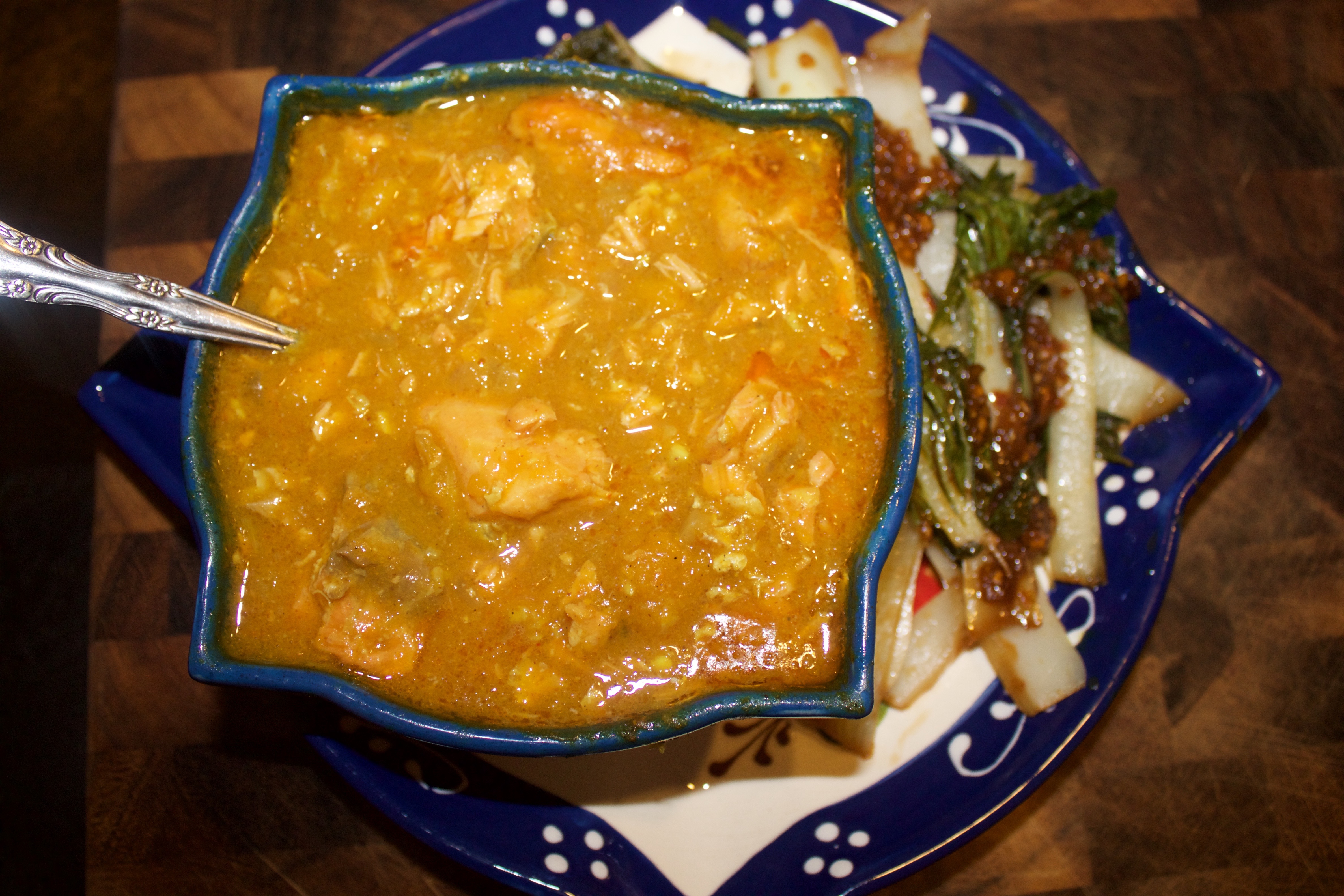 While today was mid-August humid, Fall has been coming and going in spurts.  Rain is plastered across the whole week's forecast, and it's bound to break this unseasonably humid weather that hair resembling something from the 1980's and my mind in a fog.   It's bound to break into the crisp Fall evenings we all love, and when it does you'll want to have this butternut squash and salmon curry on hand.  Big chunks of salmon and creamy butternut squash will fill you up and the mild curry spice is bound to warm you from the inside out.
Butternut Squash & Salmon Curry
Adapted from In Sonnet's Kitchen
What you'll need:
1 medium butternut squash
1 tablespoon coconut oil
1 medium yellow onion, diced
2 tablespoons minced ginger
1 tablespoon red curry paste
6 garlic cloves, minced
1 can light coconut milk
2 cups vegetable broth or water
2 tablespoons curry powder
¼ teaspoon cayenne pepper
1½ pounds wild salmon, bone and skin removed and cut into 1″ pieces
Freshly-ground black pepper and sea salt to taste
What you do:
Preheat oven to 375 degrees F.
Slice butternut squash in half lengthwise and place face-down on a baking sheet lined with foil or parchment paper.
Bake for 30 – 45 minutes, until squash is tender. Scoop out the flesh, discard the skin, and set flesh aside.
In a medium pot over medium heat, add the coconut oil. Add the onions and saute for 5 minutes, or until translucent.  Add the ginger, curry paste and garlic, and saute for an additional 3 – 5 minutes, until ginger and garlic are fragrant.
Add the cooked butternut squash, salmon, coconut milk, broth, curry powder, cayenne.
Cover and simmer for 15 – 20 minutes, until fish is cooked (should be flaky and separate easily with a fork). Add salt and pepper to taste.
Serves 4