Korean BBQ Chicken Lettuce Wraps with Kimchi and Cauliflower Rice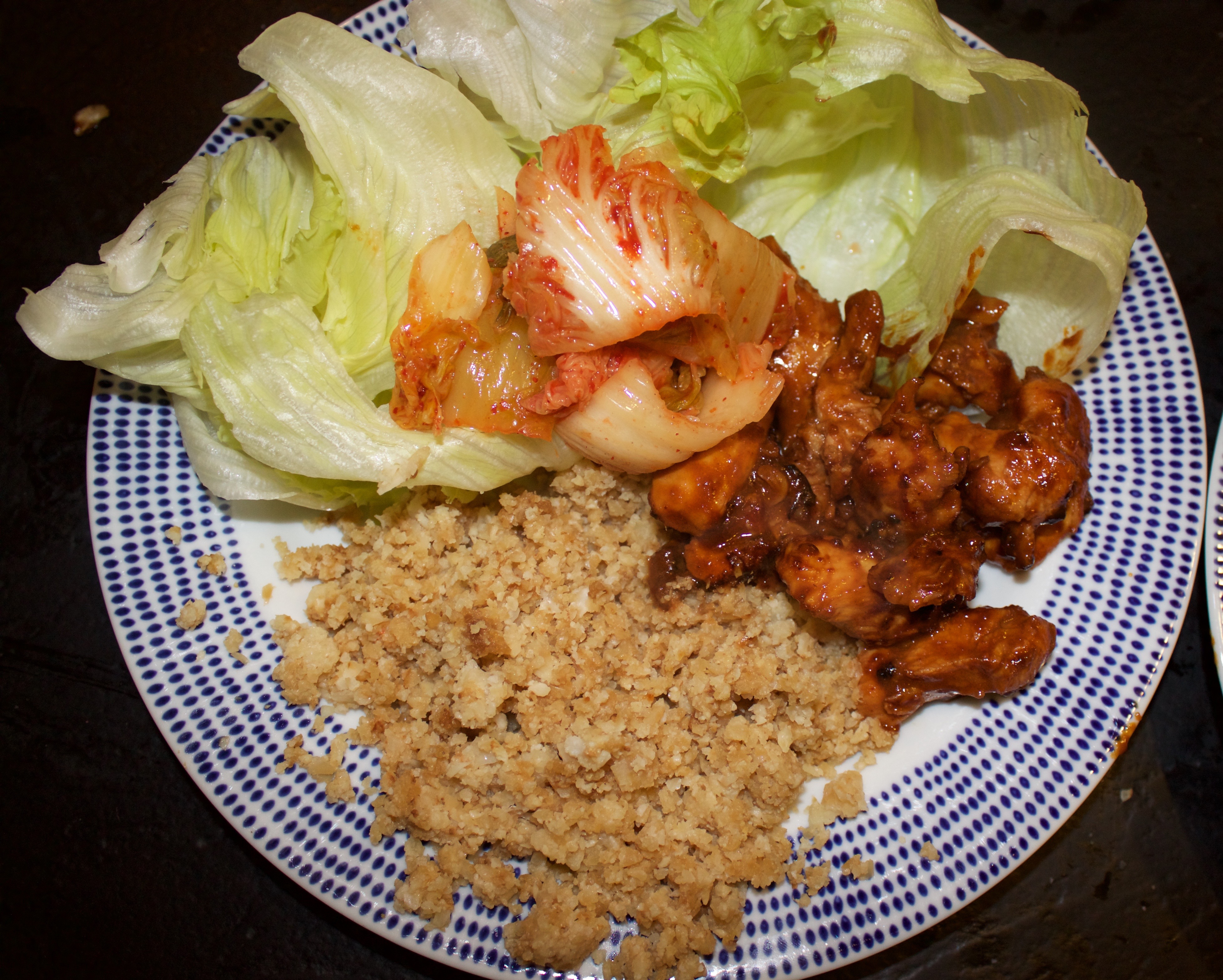 I remember coming back from a week in Korea having literally eaten and drank everything there was to eat or drink in unspeakable quantities and thinking, "how the heck did I lose two pounds?  I often am surprised when I travel to not gain more weight than I do – maybe all my anxiety about missed flights and lost luggage burns a lot of calories? – but still, this seemed impossible.  But then I thought about the food we were eating: lots lean meats, lots of pickled vegetables.  Usually there was a side of rice, but I'm not a huge rice eater if I have large quantities of meat and veggies in front of me (or as I would put it in Korea, "I prefer to drink my rice").
Regardless, I've always felt it was a fairly healthy cuisine – and one that I often crave.  When I got iceberg lettuce and a head of cauliflower in my Hungry Harvest box, I decided I really wanted to make lettuce wraps with cauliflower rice.  I have to say, I really enjoyed this recipe. The chicken is super tender and so well flavored.  The sauce is sort of reminiscent of a peanut sauce, but the nutty flavor and creamy texture comes from the bean paste and has a lot more heat.  The cauliflower rice keeps this dish light, and tastes amazing with the chicken and kimchi inside of a lettuce wrap.  This definitely comes with a high recommendation from the chef!
Korean BBQ Chicken Lettuce Wraps
Adapted from What to Cook Today
Ingredients:
2 Tbsp Gochujang sauce (spicy bean paste)
2 Tbsp soy sauce
2 Tbsp brown sugar
1 Tbsp fresh ginger
1 Tbsp sesame oil
1 lb boneless, skinless chicken breast
3 cloves of garlic, minced
To serve: lettuce for lettuce wraps, kimchi and cauliflower rice (below)
Place the first five ingredients in a bowl and mix well.  Stir in the chicken and coat.  Refrigerate for at least an hour, or overnight to marinate.
Meanwhile, make the cauliflower rice. Cover and set aside and use the same wok to cook the chicken.
Add chicken to the wok with the marinate and the minced garlic.  Cook for 5-7 minutes until the chicken is cooked through.
Serve with lettuce to make wraps by filling with cauliflower rice, chicken and kimchi!
For the Cauliflower Rice:
1 head cauliflower
1 Tbsp sesame oil
1 Tbsp rice vinegar
3 Tbsp soy sauce
Heat sesame oil in a wok.  Add the rice and cover until the bottom begins to brown.  Stir and cook another minute or so.  Stir in the rice vinegar and soy sauce and cook until soft.
Serves 4