Messy Kitchen Supper Club – A Journal Across Africa: Kenya, Cameroon, Tanzania and Gambia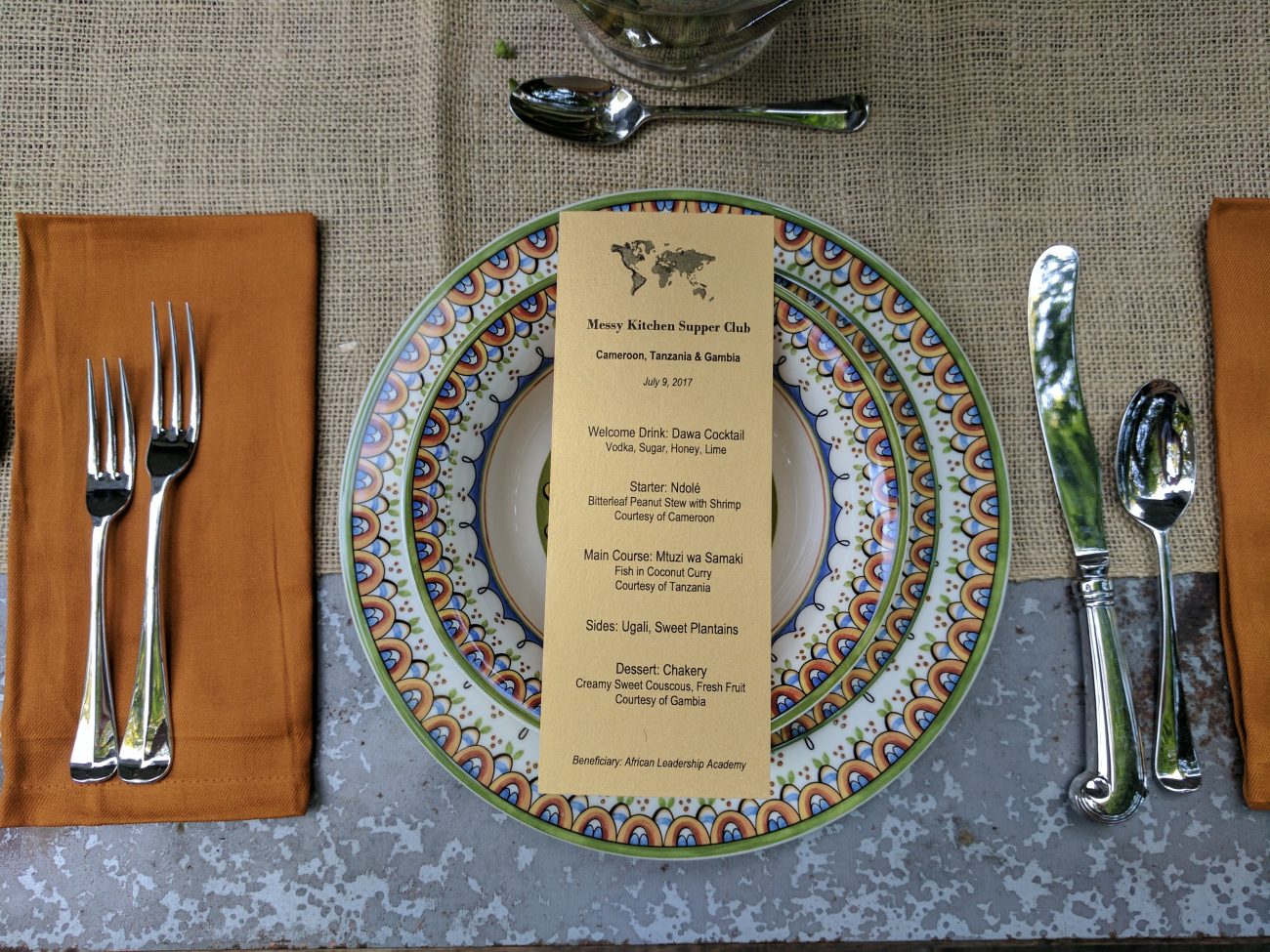 When my mom asked me if I would host a supper club for her Political Pals, I immediately jumped at the opportunity to cook for new people, especially those who appreciate international cuisine as much as this group does!  This time around we found ourselves in Africa,  crossing the continent from Kenya to Cameroon to Gambia and Tanzania.  Over the course (or should I say courses?) of the meal we sipped South African wine, shared stories about time in Africa and raised $600 for the African Leadership Academy, a South Africa-based non-profit founded to develop the next generation of leaders who prevent wars, entrepreneurs who create jobs, and innovators that develop lasting solutions to the root causes of Africa's challenges.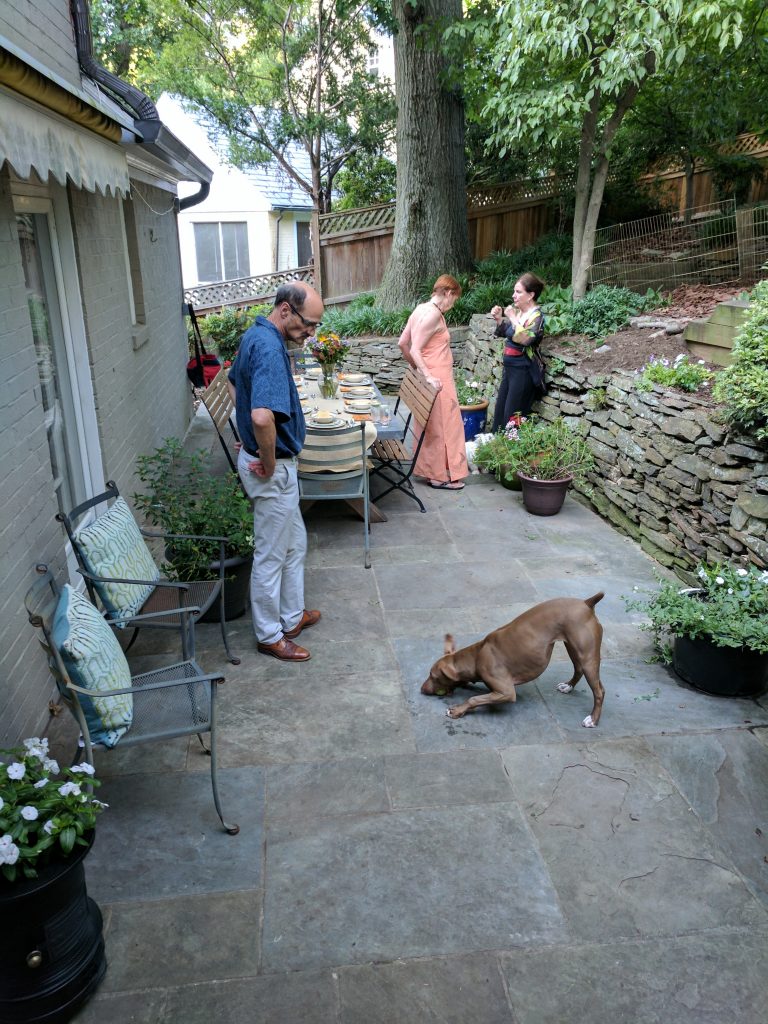 We started the evening with a round of Dawa cocktails, a boozy Kenyan cocktail made with honey, lime, sugar, and vodka—it's ideally refreshing for the equatorial climate and has become ubiquitous on the menu at bars and safari lodges.  Dawa means medicine in Swahili, but it was named so because the cocktail – traditionally enjoyed during safari happy hours – was said to treat your stomach so that you have an appetite for the meat.
For our first course we were in Cameroon for ndolé, bitterleaf (well, in my case, spinach) stew, flavored with ground peanuts and shrimp.  I loved this dish, which is sneakily rich due to peanuts and peanut oil.  I served it with baked plantains, a classic African side dish and one of my very favorite foods.
The second course was Mtuzi wa Samaki, a coconut milk based fish curry from Tanzania.  Although I got so caught up in conversation that I left the curry bubbling over the pot, the only casualty was the previously clean stovetop – the fish was still perfectly tender.  I served the curry with ugali, a stiff porridge made from white cornmeal that I also paired with groundnut stew earlier this year.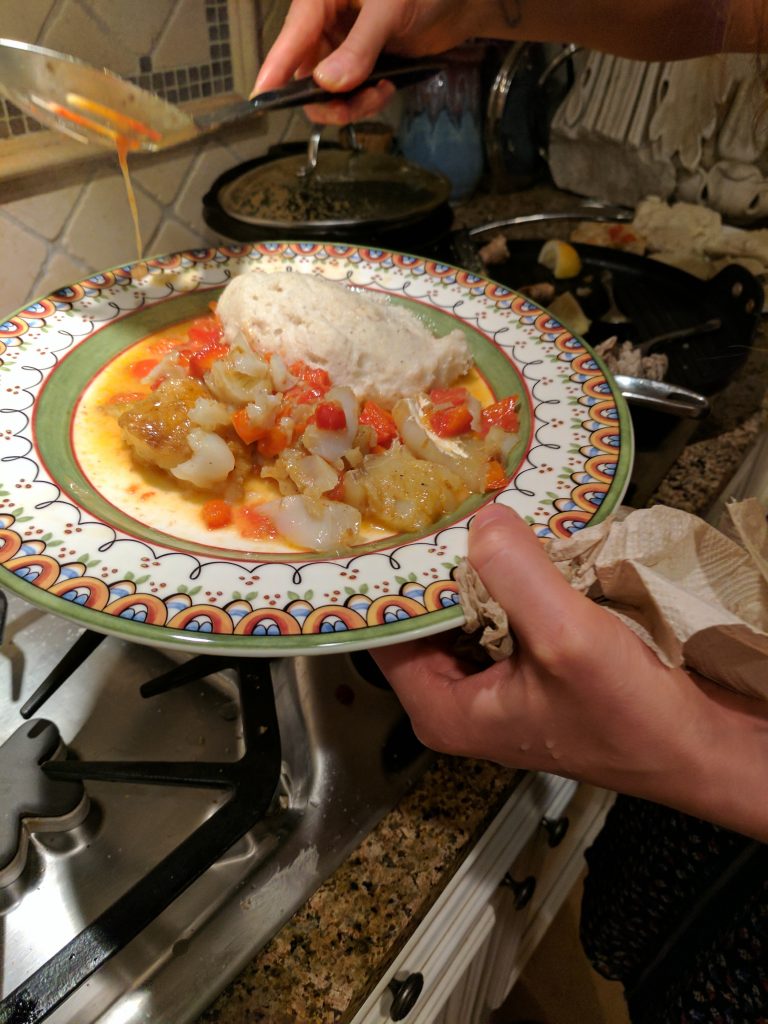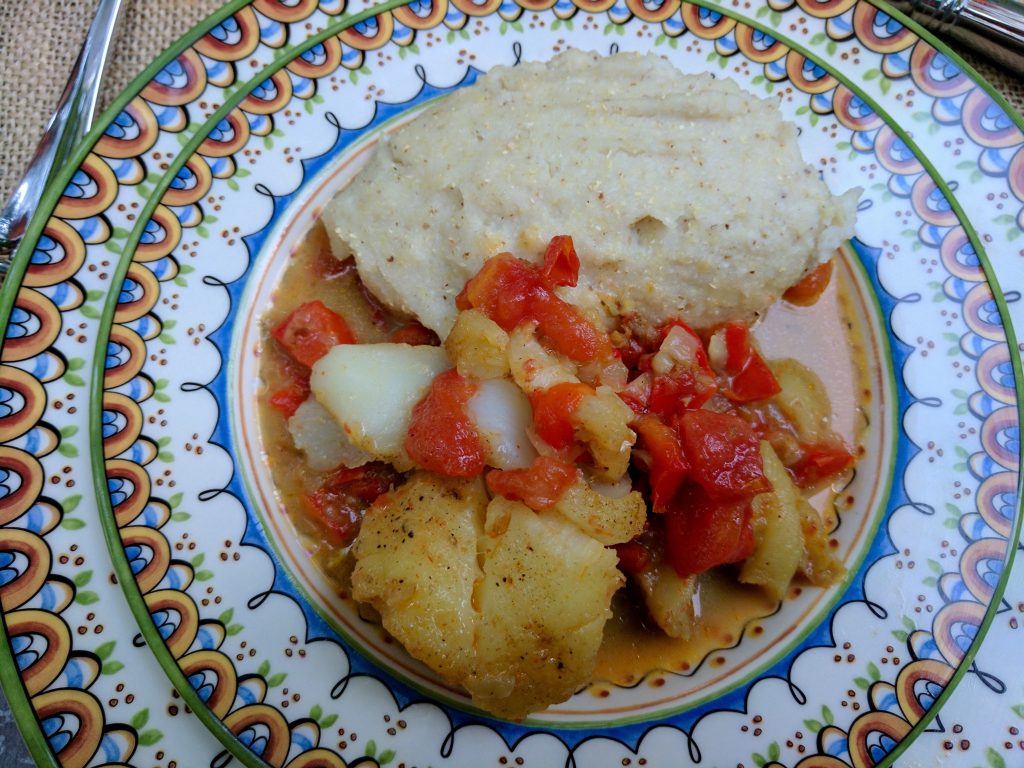 For the third and final course we enjoyed chakery, a Gambian twist on rice pudding made with couscous or millet, yogurt and sour cream.  It's mildly sweet and could easily double for a delicious breakfast.  I topped with with blackberries and the gorgeous mangos I got from Hungry Harvest.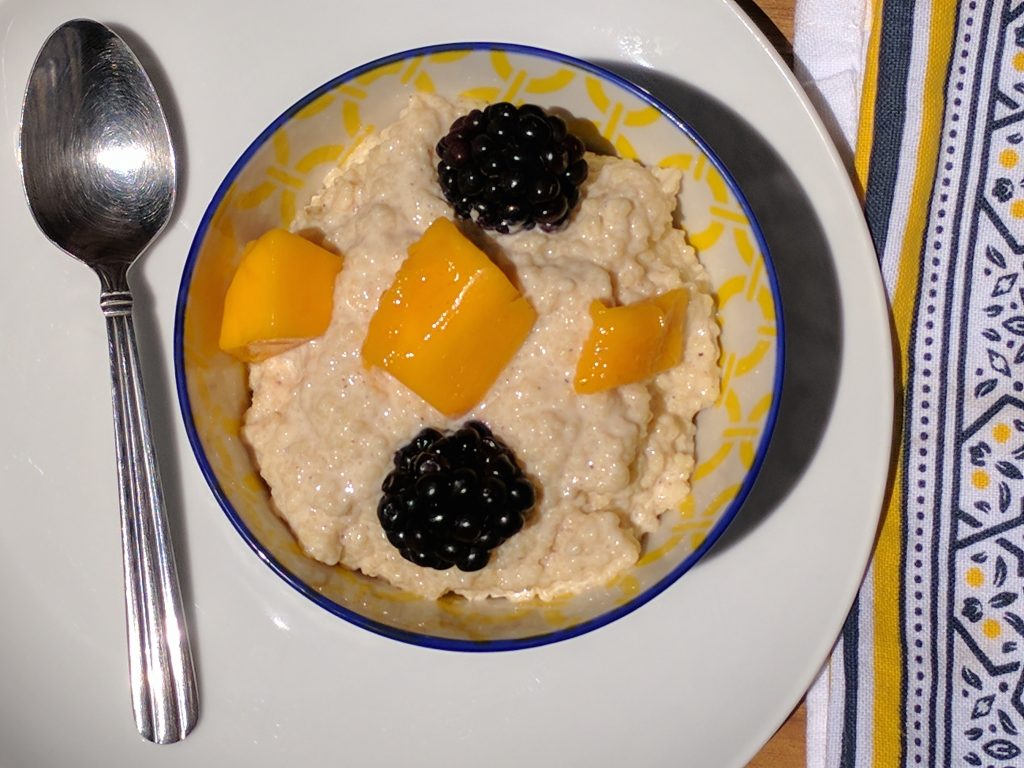 I've long been efficient in the kitchen, but I've been getting progressively faster at preparing for Supper Club!  Whereas cooking for my first one began on Thursday, for this round I was able to prepare the dessert earlier in the day and arrive at Mom's house just 90 minutes before supper to whip together the other two courses.  That said, I couldn't have done it without my handsome sous chef, who prepped the ugali, plantains and Dawa cocktails with minimal instruction!  I think at the end of the day, said sous chef was just glad that for once we were messifying someone else's kitchen!