Monday Morning Training Report: Rest Week = A New Half Marathon PR! (+ Clarence DeMar Race Recap)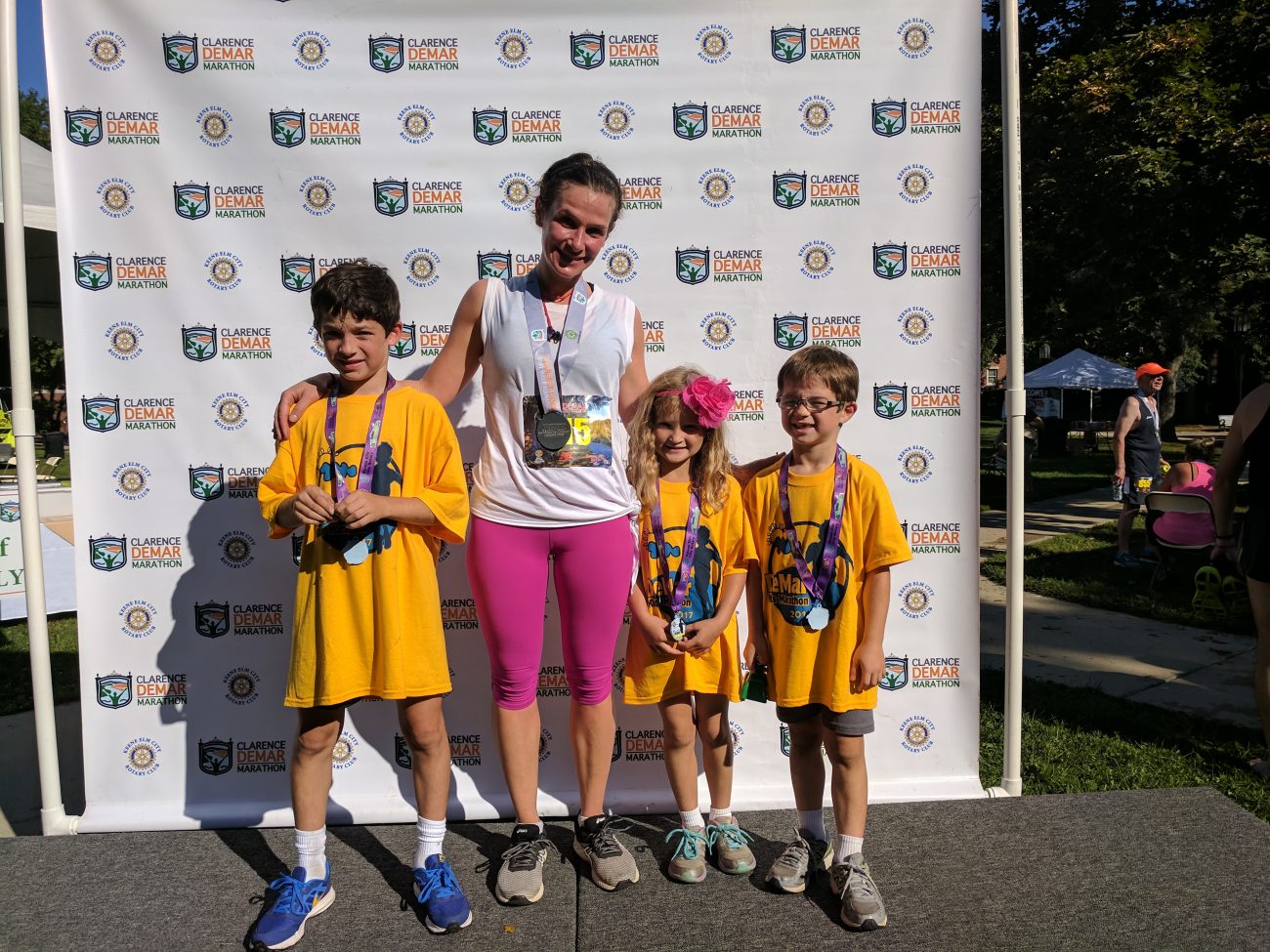 This was a pretty awesome week. I started a new job. Visited my oldest cousin's college. Ran a race with my three youngest cousins. Saw Gogol Bordello and Lucky Chops put on an awesome concert. Explored Portland. Ate lots of yummy, mostly fried, food. Enjoyed New England in the fall. Spent lots of time with family.  Saw all four cousins in one weekend. And PR'd in my hometown half marathon with my first sub-8 minute race (recap below).
I'd be lying if I said I wasn't starting to feel the race nerves for our Ironman.  We're four weeks out, and while I've now done the full distance of all three sports, the idea of doing them back to back is extremely unnerving. But I'm going to keep following the training regimen and trust the process.
And remind myself that an 80 year old woman ran the full Clarence DeMar marathon on Sunday in the blazing heat, proving it's mind over matter that counts.
Week 8 Training Recap:
Monday – 1.9 km swim (28 laps)
Tuesday – 33 minute run, Chisel
Wednesday –2 km swim (40 laps)
Thursday – 44 minute run, strength training (arms + abs)
Friday – rest day!
Saturday –rest day!
Sunday –Clarence DeMar 1/2 Marathon
Total time: 6.5 hrs
Swimming: Pretty standard swim week.  I ended up in the fast lane one day because half the pool was closed, and it was good practice. I didn't feel panicked to have people splashing and passing and kicking me in the face.
BRICK: No BRICK!
Long Ride: No long ride!  In fact, the only time I spent on my bike was my compute. I got it looked at on Wednesday, and nothing major is wrong – he did tweak things slightly, and teach me not to cross chain.  We'll see how this weekend goes.
Clarence DeMar Half-Marathon Recap: I had no plans to PR in Sunday's race. In fact, when I first booked my flights, it was because I had tickets to see Gogol Bordello at State Theater.  But I was super excited when I discovered the DeMar was the same weekend, since it had always been on my bucket list.  Back before there was a half, I'd always wanted to run the full and give the shirt to my Grandad who was an avid runner, but I never got to do that.
I figured I'd do it as a training run.  But fall makes me sentimental, and the course made me sentimental.  I couldn't tell you the name of most of the streets, but they were full of memories. The race started at Surry Dam, where I used to swim in the summer. It went past where Paul's Choice used to be, the butcher that sold the pinwheel steak I loved; the gas station, where my grandparents let me pick out the lollipops that came in dual-flavors like peanut butter and jelly, and where later when I was in high school I frequently stopped for slushies with friends. It went past the street where you turn into my grandparents' neighborhood, where as a kid my mother once threw up spaghetti on a winter night and it froze and lasted all winter, a story that I always hated as a kid, because I was terrified of vomit.  It went past the playground at Johnathan Daniels where I used to play, and the field where Roots and Wings summer camp taught me to eat grasshoppers fried in butter; it went past the Moose Lodge where I got my ass kicked at a high school dance, and the bowling alley where I took great offense that my Dad asked to smell my breath when I went to the bathroom shortly after eating a piece of pizza, not mad that he'd thought I was bulimic but because he should have known I was terrified of vomit. It went past the cemetery where I went to my first funeral – my great grandmother's when I was six or seven – and where I remember my grandfather squeezing my grandmother and my shoulder as we cried when we buried my great-grandfather when I was 22; my grandfather always let you know everything would be okay without saying a word. It went into Wheelock Park where we used to watch my uncle's softball games, and through the cemetery I used to play hide and seek, and then much later spin the bottle.  It went past the Monadnock Waldorf School, where I spent so many of my formative days and have so many memories playing pogs, tetherball, and capture the flag.  It went past Fuller School, the public school I went to after Monadnock Waldorf School kicked me out.
Essentially it was 13.1 miles filled with 18 years of memories, and apparently feeling sentimental makes me fast. Or maybe it was that the course was a net down hill run. Or the fact that I'm training for a half-Ironman. Regardless, the first couple miles I figured were a fluke.  I was expecting a stomach ache from the abundance of fried food that had gone into my body over the previous 36 hours. I figured the absurd heat that caused them to nearly cancel the race might get to me.  I'd convinced myself that my knee was going to act up, or that my bunions – which have been bothering me as of late – were going to start to slow me down. But by mile 7 I realized I had a pretty good shot at PRing and started to think about how awesome it would be to PR in my hometown half-marathon.
I knew I had to be careful about how much water I took in – enough to not dehydrate, but not so much I started to cramp, which tends to happen to me easily. Ultimately, I don't think I drank more than a half bottle of water the whole race, but I threw plenty over my head and ran through every sprinkler that had been left on to keep runners cool.  The excitement and generosity of all the folks out cheering us on was incredibly.  People clapped and yelled from passing cars; they handed out watermelon, cold towels, and full bottles of water between rest stops. I accepted high fives from as many kids as I could. But it took a conscious effort to maintain my pace. By mile 8 I'd started doing the math in my head; "I need to maintain a sub-8 to safely PR" and then by mile 10, "all I need to do is maintain a sub-9 for these last three miles." But by that point I was tired and it was getting hot, so I surprised even myself when I looked at my splits and saw that I ran mile 13 at a 7:48 pace.  I turned my headphones off when I hit mile 13 and sprinted the end of the race, where my whole family was there to cheer me in.  My grandmother gave me a hug with tears in her eyes, and told me my Grandad – "Marathon Don" – would be proud. And that was all that really mattered, because I ran this race for him.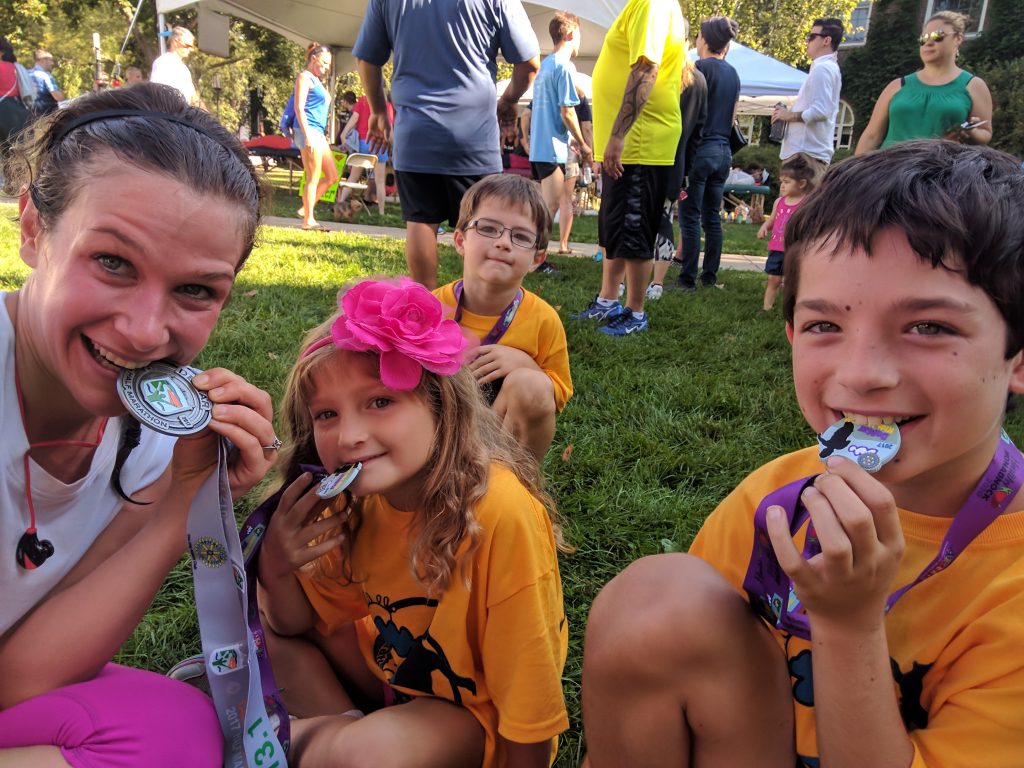 Nutrition:
We went to Long Horn the night before my race, and I had my standard pre-race dinner: salmon, asparagus and sweet potato. With delicious honey wheat bread. And a Shipyard Pumpkinhead with a cinnamon sugar rim, because fall!  This is probably the meal we'll make before our big race.  I don't believe in traditional carb-loading with pasta and the like, but a big ol' sweet potato makes for an awesome carb-load!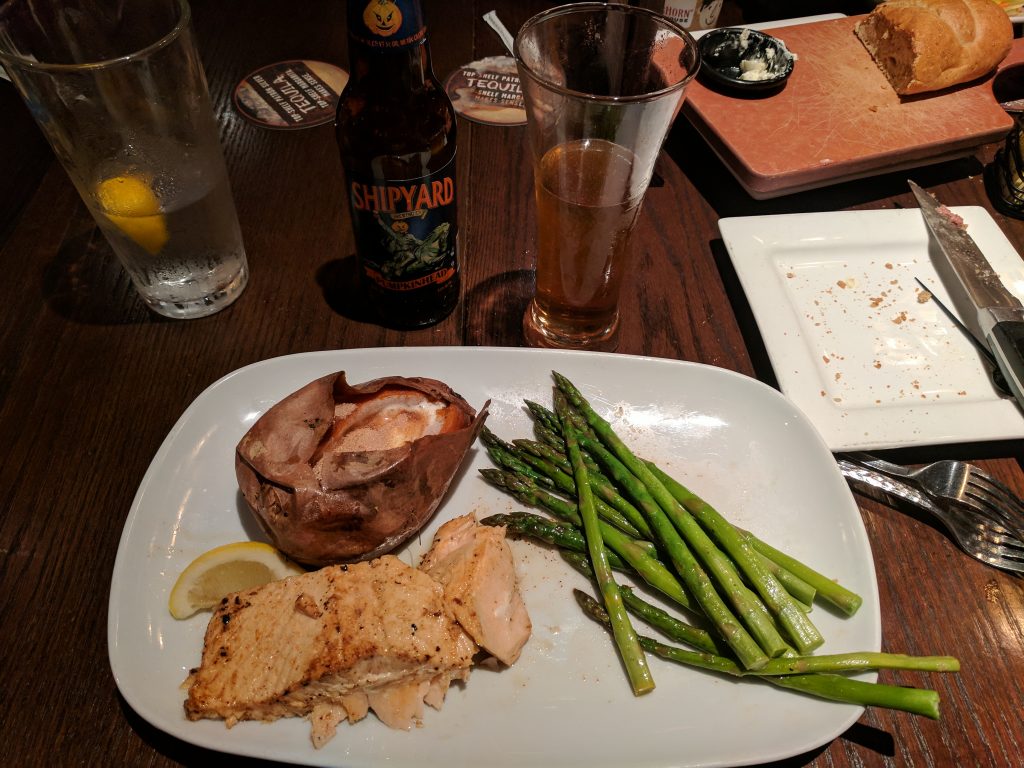 We did a good job with meal-prep this week, and sticking to a plan.  These meals were satisfying and delicious!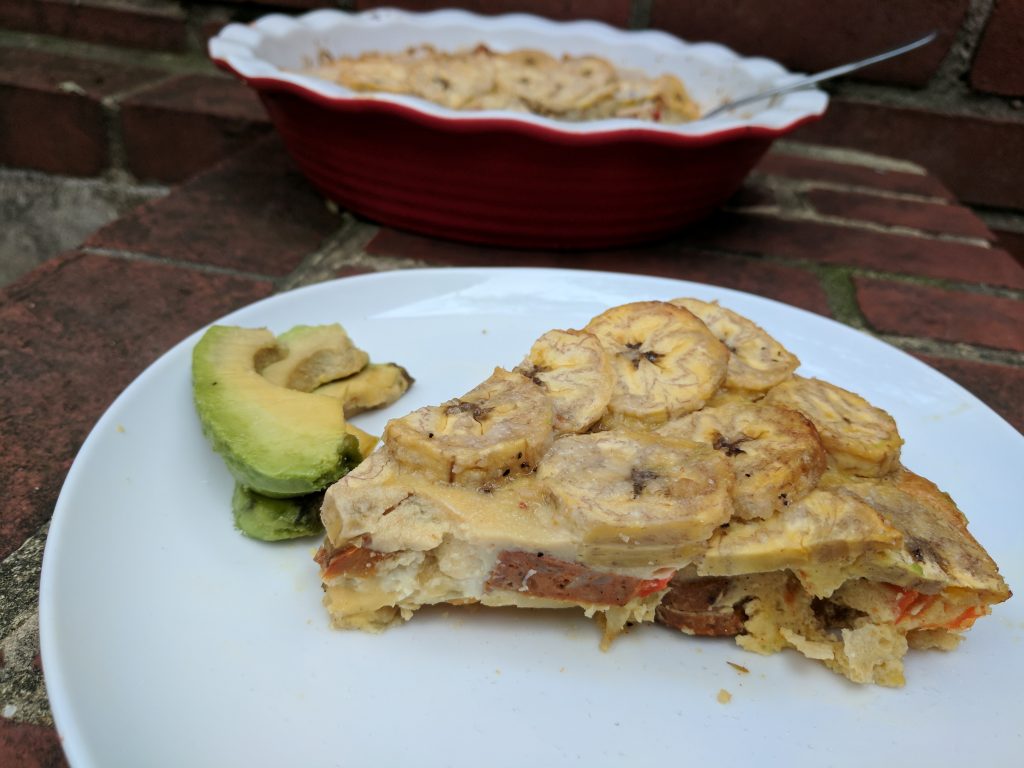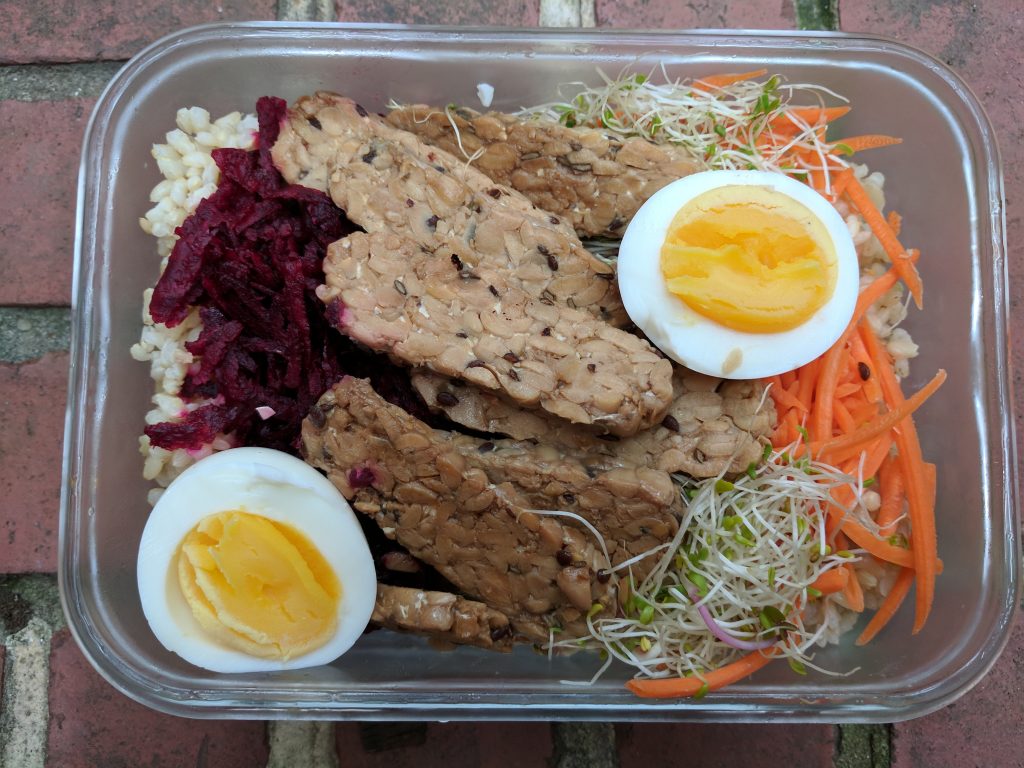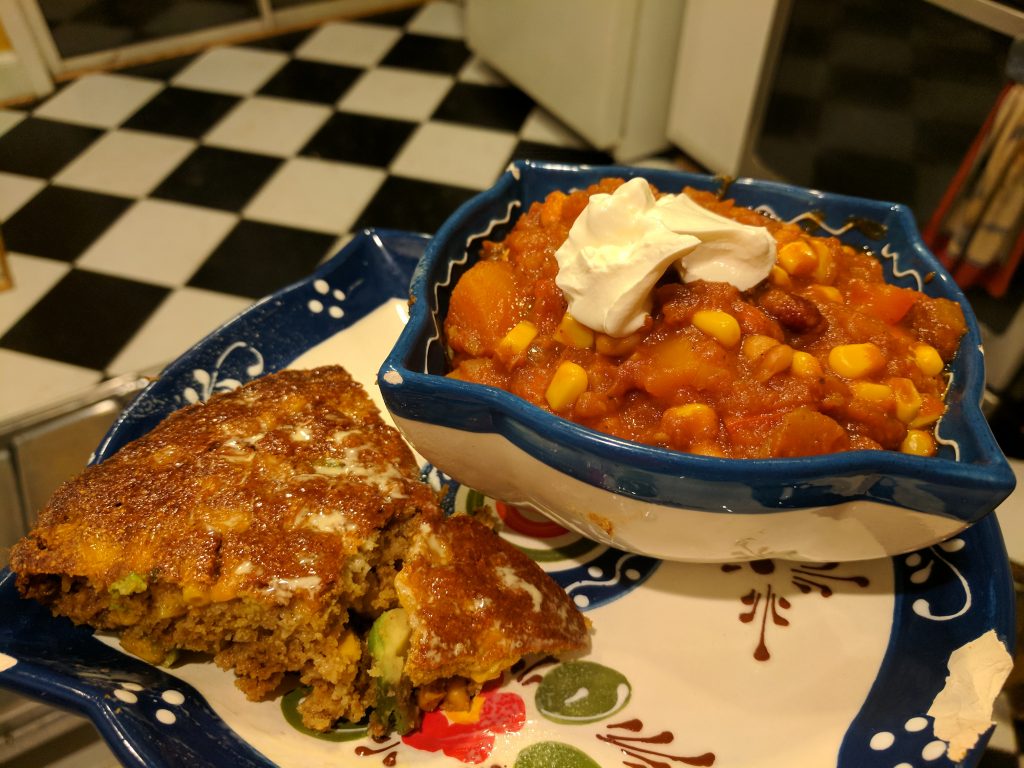 Weekly Food Porn (let's stop grouping it with nutrition):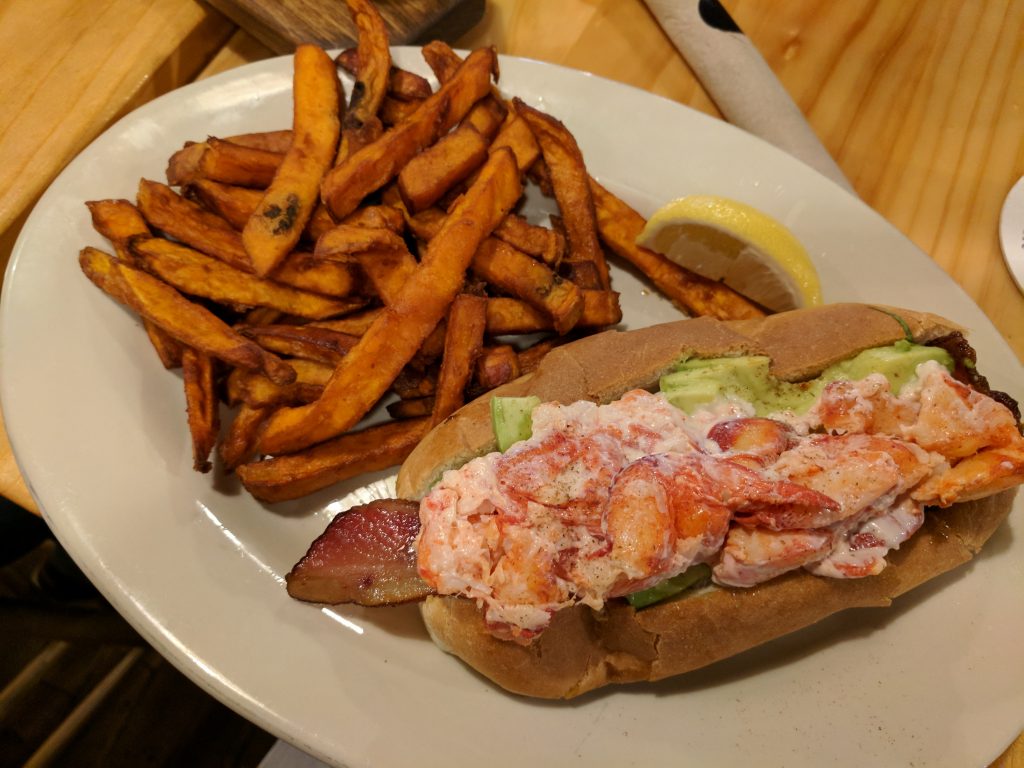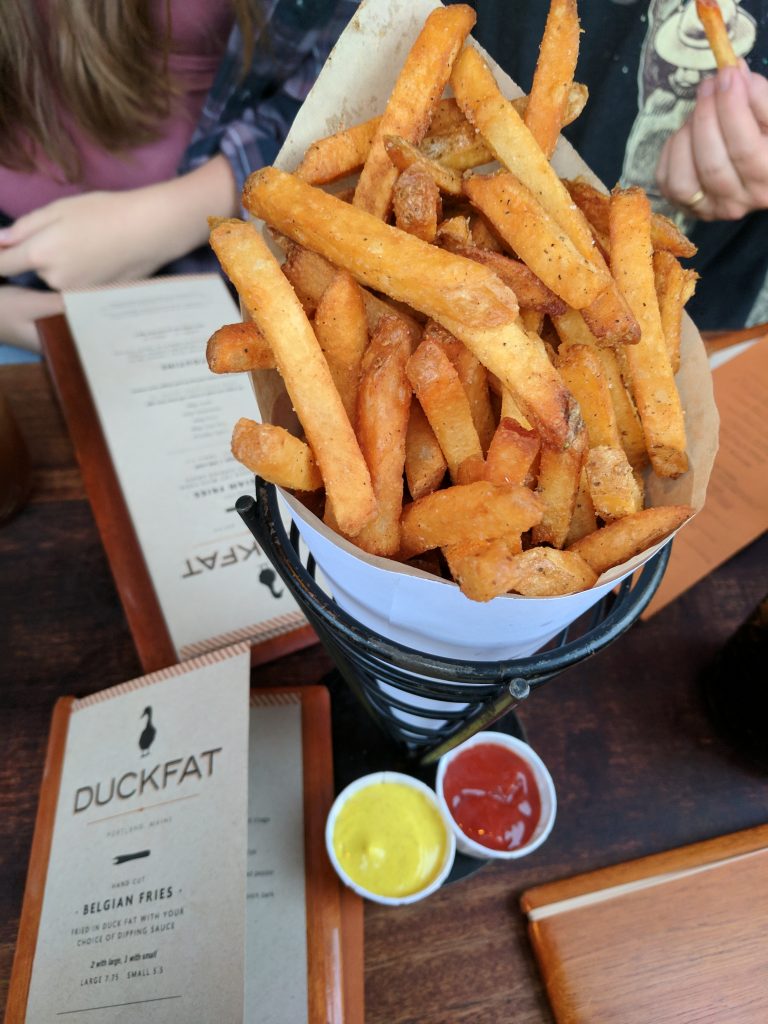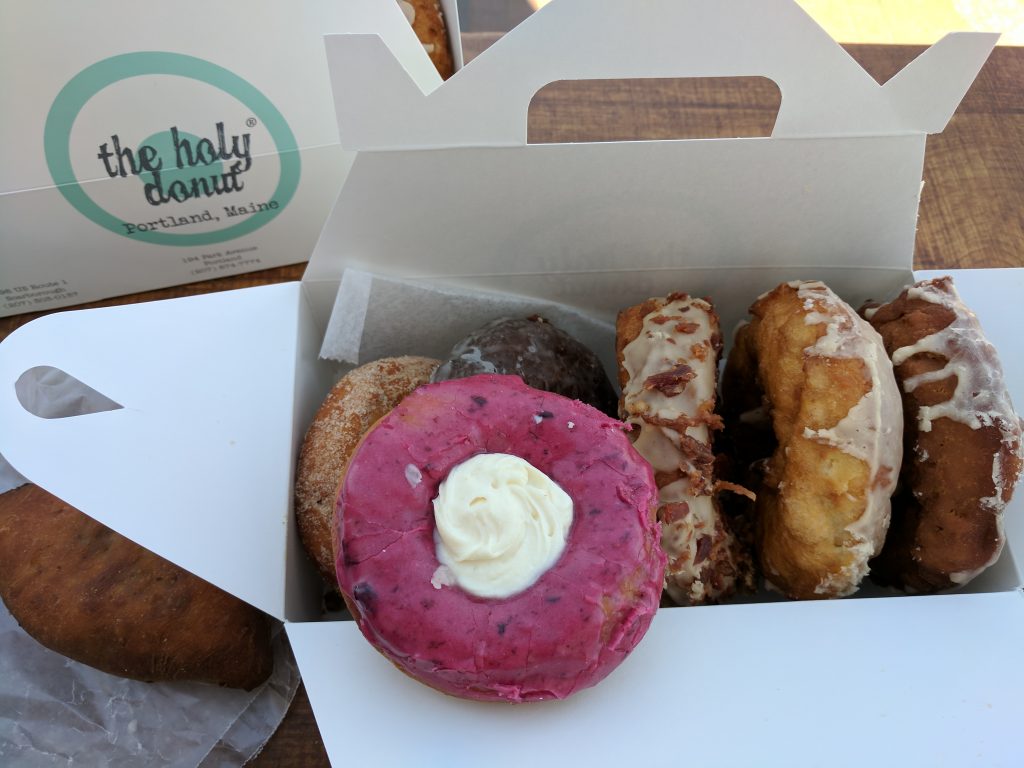 Week to Come:
Workout Schedule:
Monday – 2.3 km swim (46 laps)
Tuesday – 40 minute run
Wednesday –2.6 km swim (52 laps)
Thursday – 12 mile run
Friday – rest day!
Saturday –BRICK (1:20 bike/20 run)
Sunday – 3 hour ride
Total time: 10.5 hrs
Meal Plan: No time for meal prep this week because we were traveling.  *Sad Face*