Monday morning meet-up: a half smoke half marathon, a cooking marathon, and a whole lot of onesie time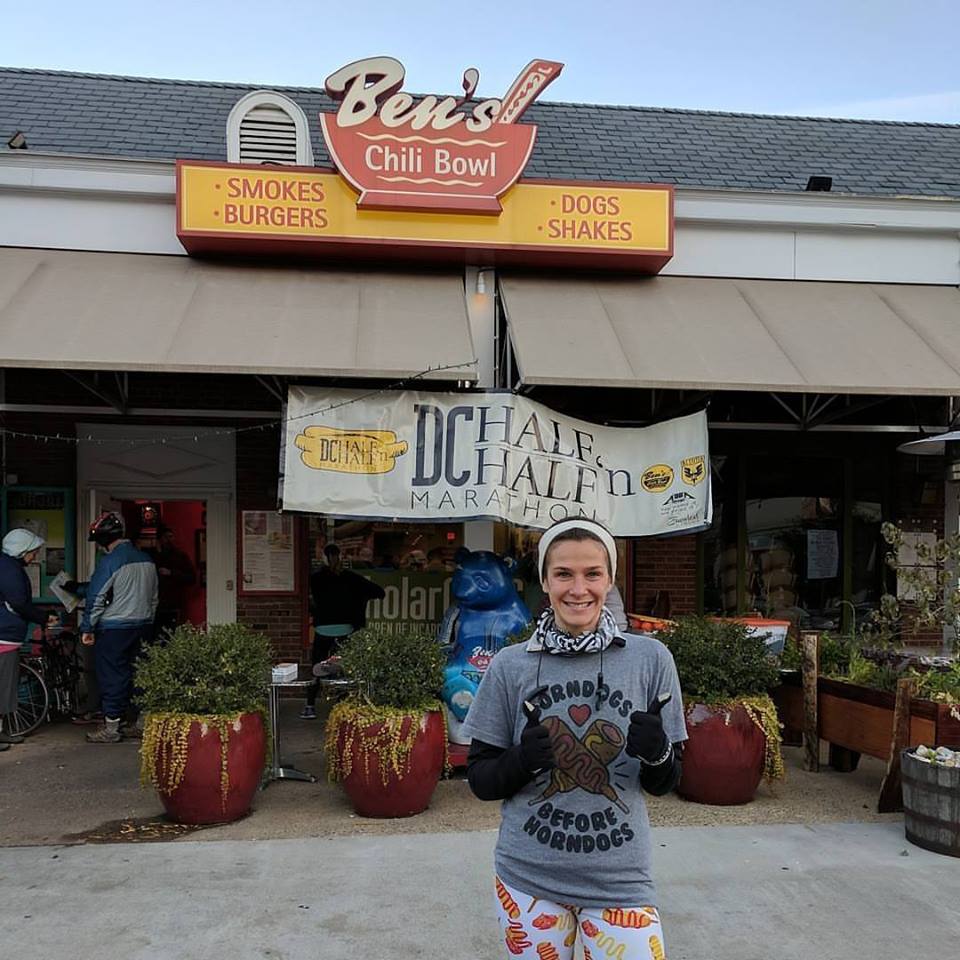 Thursday I finally hit the wall, and I hit it hard. Since we got back from our second trip in as many weeks, I've had something just about every single day. Mom's awards dinner, Black Lives Matter comedy show, hosting 50 people in my home for Friendsgiving, African American History Museum, drinks with a colleague and dinner with a friend (yes, those were the same day), a two day conference, dinner with mom at a recently named Michelin Star restaurant, wine night. This sounds outrageous even to me, but I was somehow cruising along on adrenaline. When I make plans, I keep them – and these ones were all so fun!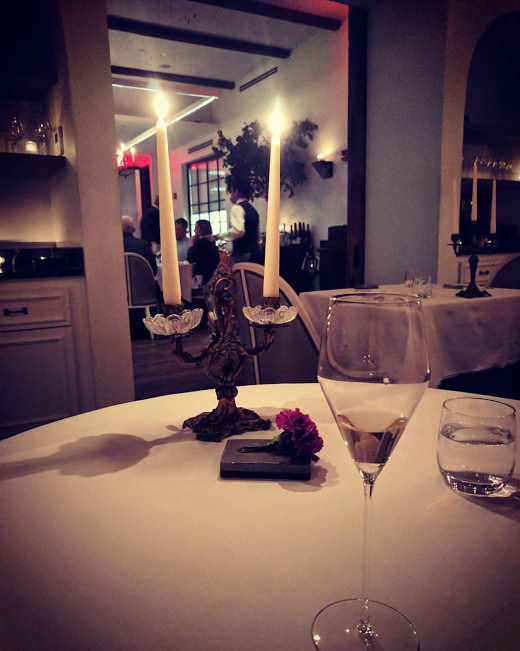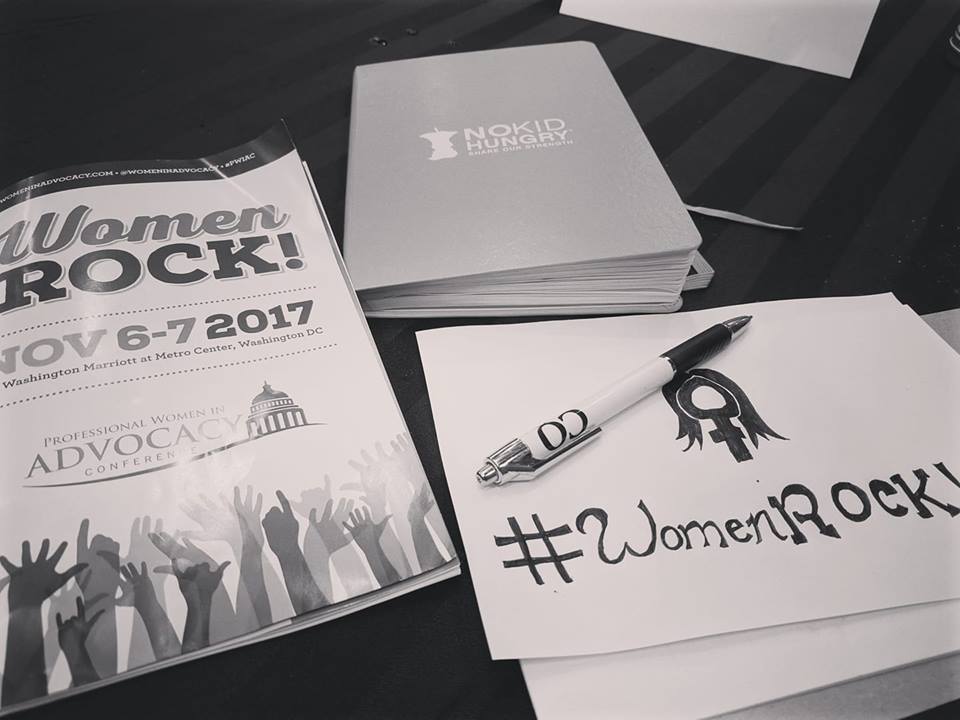 By the time the long weekend rolled around, I wasn't sure I'd even get out of my onesie – which I barely did on Friday. Saturday, though, we had another race to run – although this one was pretty untraditional: the D.C. Half and Half Marathon. This has long been on my bucket list for it's pure novelty, and I'm not the only one: there were runners who flew here just for this event. You see, you don't just run a half marathon; you run 6.55 mile, eat a Ben's Chili Bowl half smoke and a handful of chips, and run another 6.55 miles. In case you're wondering what that looks like…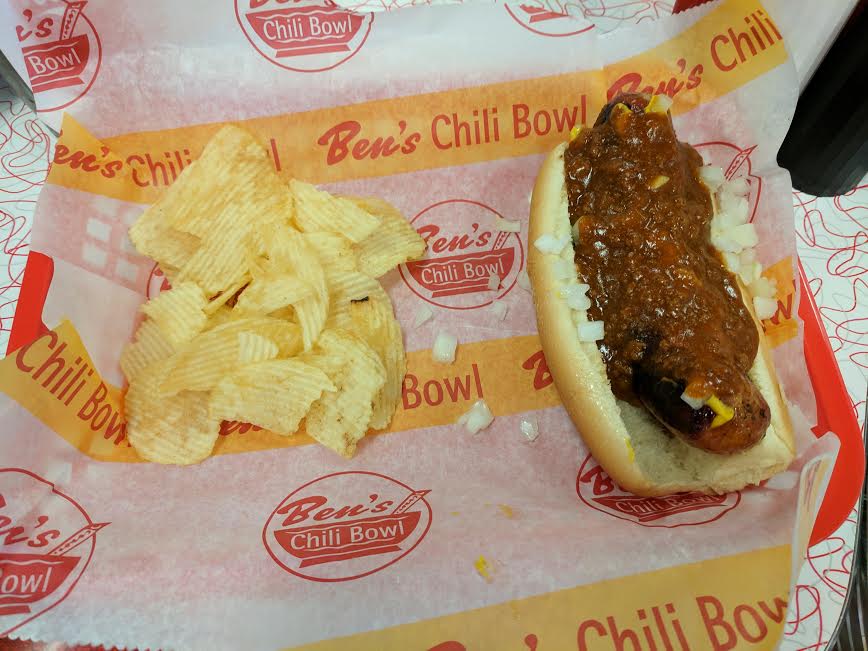 Delicious, right? In case you've never had one sober, the answer is yes – it actually is delicious.  Of course in keeping with our race weather luck, it happened to be the coldest day of the season – a balmy 25 at start time.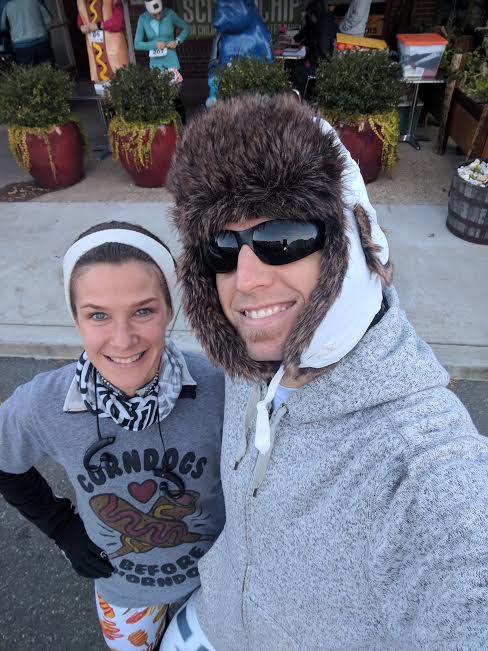 The course started at the Ben's Chili Bowl in Arlington.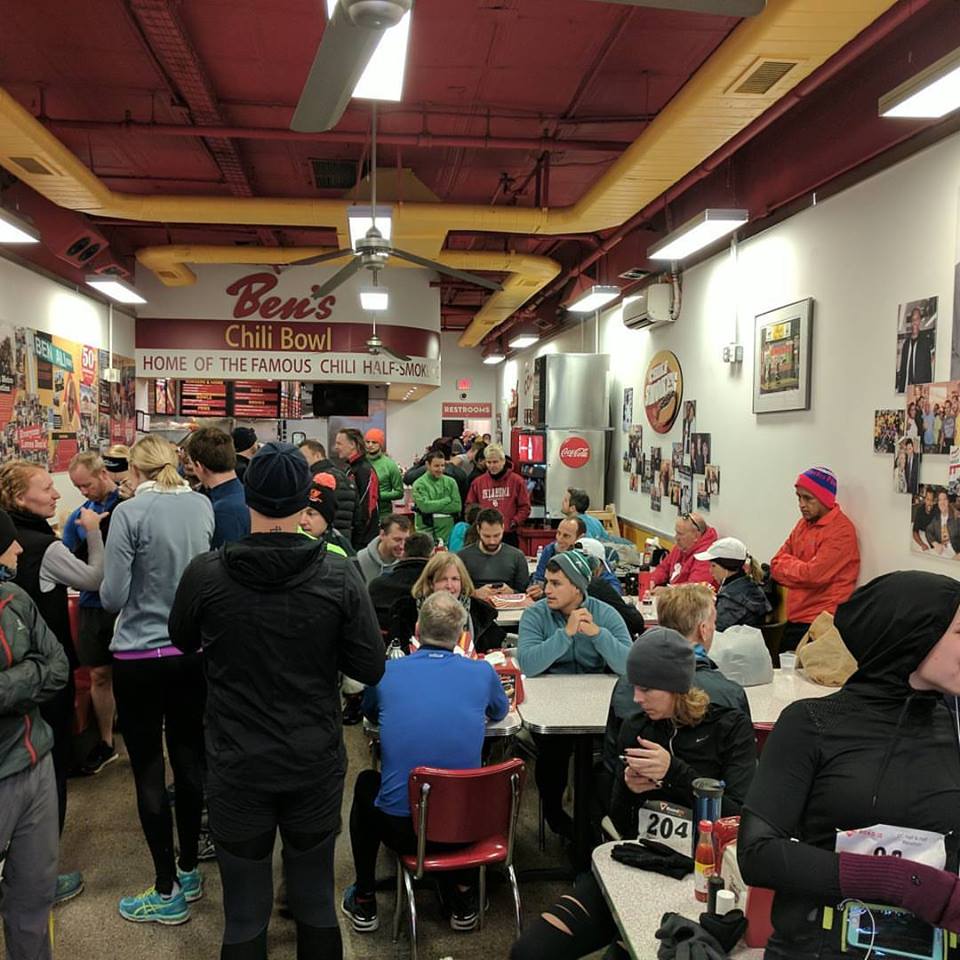 The race had a fun community feel with energetic volunteers and a small field of runners, with several dressed up in hot dog attire. The first half was an extremely hilly out and back on the Custis trail. After a mile so, I regained feeling in my fingers. Luckily we got to eat inside. The half smoke was delicious. We finished them in about three minutes, and were back on the road. The second half went the opposite direction onto the Mount Vernon Trail, a beautiful run along the river.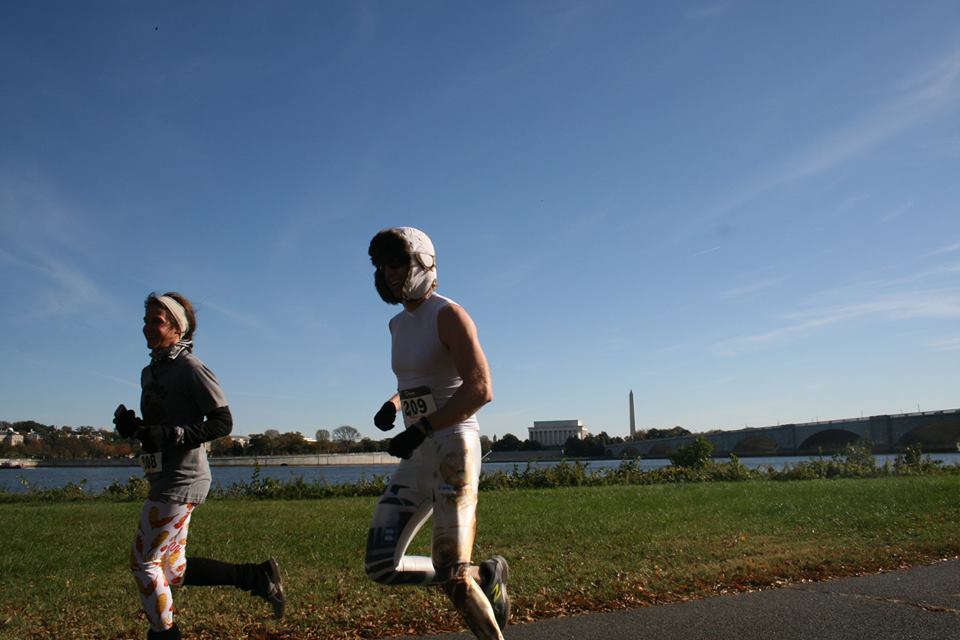 Yes, my husband ran sleeveless (for the record, I'm wearing a tank top, a t-shirt and two long sleeved thermals). Anyways, what you really want to know: how did that half smoke sit? Shockingly well. I can have a sensitive stomach when running; in a standard race I often don't even take in much water unless it's really hot. I figured we'd be weighed down at best. Maybe it was because of our slower pace (we weren't running fast enough that I was out of breath, which I think tends to be what makes it harder for me to digest), but my stomach was just fine -I didn't have so much as a cramp. Instead, what was slowing me down was leg fatigue. We hit it pretty hard at the gym this week, and having recently gone back to strength training I was feeling it. I was surprised to see that we'd averaged an 8:19 minute mile even on a hilly course, and that our slowest mile was still a sub-9:00. It wasn't a timed race, but with eating time we finished somewhere between 1:56-1:57. And I beat Courtney at the eating portion, which was my only real goal. It was a fun race with awesome volunteers, great swag that was actually worth more than the cost of registration, and all for an awesome cause: ScholarChips, providing college scholarships for kids with incarcerated parents.
After the race, we warmed up in the spa and I promptly returned to my onesie to binge through Good Girls Revolt while editing a paper (I'm still working on getting a grad school project through the publishing process). It's a seriously good show, and I managed to binge through all ten episodes in little more than 24 hours (although I did take a break to drag Courtney out of his introvert bubble long enough to go to a house party Saturday night). Rumor has it, there may be hope for another season!
Sunday, I decided to get back in the swing of some serious meal planning and food prep with the goal of getting one really healthy week in before we leave for vacation. Here's what's on the menu:
Now we're rested and ready to kick this week's ass, before we pack up and head to Portugal!