Ingredients
1 large tomato

ripe heirloom tomatoes

diced

1/2 cup

peanut butter

optional - see post!
Directions
Can you believe this is the 50th country we've visited this year on our culinary journey?!  Poulet à la Moambé, or chicken in red palm oil, is considered the national dish of both the Republic of Congo and the Democratic Republic of Congo; as I mentioned when we tried Ndizi Wa Nazi back in March, the cuisine of the two countries has a lot of overlap.  I might have guessed that the two were at one time one nation, but I would be wrong.  The Republic of Congo – formerly Congo-Brazzaville – received full independence from France in 1960.  After becoming Africa's first Marxist-Leninist state from 1970 to 1991, the Republic of Congo had its first multi-party elections in 1992, but the democratically elected government was ousted in 1997 and President Sassou Nguesso – a long-term ruler of the former one-party state – has ruled for 26 of the past 36 years.
Anyways, this dish is popular across central Africa and Gabon has a very similar national dish called Poulet Nyembwe.  Moambé and Nyembwe both mean "palm butter."  Red palm butter is made from the ripe red fruit which surrounds the seed of the African oil palm.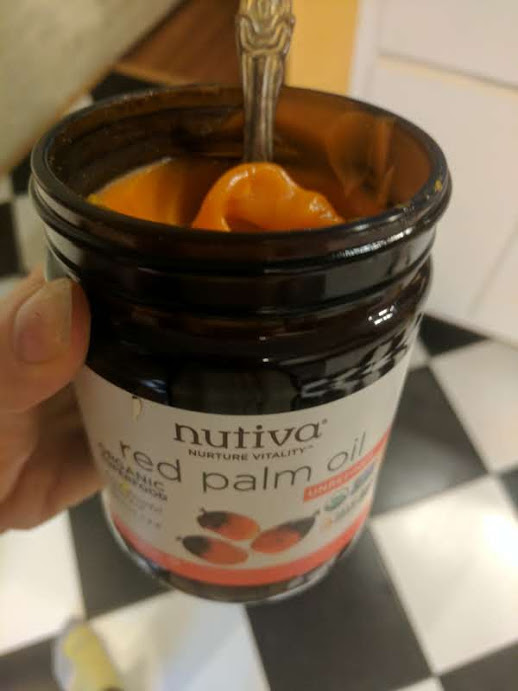 You will notice I have peanut butter on the ingredient list as "optional."  Many of the recipes for this dish that I found on the internet called for peanut butter, so that's how I made this dish.  Upon further research, I actually believe that the more traditional method of making this dish does not include adding peanut butter.  It seems like perhaps these recipes have combiled moambe and groundnut stew, common in Northern Africa.  I'm curious what it would taste like without the peanut butter, as it's such a dominant flavor.  If you decide not to add the peanut butter, I recommend increasing the amount of palm oil to 6 Tbsps.
I served this with sweet fried plantains, and a rice similar to this potage de riz aux epinards – except I used the kale I got from Hungry Harvest rather than spinach, and used 1 cup rice.
Recipe Source: Explorers Kitchen
Steps
| | |
| --- | --- |
| | Heat palm oil in a large Dutch oven on high until nearly smoking. Brown the chicken in batches, about 3-4 minutes per side; remove and set-aside. |
| | Turn heat to medium-low and sauté onions until golden brown, 5-7 minutes, Add garlic stirring constantly and cook until fragrant, about 30 seconds. |
| | Add tomato paste, continuing to stir, cooking until paste darkens slightly, about 3 minutes Mix in diced tomatoes, ginger, red pepper flakes, water and salt. Return chicken to Dutch oven, bring to a boil over high heat. Reduce heat to low, cover, and simmer for 20 minutes. |
| | If using peanut butter, ladle off about 1-2 cups of sauce and mix thoroughly with peanut butter in a small bowl. Return mixture to Dutch oven and simmer uncovered for 5-10 more minutes. |
| | Serve over rice with greens and fried plantains! |