Ingredients
1 1/2 lbs

firm white fish

cod, halibut, etc.

2 tsps + some to sprinkle

Madras curry powder

regular curry powder will do

to sprinkle

salt and pepper

1 large

yellow onion

finely chopped

1 large

red bell pepper

finely chopped

2 tsp

fresh ginger

grated

3/4 cup

light coconut milk
Directions
Mtuzi wa Samaki is a Tanzanian fish curry that originated in Zanzibar.  Tanzania sits at a crossroads in the spice trade routes from India, and curries – particularly those made with coconut milk – are popular in the coastal region.  This dish is now enjoyed all over the eastern coast of Africa.  I served the curry with ugali, a type of thick cornmeal porridge is a major staple at meals in Tanzania, and across Eastern Africa.  Tanzanians typically do not use eating utensils, but instead, the ugali is used to scoop up other components of the meal.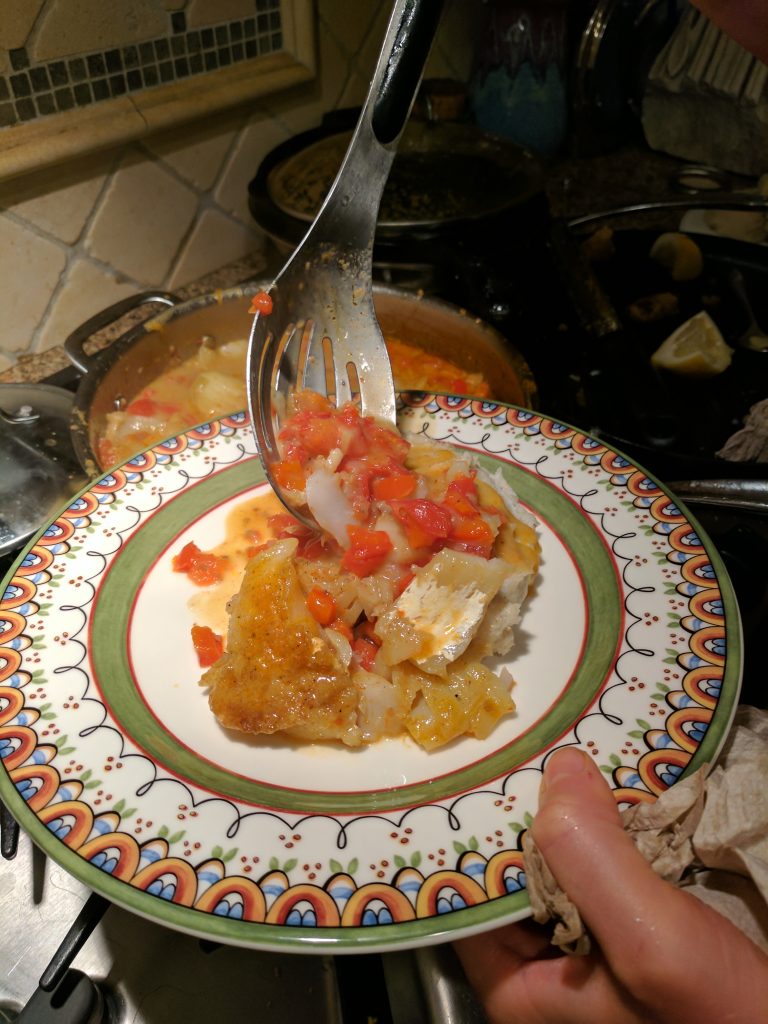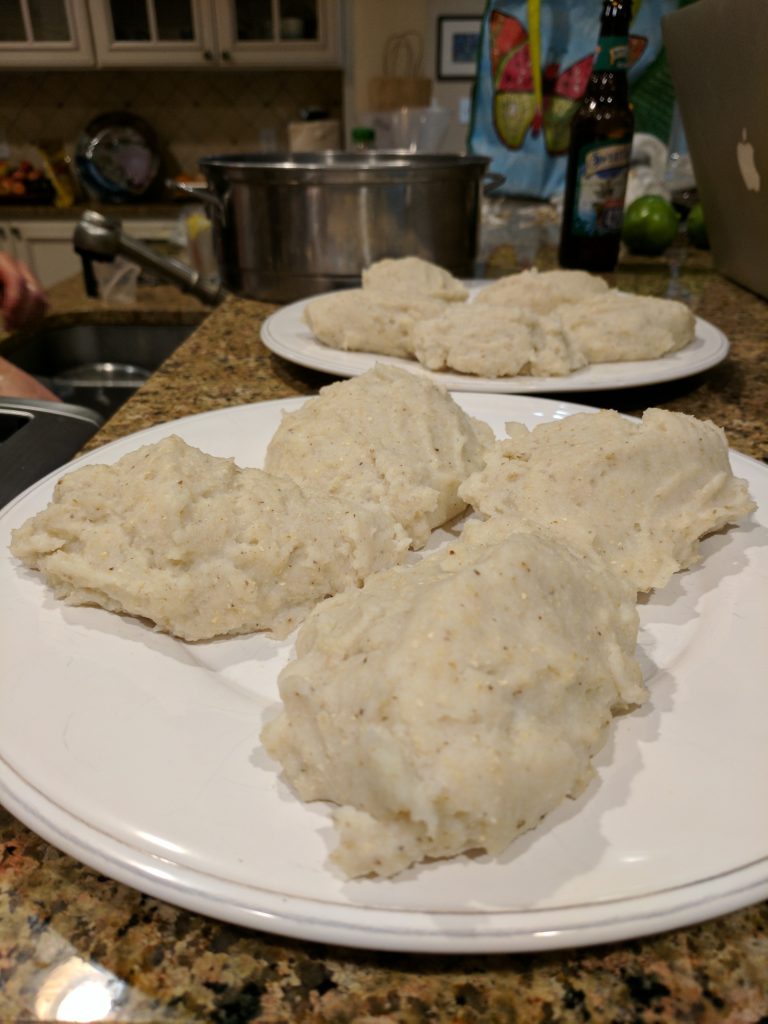 This dish was incredibly simple to make and extremely flavorful.  It is definitely a contender for a healthy weeknight dinner, although on a regular occasion I might serve over brown basmati rice or with another whole grain side.
A couple pieces of etiquette I learned about dining in Tanzania – first, don't smell your food.  In general, smelling something implies that it is rotten or smells unpleasant, so smelling your food is an insult to the cook.  Second, when offered food or drink in someone's home, it's considered rude to confuse.  Even if you're not hungry, you're to accept a small portion. 
Steps
| | |
| --- | --- |
| | Sprinkle fish with curry powder, salt and teaspoon black pepper. Heat a large nonstick skillet over medium-high heat. Add oil to pan; swirl to coat. Add fish; cook 4 minutes or until browned on bottom but undercooked on top (fish will finish cooking later in sauce). Remove fish from pan. |
| | Add another tablespoon of oil to the pan. Add onion and bell pepper to pan; sauté 4 minutes or until tender. |
| | Add ginger and garlic; sauté 1 minute. Add curry powder, 1/2 tsp teaspoon salt, tomato, and lemon juice. Reduce heat to medium-low, and cook 10 minutes or until tomato breaks down, stirring occasionally. |
| | Stir in coconut milk. Return fish along with accumulated juices to pan, browned side up. Reduce heat to low; cover and cook 8 minutes or until fish flakes easily when tested with a fork. |
| | Cut fish into 4 equal portions. Spoon sauce into individual, shallow bowls; top each with a piece of fish. |