Ingredients
Groundnut Stew

1 medium

whole chicken

skinned and chopped into 8 pieces; alternatively, I think chicken thighs would work well and be less hassle.

1 tsp

Kosher Salt

+ more to taste

1

scotch bonnet pepper

if you can't find this at your grocer, you can substitute a habernero

2 heaping Tbsp

tomato paste

1/2 cup

peanut butter

smooth

For the Ugali

2-3 cups

fine white cornmeal
Directions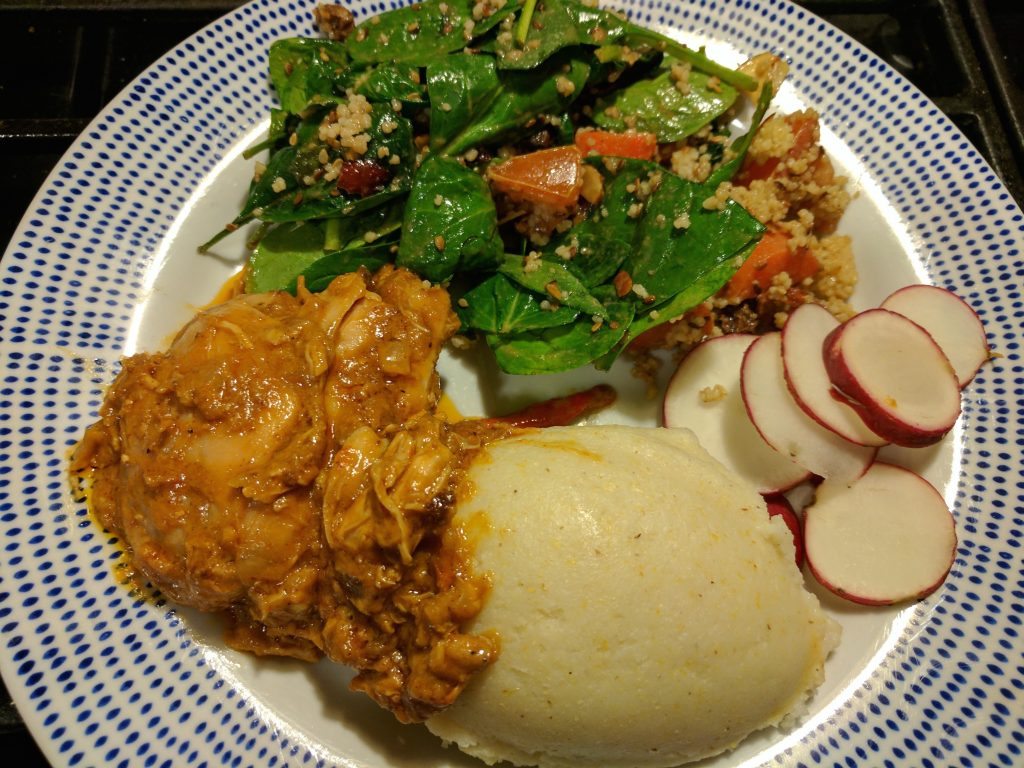 '
Today I'm bringing you two recipes for the price of one!  They go so well together I couldn't bear to separate them. Both come from a beautiful cookbook written by three chefs who launched The Groundnut supper club in London to showcase the African foods of their childhoods and recipes passed down from family across different parts of the continent.  For the first diner they hosted, they served groundnut stew – a rich stew made with peanut butter, onions, and aromatic Scotch bonnet peppers – because it's a dish that never fails to impress.  They describe this traditional West African stew as something you won't forget once you've tasted it, a dish meant to be shared with others. Groundnuts are peanuts by another name.  You may have tried a West African peanut soup at some point in time and it may or may not have looked like this; its name and ingredients vary by region.
Ugali is the most common meal time starch in Kenya: a stiff porridge made from white cornmeal. Traditionally, ugali was made with millet, but when maize found its way to Africa it replaced it in popularity.  Like the groundnut stew – and many African dishes – it has cousins in various regions such as Southern Africa's mealie-meal, Zambia's nshima, and Zimbabwe's sadza.  Ugali is a great accompaniment to stew, and would generally be eaten by rolling it into small balls with your hands and using it to scoop up the stew.
Recipe Source: Food From Across Africa (cook book)
Steps
1 hr 15 minutes

For the Groundnut Stew

In a large pan or dutch oven, heat 3 Tbsp peanut oil over medium heat. Add the chicken to the pan. You don't want it to overlap much, as this will prevent it from browning. If it does, you can brown the chicken in batches.

Pierce the pepper and add it to the pan. This allows the flavors to absorb into the stew. If at any point you worry the stew is becoming to spicy, you can remove the pepper.

Turn the chicken over after about five minutes. While the chicken is browning, dice the onions and crush the garlic into a paste. Add about half the garlic to the pan so the chicken and garlic can brown together. When the chicken has browned nicely on both sides, remove it from the pan and set aside.

Add the remaining peanut oil to the same pan. Add the diced onions and cook for about 8-10 minutes, or until soft and translucent. Add the tomato paste and remaining garlic. Mix well and cook for 3-5 minutes, then add the groundnut (peanut) butter and stir.

Put the browned chicken back in the pan and add the stock slowly while stirring so that it is incorporated with the sauce. Cook on low heat for 25 minutes, stirring occasionally so it doesn't stick to the sides. It should reduce slightly and take on a thicker consistency.

30 minutes

For the Ugali

Boil 5 cups of water. Meanwhile, mix 1 1/2 cups cornmeal with 2 cups of cold water in a large sauce pan. Put the saucepan over medium-low heat. Stir until mixed well. Add the boiling water and continue stirring until it reaches a boiling point. The liquid should start to thicken, taking on the consistency of porridge, and small air bubbles should slowly form on the surface.

Cover the pan, leaving a small gap for steam to escape, and leave gently bubbling for 10 minutes over low-heat. Now gradually add the remaining cornmeal, stirring frequently with a thick wooden spoon for 3 minutes, until mixed well. The amount of cornmeal you add at this point may vary depending on how fast it is cooking. The aim is to achieve a solid substance with a fair bit of give. For me this only took 2.5 cups of cornmeal, which is why you want to add gradually.

Fill a large bowl with very cold water. Place a serving spoon in the bowl. Using the spoon, make a scoop of ugali and put it on a flat plate. It will firm up as it cools. Repeat this process, putting the spoon back into the cold water each time before making another scoop.